A beloved family recipe for peach cookies that is often requested at parties and holidays! Here is Lilla's recipe for her fabulous peach cookies! These are a very simple cookie, dipped in a peach flavored syrup and filled with a vanilla pastry cream. Simple but delicious! These can be made without alcohol so everyone can enjoy!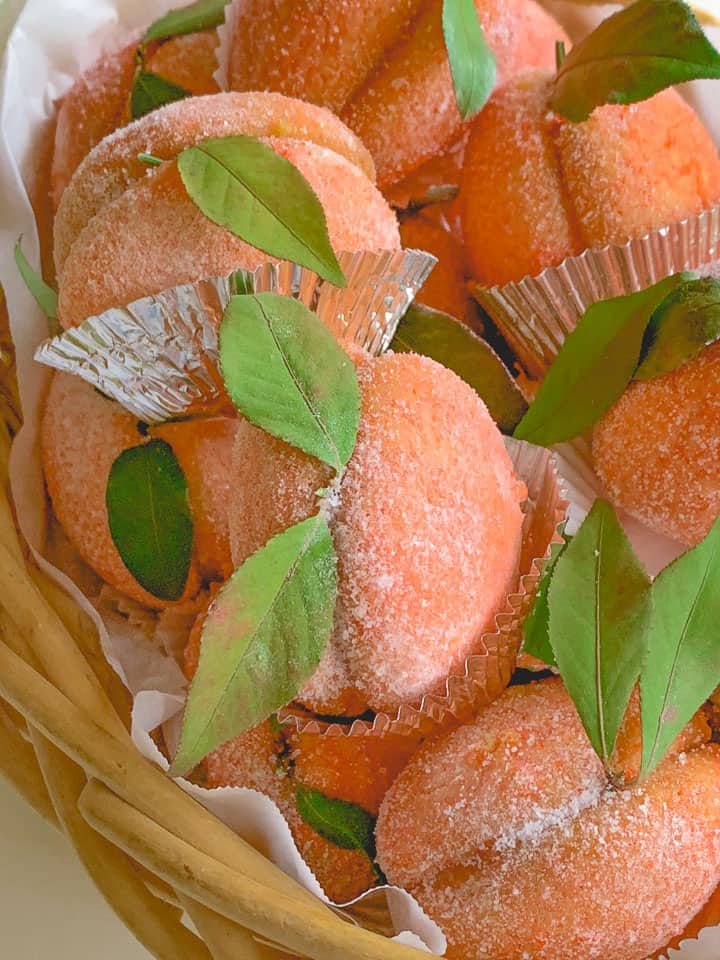 This right here is an example of a beautiful Italian dessert. Something that I hope generations to come will keep making! Yes, it can be time consuming, but these are made typically only for holidays such as Christmas or special occasions such as bridal showers, baby showers, or even birthdays!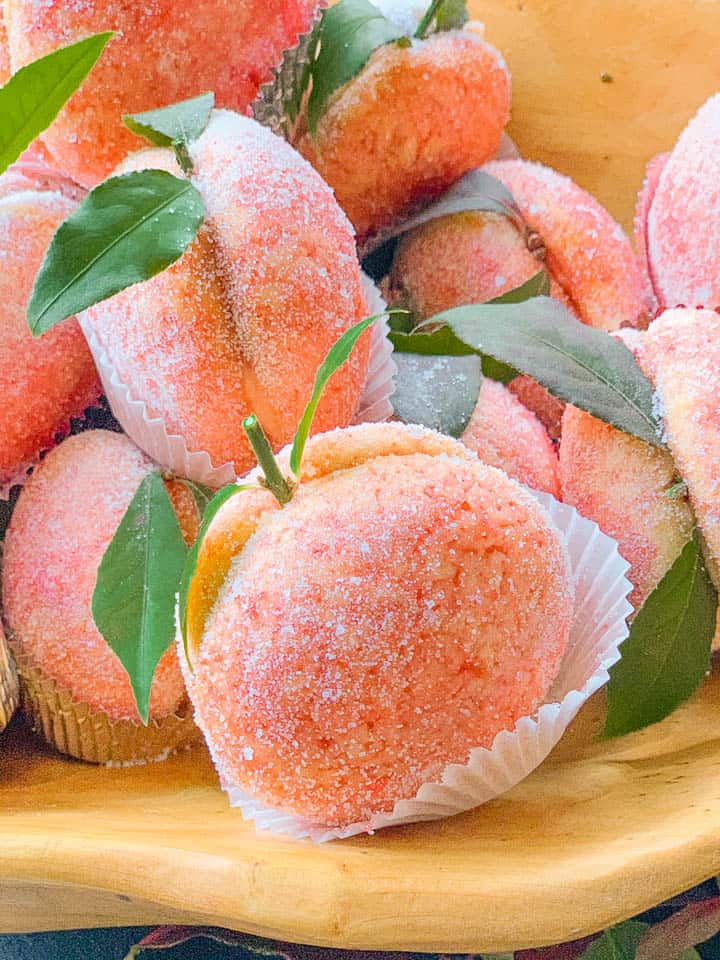 These can quickly become a lost art, as the influx of Italian immigrants has passed, and that generation has sadly been aging (most of the Italian immigrants from my childhood are now well into their 80s and 90s)
And so, lets all make sure to carry on the tradition and make these delicious and gorgeous cookies!
My mom makes her cookies without alcohol, but I have provided instructions to make them either way….we prefer the non-alcoholic version!

Other treasured recipes from my mom include her pignoli cookies (also called pine nut cookies or almond cookies), Italian wedding cookies, and ricotta cookies!
How to make Italian peach cookies (Step-by-step videos)
Overall process for making peach cookies includes (1) making and baking the cookies, (2) making the filling, (3) making the dipping syrup, and (4) filling/decorating the cookies.
Video tutorials (or scroll down for step by step photos):
1. Make the cookie dough, bake the cookies, and carve out the bottoms
2. Make the filling (pastry cream)
3. Make the dipping syrup (flavors the cookies and gives the color)
4. Putting in all together: Dip the cookies in flavored syrup, fill the cookies with the pastry cream, sandwich cookies together to make peach shape, insert leaves, and sprinkle liberally with sugar

How to Make Peach Cookies: Step by Step in Photos
Make the peach cookie dough:
Add eggs to bowl of a standing mixer
Add sugar to eggs
Whip the egg/sugar mixture for 2 minutes until light and foamy
Small bubbles will appear in the egg/sugar mixture
Add remaining ingredients (not shown; oil, flour and baking powder)
Combine until a very soft dough forms. Cover and refrigerate for at least 2 hours.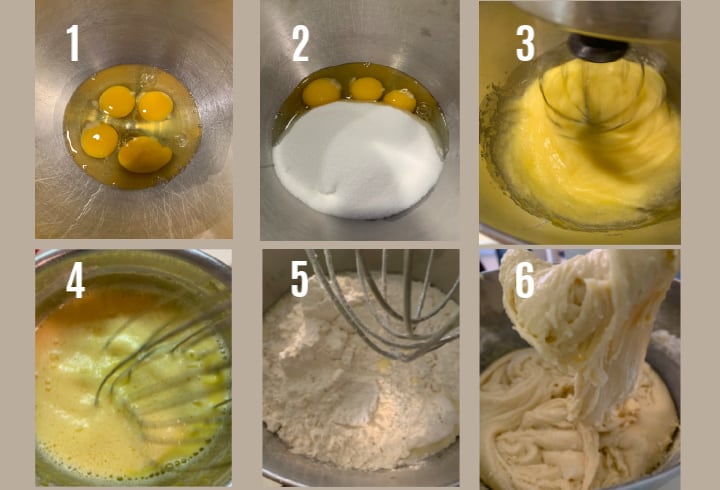 Bake the peach cookies and carve out the bottoms:
After 2 hours of chilling dough, line baking sheets with silicone baking mat or parchment paper and form the cookies.
Roll the cookies into a round ball but then flatten them slightly so they are no longer in a ball shape. Dough will be very sticky so consider using cooking spray on hands to prevent sticking
Bake for 25 to 28 minutes until they are slightly golden; the cookies are actually slightly overbaked so that they can absorb liquid in the next step without falling apart
Carve the bottom of the cookie as shown using a sharp knife. Do this while the cookie is still warm as they are prone to breaking if carving when cooled.
Extra cookie that can be discarded
Store the carved cookies in a sealed container after they have cooled while you make the pastry cream and the flavored syrup. Cookies can be made a few days in advanced if stored properly (ie, sealed container)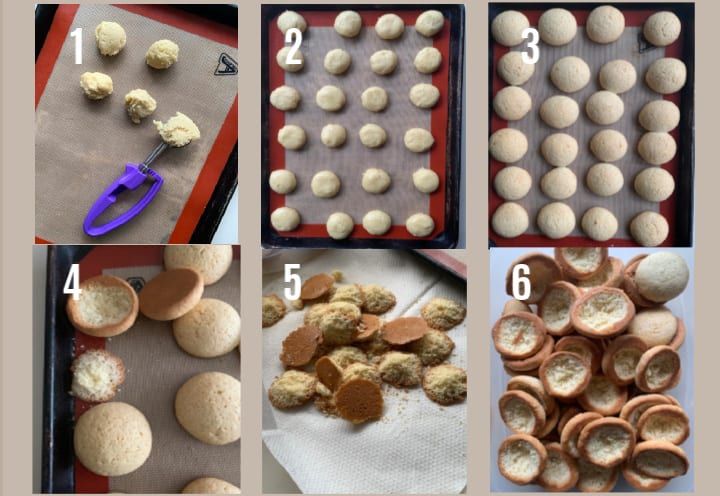 Carving the cookies:
Make the pastry cream for filling the peach cookies:
Add milk and part of the sugar to a sauce pan and heat over medium high heat until slightly boiling
Prepare eggs by separating yolk from whites; we will only need the yolks (store egg whites for another use)
Combine sugar and cornstarch in a separate bowl, and add egg yolks
Whisk the eggs with the cornstarch and sugar.
Add about 1/3 of the hot milk to the egg mixture while whisking vigorously.
Return the egg mixture to the milk mixture that is on the stove.
Continuously whisk for 2 minutes, ensuring to scrape the sides and bottom and bottom edge of pot to prevent scorching
Remove from heat and add butter
Whisk until butter has melted (optional but highly recommended, add Peach liquor). Cover with plastic wrap and refrigerate after it has cooled a bit to cool completely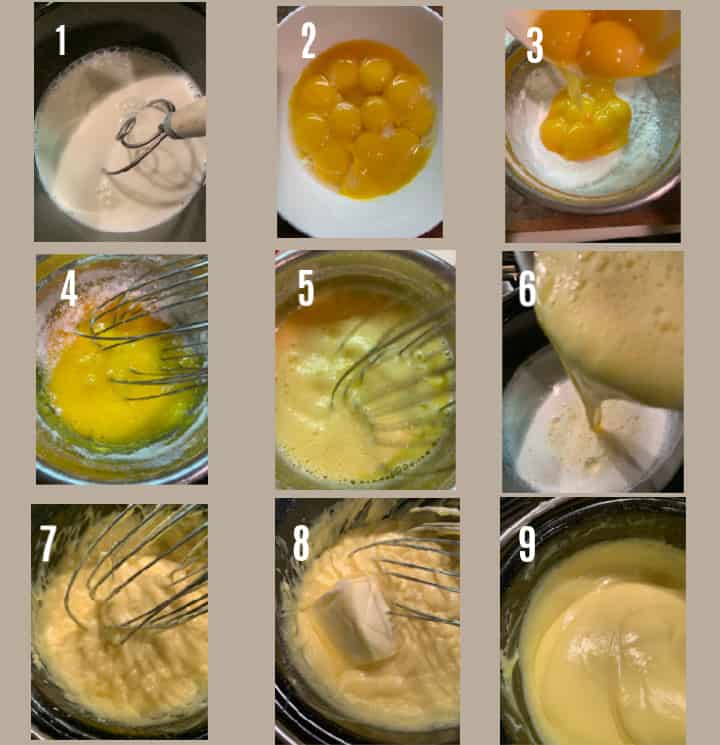 Make the dipping syrup for the peach cookies:
Add water (1 cups of it) with sugar and heat over medium heat
Continue stirring until the sugar has dissolved
Add flavorings, including lemon and orange peel (try to minimize the white part called pith as much as possible when peeling because that part is bitter! Add cinnamon stick if you have one
Add jello packet
Add vanilla extract
Continue stirring and adjust color by adding red food coloring. Remove from heat and add extra cup of water to cool the mixture and dilute it a bit.
Optional, flavor with peach liquor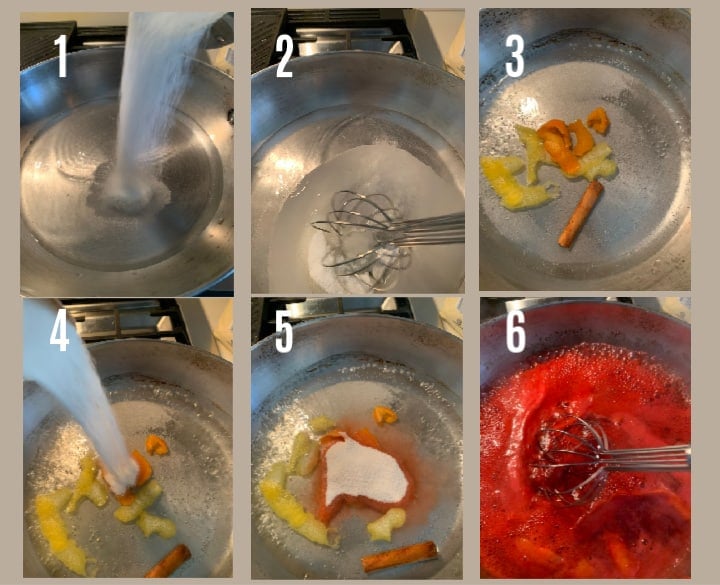 Fill and Decorate the Peach cookies (the fun part!):
Find two matching cookie sizes
Dip in flavoring syrup (I dunk them completely three times quickly) and shake off excess. (transfer the dipping syrup to a small and deeper bowl when you start running low so dipping is easier.)
Fill each half of the cookie with pastry cream
Sandwich the two filled cookies together
After all the cookies have been dipped and filled let them dry in fridge for 1 or 2 hours (not shown). Then, sprinkle each cookie generously with sugar (we use a sugar shaker)
Place cookies in cupcake cups and add leaves. Many use mint leaves, we simply cut some from our garden. You can also uses artificial leaves from the craft store.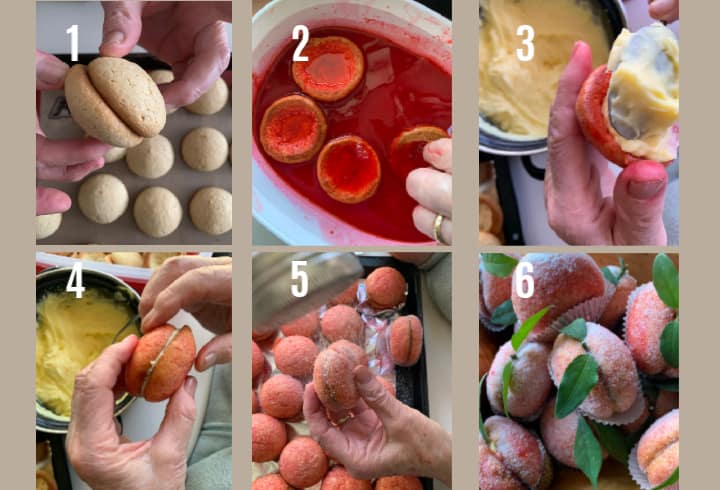 Variations for Filling and Dipping Peach Cookies:
Some people fill the cookies with sweetened ricotta cream
Other people use jam with or without crushed nuts
The dipping liquid is traditionally aklermes liquor, which is very difficult to find in the USA. I think that a non-alcoholic cookie can be eaten by more people (ie, children too!)
A whole almond can be placed in the center of the cookie to simulate a peach pit (be careful of this if you are feeding young children or the elderly).
Top Tips for Making Peach Cookies
My mom insists on letting the cookie dough rest for a minimum of 2 to 3 hours. She feels that the cookies rise better.
The cookie dough is quite sticky! Use cooking spray on your hands to help handle the dough and prevent sticking.
Remember these cookies are baked in order to be dunked in the flavoring syrup and so they're slightly dry and overbaked, intentionally! Otherwise, they would turn to mush when you dip them.
My mom likes to actually dip/dunk the cookies in the flavoring liquid rather than spraying on the syrup -she feels dunking the cookies imparts much more flavor and moisture.
After dipping, let the cookies dry uncovered in the refrigerator for a few hours before sprinkling with sugar; otherwise, the sugar will simply melt away.
Consider using small cupcake cups or liners so that more of the gorgeous peaches can be seen.
Make this recipe and share with friend! If you'd like to see more, subscribe today to get updates! You can also keep in touch on Pinterest, Instagram, or Facebook!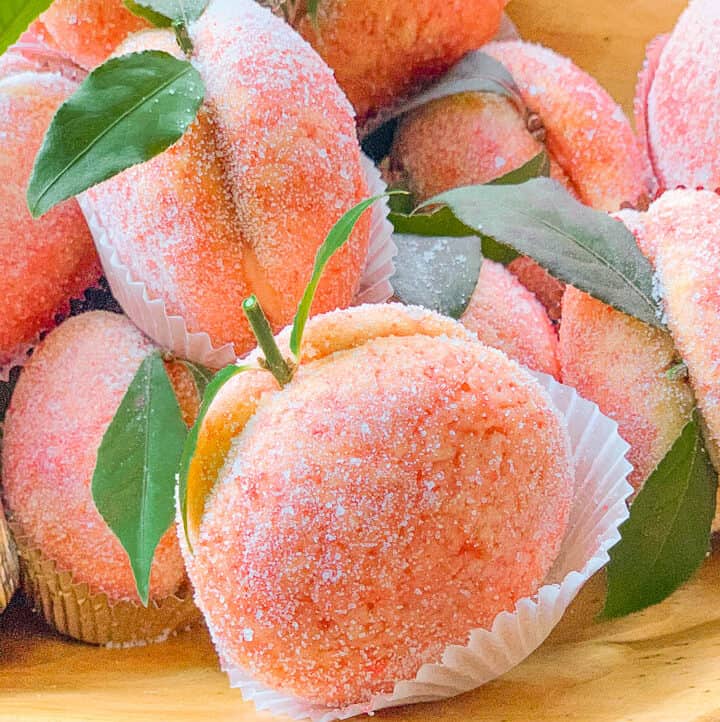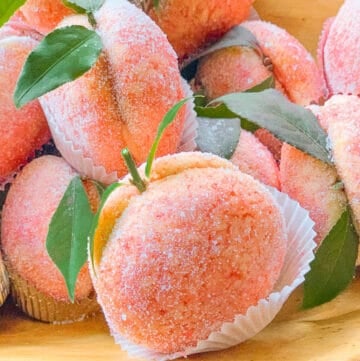 Lilla's peach cookies
My mom's recipe for making approximately 30 Italian peach cookies, which refers more to the shape than the flavor. These cookies are traditionally served during special occasions like weddings, bridal showers, and holidays such as Christmas. Recipe can be doubled
Print
Pin
Rate
Resting time for cookie dough and cooling of pastry cream:
4
hours
Equipment
Standing mixer

wire whisk attachment

dough paddle attachment

cookie or baking sheets

parchment paper or silicone baking sheet

small knife with pointed tip to carve cookies

bowls for dunking cookies
Ingredients
To make the cookie dough
4

large

(

4

large

)

eggs

room temperature

2

cups

(

400

g

)

sugar

1

cup

(

218

g

)

vegetable oil

1/2

cup

(

122

g

)

milk

6.5

cups

(

812.5

g

)

all purpose flour

4

tsp

(

4

tsp

)

baking powder
To make the flavored syrup for dipping
1

cup

sugar

2

cups

water

divided (1 cup and 1 cup)

1

stick

cinnamon

2

tbsp

vanilla extract

1

medium

orange

peel only

1

medium

lemon

peel only

1

box

peach flavored jello

1/2

tsp

red food coloring

more as needed

peach liquor

optional (I didn't use)
To make the vanilla pastry cream
4

cups

(

976

g

)

milk

3.5

tbsp

(

3.5

tbsp

)

sugar

(sugar 1)

12

large

(

12

large

)

egg yolks

7

tbsp

(

7

tbsp

)

cornstarch

3/4

cup

(

150

g

)

sugar

(sugar 2)

1/2

cup

(

113.5

g

)

butter

1/3

cup

(

51.33

g

)

peach liquor

optional but highly recommended
To construct the cookies and decorate them
1

cup

sugar

I use regular ole granulated sugar, but may try colored sugar in the future

30

leaves (real or artificial)
Instructions
To make the cookie dough
Optional but highly recommended to measure out all the ingredients first and set aside

In the bowl of a standing mixer, add eggs and sugar and beat with whisk attachment for about 2 minutes until light and fluffy

add the oil all at once and mix until blended

add the milk and mix until blended

Combine the baking powder with the flour and then add to the mixing bowl with egg mixture and combine until very soft dough forms (see photo)

Cover the bowl with plastic wrap, and set into the refrigerator for at least 2 hours
To bake the cookies and carve the cookies
preheat oven to 350 degrees F and line baking sheets with silicone baking sheet or parchment paper

Using a cookie scoop or tablespoon, portion dough into approximately 60 to 64 cookies. The shape should be round with a slightly flattened top (see photo)

please note that this is a sticky dough! use cooking spray to help prevent dough from sticking to hands when forming cookies

bake in oven for about 25 to 28 minutes. Note that these cookies are intentionally overbaked so that they can withstand the dipping step and not fall apart. That said, do not burn the cookies! They should have a golden color.

After cookies are baked, carve them while they are still warm.

The cookies should be cool enough to handle but still warm enough to allow carving. If they are cool, the cookies will be more likely to break when you try to carve the bottom out

Using a small knife with a pointed tip, carve out the bottom (see photo) so that they can be filled with pastry cream.

After all cookies have been carved, store them in a sealed container until ready to fill and decorate
To make the cream filling
Note that this recipe makes a little more cream than needed; the extra pastry cream is delicious enjoyed alone!

Also note that the sugar is divided, so please use sugar number 1 in first part of recipe and sugar number 2 in second part as described below

Combine milk and sugar number 1 in a medium sized sauce pan/pot and heat until slightly boiling over medium high heat

In the meantime, combine the cornstarch with sugar number 2 and then add to the eggs and mix well but do not introduce too much air

After milk come to slight boil, pour about 1/3 of it into the egg/sugar/cornstarch mixture while whisking vigorously

Return this egg mixture back to the pot containing the remaining milk/sugar mixture and heat over medium high heat for 2 minutes while whisking constantly. Mixture will become very thick. Whisk well continuously and make sure to stir the bottom of pot and bottom edges of pot to avoid scorching

Remove pot from stove, add butter, and stir well until all butter is melted

If using liquor, add to finished cream and combine well.

Cover with plastic wrap (ensure the top of the cream is in direct contact with plastic wrap or film will develop)

Cool and then store in the refrigerator until ready to use
To make the flavored dipping syrup
Add 1 cup of water, sugar, lemon and orange peels, cinnamon stick, and vanilla extract to a pan and set over the stove. Heat and stir over medium flame for about 5 minutes

Add red food coloring and stir until desired color is achieved.

Remove mixture/pan from flame and add remaining cup of water to dilute the mixture and cool it down a bit.

Optional, add peach liquor to taste (add 2 tablespoons at a time and taste as you go)
To fill and decorate the cookies
Organize an area for decorating cookies

Set out everything you'll need: the carved cookies, the dipping syrup for dipping, and the pastry cream to fill the cookies. You may also need some paper towels to wipe up if the syrup drips. You will also need a baking tray lined with parchment or aluminum foil.

We typically dip, fill, and put together one cookie at a time.

Although most cookies should be similar in size, it might help to match up 2 cookies before proceeding to the dip, fill stage

Dip 2 cookies (I dunk them three times), let excess syrup drip off, then fill each half with pastry cream and join the cookies together like a sandwich. Wipe excess cream that may ooze out with finger and place on nonstick paper lined baking sheet. Note that you should use a small and deep container to dip the cookies as the syrup starts to run low to make things easier.

Continue until all the cookies are dipped, filled and joined together

place the tray of cookies in the refrigerator for about 2 hours or so until they have dried slightly and then sprinkle with sugar (NOT powdered sugar but regular granulated sugar) and insert leaves to decorate. We use a sugar shaker but you can sprinkle with tablespoon.
Storage instructions
Cookies can be made 3 or 4 days in advance and stored in the refrigerator. They do not need to be covered as they should be quite moist and are not subject to drying out quickly.

Pastry cream can be made ahead and stored for 2 days

More tips on making pastry cream here

It is not recommended to freeze pastry cream (see explanation in link above); however, you may freeze cookies ahead of time and then fill and decorate a day before needed.
Notes
I like to make this recipe over 2 days
Suggested schedule:

Day 1: make, bake, and carve the cookies. Also, make the pastry cream
Day 2: make the dipping syrup, and then fill and decorate the cookies.

You will have some left over pastry cream, which can be eaten like pudding. (I had about 1 lb left)
Dough is sticky! Have cooking spray onhand and spray hands if needed to prevent sticking when you are forming the cookies
The cookies are intentionally a bit overbaked so that they can absorb the dipping syrup and so that they don't fall apart when doing so.
Carve out the bottom of the cookie while it is still warm so that you reduce the chance of breaking the cookies
Before the final step of sprinkling sugar on the finished cookies, you should let them dry a bit in the refrigerator or else the sugar will simply melt away. Let dry for about 1 to 2 hours and then sprinkle with sugar. A sugar shaker really helps but is not necessary
Nutrition
Serving:
1
pastry
|
Calories:
320
kcal
|
Carbohydrates:
55
g
|
Protein:
6
g
|
Fat:
8
g
|
Saturated Fat:
4
g
|
Cholesterol:
114
mg
|
Sodium:
73
mg
|
Potassium:
163
mg
|
Fiber:
1
g
|
Sugar:
32
g
|
Vitamin A:
303
IU
|
Vitamin C:
4
mg
|
Calcium:
87
mg
|
Iron:
2
mg