Italian Easter bread is one of my favorite holiday recipes
I love this bread! My mother has been making this Italian easter bread for years and years – since I was a little girl. I always looked forward to it around Easter. To this day, it's still a special tradition during the Easter season along with other specialities such as Easter pie and Italian rice pie, which I hope to post about one of these years.
Much like other traditional Italian recipes, every family has their own recipe for Easter bread. But, overall, it is similar: a yellowish, sweet bread that is similar to brioche or challah, but sweeter.
One recipe in particular seemed special to me, and that was a recipe from my cousin's boyfriend's family in South Philly. When I was younger, my cousin was dating a guy whose mom made the BEST easter bread ever because it was light as a feather. We were absolutely dying to have the recipe but you know these things aren't always possible, especially in some Italian families where family recipes might not always be shared. Yup, it's true.
Imagine our surprise when she shared this one! It's really not terribly unique when it comes to ingredients but I will say that the techniques shared here are what will get you the best Easter bread of your dreams, a light, airy, and tender crumb.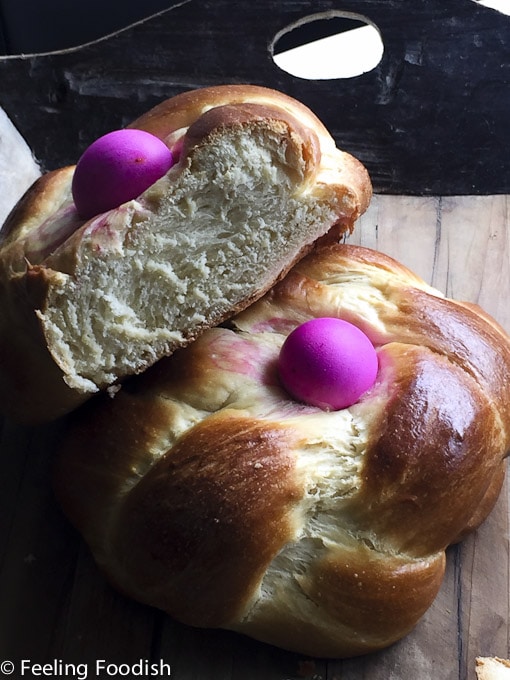 The secret to great Italian Easter Bread
So, you wanna know the secrets to this bread? First of all, make sure it's really Easter bread. Italian easter bread is high-ish in sugar and fat. Sorry, but that's what makes it good, okay?
Okay here we go: (1). Double kneading or a double rise. After mixing, you will let the dough bulk rise for 2 to 3 hours (it's a heavy dough, loaded with oil and sugar, so it takes some time for this dough to rise), then you punch it down and let it bulk rise again for 2 to 3 hours. After the second bulk rise, punch it down again, form your final loaf shape, and then let the loaves rise in the fridge overnight if time is short (which it probably will be after potentially 6 plus hours of rise time. (2). Be very careful about not adding too much flour. You want to create the lightest dough possible but it shouldn't be sticky. (3). Don't overbake it! Overbaking it will dry it out. This should be baked at a lowish temperature. Got it? Good, cause it's gonna be great!
I think this bread is so worth the effort. Leftovers make a great base for French toast!
A note about the eggs
I never knew this until this year because I never decorated the bread with eggs, but you don't have to precook the eggs that are used for decoration. Simply use an uncooked egg that has been dyed and place it in the center of the formed loaf. To avoid the bleeding that I experienced (as shown in the photo), make sure your dyed egg is completely dry and ensure that the egg wash that you brush your loaf with is completely dry too. My mistake was placing the egg on top of the loaf immediately after brushing the loaf with an egg wash. Ah, well – it was still delicious!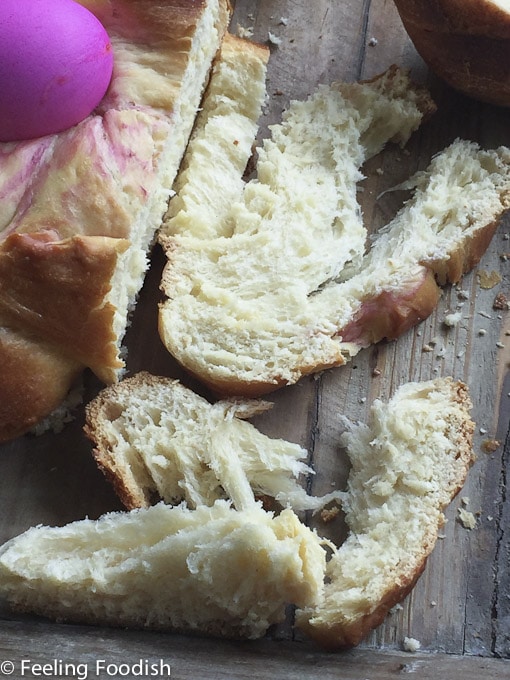 And of course, no bread post would be complete without the crumb shot. See above ↑↑↑↑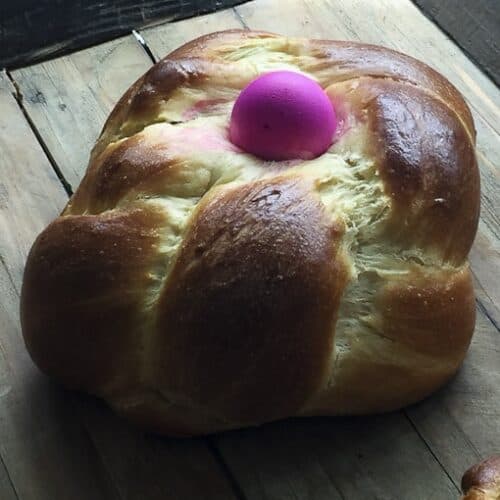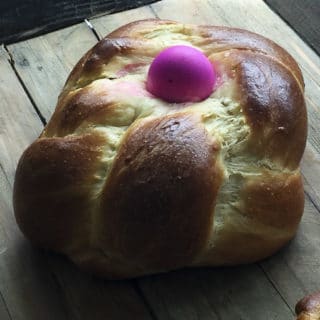 italian easter bread
Makes 4 loaves of light and tender Italian Easter bread (about 800 grams per loaf or 16 servings per loaf)
Print
Pin
Rate
Ingredients
6

eggs

2.5

cups

granulated sugar

1.5

cups

warm water

1.5

cups

warm milk

2

lemons

zested

2

teaspoon

vanilla extract

1 ¼

cups

oil

(vegetable or canola)

4.5

teaspoons

of instant yeast

(2 envelopes)

10

all purpose flour

up to 12 cups

egg wash

(1 beaten egg with 1 tablespoon of water added)
Instructions
Note that this makes 4 loaves of bread, so you may want to make half of the recipe to start.

In a small bowl, add the yeast to warm (but not hot!) milk and water, stir, and set aside

In a large mixing bowl, beat the eggs and sugar until light and fluffy (several minutes)

Add the lemon zest, extract, and oil to the egg-sugar mixture and beat until combined.

Add the milk, water and yeast mixture to the batter and mix until combined.

Begin adding the flour slowly. Add only enough flour to make a very soft dough. Beat very well to allow the flour to be absorbed and avoid adding too much flour. You should aim for a dough that is soft like your earlobe.

Consider weighing the flour instead of measuring it in cups (grams per ¼ cup usually listed on the flour nutrition information)

Place dough in large bowl or dough bucket, cover, and allow to rise until double (2 to 3 hours)

Punch down the dough and let it bulk rise again for 2 to 3 hours.

After the dough has risen a second time, punch it down again and form your loaves.

To form the loaves, begin by dividing the dough according to how many loaves you'd like to make (2 pieces if you made ½ the recipe or 4 pieces if you made the whole recipe).

For each loaf, you will then further divide each piece into 3 pieces. Roll each piece into a rope that is about 1 foot long and then braid the pieces together. You can tuck the edges under and leave the loaf long or roll the braid to form a round shaped loaf.

If you are decorating with eggs, dye your eggs, and allow them to dry

Place loaves on parchment lined baking sheets, and brush them with the egg wash.

Once the egg wash is dried, press the dyed easter eggs on top of the loaves.

Cover loaves loosely with plastic wrap, and refrigerate overnight.

When you are ready to bake, take loaves out of the refrigerator and heat oven to 325 degree F

Place loaves in center of oven.

Baking until golden - for me, this was ~40 minutes (make sure to begin checking loaves at 20-25 minutes and cover loosely with aluminum foil if they are browning too quickly)

Enjoy!
Nutrition
Calories:
48
kcal
|
Carbohydrates:
9
g
|
Protein:
1
g
|
Fat:
1
g
|
Saturated Fat:
1
g
|
Cholesterol:
16
mg
|
Sodium:
9
mg
|
Potassium:
26
mg
|
Fiber:
1
g
|
Sugar:
8
g
|
Vitamin A:
30
IU
|
Vitamin C:
1.8
mg
|
Calcium:
10
mg
|
Iron:
0.1
mg