I've been making a lot of this NY style pizza dough recipe .... The obsession started a while back, and I've finally found a recipe that I love the best! After years of experiments (and I mean years!), I am now using this recipe based on recommendations from the many fine pizza makers at www.pizzamaking.com and the late great Dough Doctor, Tom Lehmann.
Jump to: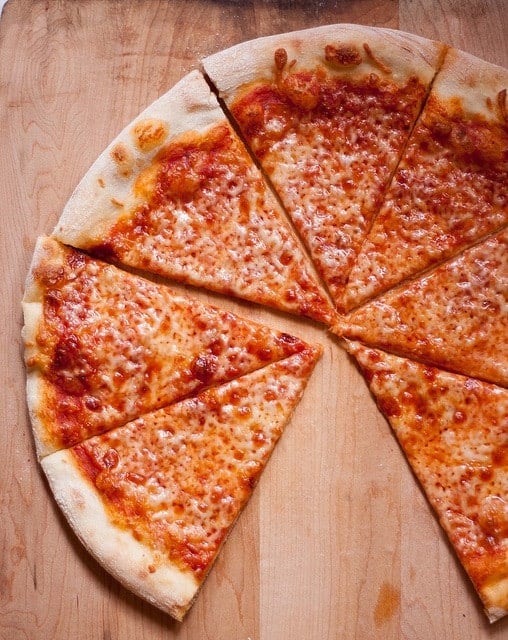 Making Pizza Dough at Home
Making NY style pizza dough is definitely somewhat of an art form. There are so many variables that can be changed aside from the ingredients alone. For example, these variables include:
oven temperature
temperature of the water used to make the dough
proofing methods (room temp vs cold rise)
order of adding the ingredients (yes, this makes a big difference!)
mixing time
use of autolyse
use of poolish (I don't do this or the one before, although I have in the past)
And then of course, the toppings which can be simple or as complex as you'd like. But don't worry too much about all of this - my method is easy and straightforward. Plus, you will make better dough than 99% of the pizza chains out there. You will not want take out anymore!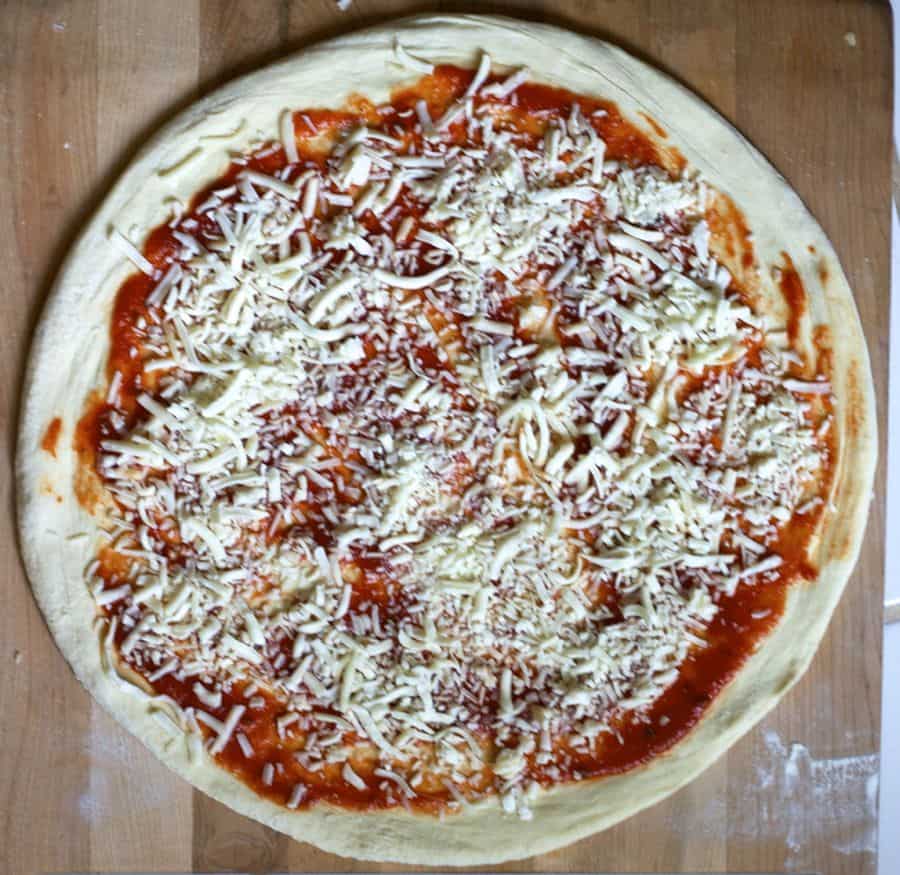 My Favorite Pizza Dough: The Big Secret (How You Proof the Dough)
My all-time favorite dough is NY style dough, which really is classic pizza dough that is stretched out into a thin crust pizza. This type of pizza dough contains water, flour, salt, instant yeast, and olive oil (and sugar especially when baking in a home oven, to help browning).
After it is mixed, it is proofed (left to rise/ferment) in the refrigerator for a minimum of 24 hours and up to 72 hours (it can also be frozen) - this is the big secret. I've used the dough up to 5 or 6 days afterwards, so you can essentially prepare dough for the week.
This recipe produces a crisp yet foldable crust that is tender, light, and flavorful and will make enough for four 14-inch pizzas. You can easily double or half the recipe to make 2 or 8 pizzas.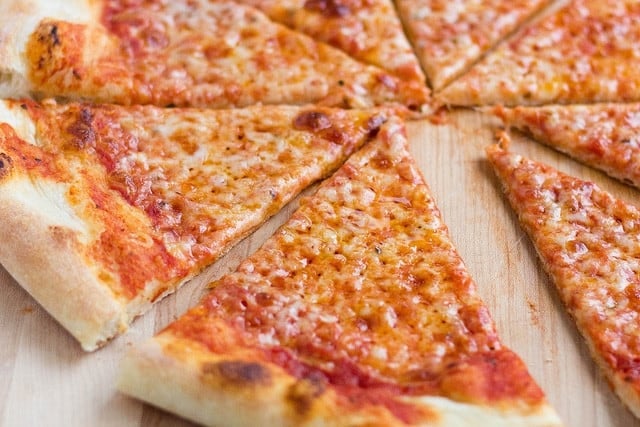 Fourteen Tips for Success
Tip 1: Choosing the flour
Use high-quality flour - I like to use King Arthur's all purpose or bread flour; higher protein (ie, bread) flours work best. However, I prefer all-purpose flour because I like a lighter, airy crust.
Tip 2: Adding the yeast
Do not add instant dry yeast (IDY) directly to cold or cool water - you may shock the yeast (add the IDY to your flour instead) (please note that IDY differs from active dry yeast, which must be activated by adding it to water).
Tip 3: How much yeast?
Use only enough yeast to "get the job done" - yeast eats the sugar in your flour to produce its leavening effects - I find that if you use too much, your dough will be tasteless (this is just my opinion); however, it is a fact, that too much yeast can make your dough taste bad. Most recipes out there, some of them in well known, published books contain too much yeast!
Tip 4: Cold ferment that pizza dough!
Always use your refrigerator. The best NY style doughs "ferment" or "cure" in the refrigerator for at least 24 hours and up to 48 72 hours. This is called a "cold rise" (vs warm rise on your kitchen counter).
The refrigerator is used to retard (or slow) the dough's fermentation, allowing that distinctive flavor to come through (ever wonder why some pizza crust tastes different than others, despite the fact that they are both made from just about the same exact ingredients? - this is a big reason why!)
When your dough rises too quickly, the flavor will not develop optimally. Slow rise = MUCH better flavor.
Tip 5: Weigh those ingredients!
Use a scale to weigh the flour instead of using a measuring cup - it is much more accurate and will yield superior results. I'll admit, I resisted doing this for a loooong time. Just do it. You'll be glad you did and your dough will be more consistent and much improved.
Tip 6: Add oil last
Mix the oil in as the last step, after the flour has all been incorporated. This is important to allow the flour to hydrate properly.
Tip 7: Flour your dough balls
Before tossing or opening your dough balls, flour them *very* well on each side (if you are a beginner) to ensure they do not stick to your counter or pizza peel. I sometimes use a bit more flour after I begin spreading them.
Tip 8: Keeping those rims a bit puffy
Take care not to "degas" the rim of your pizza as you are spreading your dough! Do NOT ever use a rolling pin! There are many different methods to spread/open your dough ball. I hope to add a few pictures someday of this process.
Tip 9: Baking pizza in a home oven
Ensure that your oven is preheated for a sufficient amount of time (about 1 hour) and bake the pizza within 6 to 8 inches of the top of your oven (ie, your broiler) so that the tops browns sufficiently in conjunction with the bottom of the pizza.
Do not place the stone near the bottom of your oven. I made this mistake for too many years.
After your stone has been preheated sufficiently, the heat from the stone will cook the pizza from the bottom and you can switch the broiler on if you find you need more browning on the top (I now use the broiler to bake my pizzas...more on this sometime in the future).
If you find that your cheese is browning well before your rim attains sufficient color, use partially frozen cheese (ie, place shredded cheese in the freezer while the oven is heating up) and cold sauce or you can drizzle just a bit of olive oil on top of cheese.
Tip 10: Use a pizza stone or steel
Use a pizza stone if you have one. The stone with draw moisture out of the dough and produce a beautifully crisp crust. I use a pizza steel because my stones kept breaking.
Tip 11: Use just the right amount of sauce
Do not use too much pizza sauce - it will make your pizza soggy
Tip 12: Find the right kind of cheese
Do not use low fat cheese to top your pizza or pre-shredded cheese (the former will not melt sufficiently and the latter contains additives that prevent the cheese from sticking together and therefore does not melt very well). The best is low-moisture, whole milk mozzarella.
If you must use pre-shredded cheese, I've found that adding the sauce on top of the cheese helps with the melting. Also, do not use too much cheese; apply it sparingly so that you can achieve that mottled NY pizza appearance.
Tip 13: Flour your pizza peel
Use semolina or flour on the bottom of your pizza peel to prevent the pizza dough from sticking but be careful not to overdo it because it will burn.
Tip 14: Learn to launch that pizza
Give the pizza peel a few very small quick jerks to make sure the pizza will easily slide off your pizza peel before attempting to transfer pizza to the oven, and more importantly, rub flour into the peel before placing the dough on top.
How to Stretch the Pizza Dough
A nice video (from The GoodFellas Pizza School of NY), showing how to stretch the dough:
How to Freeze Homemade Pizza Dough
After mixing dough and dividing into balls, place dough in refrigerator for at least 24 hours.
Place dough balls on baking sheet lined with plastic wrap or parchment paper, cover loosely with plastic wrap and freeze until firm (~ 2 to 3 hours or up to overnight).
Wrap frozen dough balls individually in plastic and store in zipper-lock bags for up to 4 weeks.
When ready to bake, transfer unwrapped dough into the refrigerator for 12 to 24 hours before making pizza.
Bring dough to room temperature for 20 to 60 minutes before baking (less time for hot kitchen/summer and more time for cool kitchen)
Have More Questions?
Please See My NY Pizza FAQ
Pizza Dough Calculator
Need more dough? Less dough? Try out our new Pizza Dough Calculator to calculate the weights to get it just right!
Like this recipe? If you'd like to see more recipes, SUBSCRIBE today to get free recipes from Feeling Foodish directly to your email.
📖 Recipe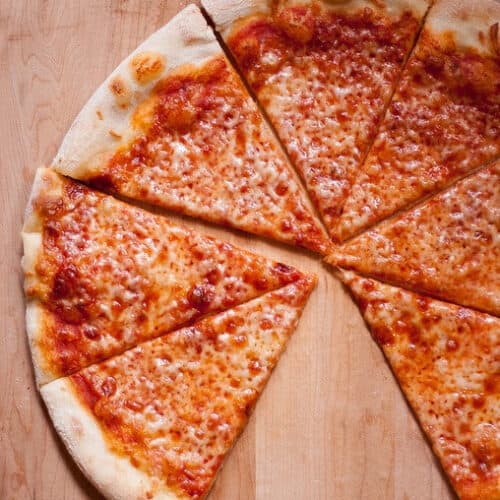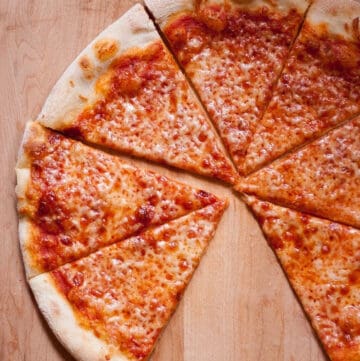 The Best New York Style Pizza Dough
The best, authentic NY pizza dough recipe for making pizza dough at home. This is the best thin crust pizza ever! You will never want take out again!
Equipment
pizza stone or pizza steel

for baking
Ingredients
1X recipe ingredient below = about 3 Pounds of Dough (Original Recipe for Four 14-Inch Pizzas) (want to make more or less? Use the pizza dough calculator)
6

cups

(

796

g

)

all purpose flour

or bread flour (28 oz per 6 cups)

2 ¼

cups

(

493

g

)

water

barely cold water (17.4 oz per 2 ¼ cups)

1

teaspoon

(

3.5

g

)

instant dry yeast

2.5

teaspoons

(

15.6

g

)

salt

2

teaspoons

(

7.8

g

)

sugar

1

tablespoon

(

11.8

g

)

olive oil
1X recipe ingredients below = 1 Pound of Dough (~454 grams)
2 ¼

cups

(

274.5

g

)

all purpose flour

or bread flour

¾

cup

(

170.2

g

)

water

½

teaspoon

instant dry yeast

1

teaspoon

salt

¾

teaspoon

sugar

1

teaspoon

olive oil
Instructions
Mixing the Dough
Place water in mixing bowl.

In a separate bowl, mix salt and yeast (and sugar if using) into flour

Combine flour/salt/yeast mixture into water and mix until all the flour has been incorporated.

After flour has been totally incorporated, add oil and knead for about 4 to 5 minutes (see note)

Test final dough temperature, which should ideally be between high 70s to low 80s (optional)
Dividing and Rising
Divide dough into 4 equal pieces (using a digital scale if possible; each ball should weigh 11.5 oz [~326 grams]), shape into a ball, and place in greased, sealed quart-sized container or oiled/greased freezer bag and refrigerate overnight or up to 72 hours (After much experimenting, I have concluded that I like 3 days best but day 2 is good too).
Assembly and Baking
The following day, remove your dough balls within 1 hour or less of baking and allow the dough to come to room temperature. (the dough will tend to blister more if the dough has not been allowed to come to room temperature however, I often bake coldish dough without problems, just some bubbling)

In the meantime, place your pizza stone in oven and preheat at 550 degrees (depending on thickness of your stone and your oven's power) for at least 1 hour

Open each dough ball using care not to degas, transfer to a pre-floured pizza peel (or on parchment paper), and top with

your favorite sauce

, cheese, or other toppings.

Transfer pizza from peel to oven or slide parchment paper onto preheated pizza pan/stone and bake for 4 to 6 minutes each until browned on top and cheese has melted but not burned.

Enjoy!
Notes
Weighing Ingredients 
Use of weight based measurements is highly recommended instead of US Customary. You will need a kitchen scale. 
METRIC amounts DO NOT correspond exactly to the US Customary amounts because, for example, 796 grams equals 6.4 cups (and most can't measure 0.4 cups or 0.22 cups). Recipe was based on grams.  
TO MAKE MORE OR LESS DOUGH
KNEADING
If you want to use the dough the next day, knead a little more (slow speed for about 8 to 10 minutes)
If you have time to let the dough rest for 3 days, knead for 4 to 5 minutes, low speed or hand knead.
TO FREEZE THE DOUGH:
After mixing dough and dividing into balls, place dough in refrigerator for at least 24 hours.
Then, place on baking sheet lined with plastic wrap or parchment paper, cover loosely with plastic wrap and freeze until firm (~ 2 to 3 hours or up to overnight).
Wrap frozen dough balls individually in plastic and store in zipper-lock bags to store for up to 4 weeks (longer may work, but results might vary).
Before using, transfer unwrapped dough into the refrigerator for 12 to 24 hours before making pizza.
Bring dough to room temperature for 20 to 60 minutes before baking (less time for hot kitchen/summer and more time for cool kitchen). 
BAKER'S PERCENTAGES:
calculate your own using baker's percentages: 62% hydration, 0.4% yeast, 2% salt, 1.5% oil, and 1% sugar or use my new pizza dough calculator. 
Have more questions? See our pizza dough FAQ
Nutrition is estimated for one slice of pizza without any toppings. 
Nutrition
Serving:
1
Slice
Calories:
91
kcal
Carbohydrates:
18
g
Protein:
3
g
Fat:
1
g
Saturated Fat:
0.1
g
Polyunsaturated Fat:
0.1
g
Monounsaturated Fat:
0.4
g
Sodium:
183
mg
Potassium:
29
mg
Fiber:
1
g
Sugar:
0.3
g
Vitamin A:
0.5
IU
Vitamin C:
0.001
mg
Calcium:
4
mg
Iron:
1
mg
Interested in More Recipes?
SUBSCRIBE to get recipes delivered to your email 🙂
Try these other pizzas and this NY pizza sauce:
Buffalo style (one of my absolute favorites)
White with prosciutto
White with spinach and feta
Pizza sauce