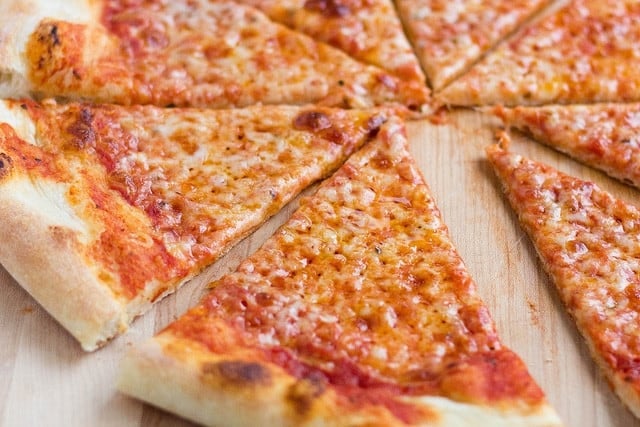 Since writing my first post on making NY style pizza, I've gotten a few requests for a good pizza sauce recipe. See, truth is, the pizza dough is only part of the makings of a good pizza - finding a good sauce recipe and a favorite cheese combination is definitely the other part of the battle for good pizza.
Without question, the quest for a good pizza sauce recipe largely depends on using high quality tomato sauce products, much like I said when I wrote the Panera-like creamy tomato soup recipe. Choosing a tomato brand will depend on your tastes and what products are available in your area. A few of my favorites brands include Red Pack (which seems hard to find), Cento, Muir Glen, and of course, San Marzano. I also like Tutto Rosso and Nina. For those of you who are new to making pizza sauce, do not use pre-made pasta sauce!
For the most part, I have always used tomato puree, but would like to also try crushed tomatoes or tomato sauce to make my sauce in the future. This is a matter of personal taste - again, you can use what you like. I have always liked tomato puree because it has been passed through a sieve to remove all the seeds, which impart a bitter undertone in my opinion.
Tomato puree is, however, too thick and so you must water it down a bit. If you use tomato sauce or crushed tomatoes, consider passing the sauce through a food mill to eliminate the seeds before you mix with the other ingredients - I think it makes a big difference! One of the older Italian women from my old neighborhood taught me that trick.
The other subject of controversy is to whether to cook pizza sauce before using it. I do not precook my sauce and from what I have read, most NY style pizza makers do not pre-cook their sauce. From what I understand, the tomato puree is already precooked, so that helps to impart the deeper flavor that you get when you cook tomato sauce - possibly another reason that I like to use tomato puree. However, I have also read that cooking sauces releases the aromatics, which never return again so I will be experimenting with crushed tomatoes and tomato sauce in the future.
After mixing the sauce ingredients, it does help to let the sauce sit for a while in the refrigerator to let the flavors marry. I have skipped this step in a pinch, but plan to do so if you can. The recipe is quite simple if you have all the ingredients - just mix, let sit, and use.
You can freeze leftovers, but the sauce becomes more watery after it is defrosted - I don't mind this, but you should consider this beforehand. I usually use ½ cup of sauce for each 14 inch pizza that I make.
Do not use aluminum containers to store pizza sauce.
📖 Recipe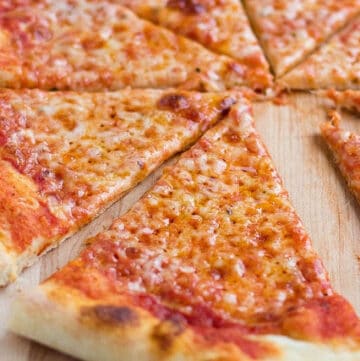 pizza sauce
Easy to make, NY style pizza sauce
Ingredients
28

oz

can of tomato puree or tomato sauce

(I now prefer sauce; you can also use diced tomato, whole tomatoes that you puree yourself, etc)

½

cup

water

(**only if using store bought puree**)

¼

cup

olive oil

handful of fresh basil if available

(I only use this in summer when in season)

1-2

teaspoons

sugar

(optional - taste your tomatoes first as they all differ in sweetness and then, if needed, add a little at a time)

2

teaspoons

salt

1

teaspoon

dried oregano

1.5

teaspoon

garlic powder

1

teaspoon

onion powder

pinch of red pepper flakes

(optional)

½

teaspoon

ground black pepper

(optional)
Instructions
Combine all ingredients except water in a bowl and mix well

If you used puree, slowly add water, using more or less if necessary until you reach desired consistency

The sauce should be thick enough to coat the back of a wooden spoon but thin enough to spread easily on the pizza. Keep in mind that the sauce thickens a bit in the oven, so if it is too thick to begin with you will end up with paste.
Nutrition
Calories:
208
kcal
Carbohydrates:
21
g
Protein:
4
g
Fat:
14
g
Saturated Fat:
2
g
Polyunsaturated Fat:
2
g
Monounsaturated Fat:
10
g
Sodium:
1224
mg
Potassium:
920
mg
Fiber:
4
g
Sugar:
11
g
Vitamin A:
1376
IU
Vitamin C:
22
mg
Calcium:
60
mg
Iron:
4
mg
Interested in More Recipes?
SUBSCRIBE to get recipes delivered to your email 🙂