What is a torte anyway?
I didn't know what a torte was until I got curious after making this awesome chocolate hazelnut torte. At first, I found that a torte was defined as a rich, multi-layered cake filled with buttercream, jams, or whipped creams and is traditionally baked in a springform pan. Okay, doesn't sound too different than a regular ole cake? Then I found the real difference between a torte and a cake: the torte uses either no flour or a very low percentage of flour. This chocolate hazelnut torte uses only ½ cup of flour, so it definitely fits the definition.

Using a springform pans
As you probably know, a springform pan is used for things like cheesecake, which would probably break apart if you flipped the pan upside down, as is normally done with typical cake pans following baking and cooling. The use of a springform pan allows you to more easily remove the cake by releasing the outer ring of the pan compared with a traditional cake pan. For this cake, I just used the bottom of the pan as a sort of cake board.

The backstory on this torte
This recipe is from the files – it's easily 20 years old at this point in time. I clipped the recipe from a magazine years ago and made it for coworkers during a contest where I challenged a fellow coworker to a "bake off". It was a fun idea at the time to add some fun (and treats) to the workplace. We served both cakes and then everyone voted for their favorite at the end of the day, and the chocolate hazelnut torte won! It's really a special cake, and I'm so happy to have found the recipe because I thought I lost it.

Using hazelnuts in this recipe
For this recipe, I purchased two 1-pound bags of blanched hazelnuts from my local farmer's market. I ground them at home into a coarse meal, although I would have liked to have had a finer nut flour. I probably could have dried the nut meal a bit and then passed into into the blender again (I used a Vitamix dry grain attachment). The one pound bag yielded about 3.5 to 4 cups of ground hazelnuts. I believe that Bob's Red Mill also sells hazelnut meal if you can find it. Otherwise, I think it'd be fine to substitute other nut flours to suit your taste. I'm assuming a finer grain nut flour would give you a finer and prettier crumb.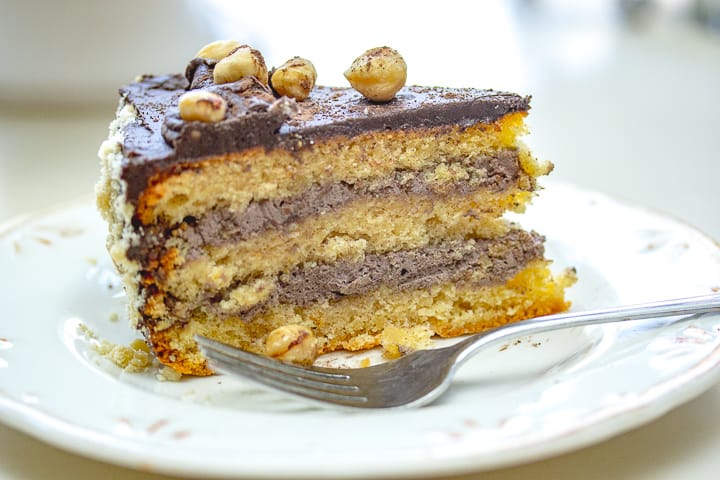 Does this chocolate hazelnut torte taste like Nutella?
So you might think that being a chocolate hazelnut torte, this cake might taste like Nutella. It does not. But you can probably make it taste more like Nutella by omitting the orange zest. Personally, I think the orange adds a wonderful complexity to the flavor profile of this cake and it actually tastes much better the day after you bake it.
More chocolate recipes on Feeling Foodish: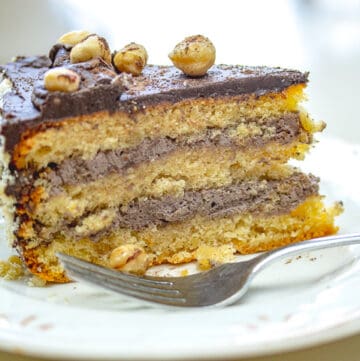 chocolate hazelnut torte
With notes of citrus, chocolate and hazelnut, this torte is the perfect treat!
Ingredients
For the torte
6

eggs

, separated

1

tablespoon

of orange zest

¾

teaspoon

ground cinnamon

1

cup

of granulated sugar

, divided

1

teaspoon

cream of tarter

3

cups

finely ground hazelnuts*

½

cup

all purpose flour
For the filling
1

cup

chilled whipping cream

(heavy)

½

cup

powdered sugar

¼

cup

cocoa powder

2

teaspoons

orange zest
For the chocolate buttercream*
½

cup

butter

, softened

½

cup

cocoa

3

cups

powdered sugar

1

tablespoon

brandy

(optional)

2

teaspoons

vanilla

~3 tablespoons milk
For decorating the cake
Additional ground nuts or chopped nuts to decorate sides of cake
Instructions
For the torte
Heat oven to 325 degrees

Grease bottom only of springform pan, 9 x 3 inches

Line bottom of pan with waxed paper and grease generously

In standing mixer on high speed, beat egg yolks, 1 tablespoon orange zest, and cinnamon until very thick and light colored (about 6 minutes)

Gradually beat in ½ cup of the sugar, 1 tablespoon at a time. Set aside and wash beaters

In a clean bowl, beat egg whites and cream of tarter on high speed until soft peaks form

Gradually beat in ½ cup sugar, 1 tablespoon at a time.

Continue beating until stiff peaks form

Fold egg yolk mixture into egg white mixture

Mix 3 cups ground hazelnuts with ½ cup flour

Fold nut-flour mixture into the batter a little at a time (in three parts)

Spread into pan and bake for 50 to 60 minutes until cake tester comes out clean

Cool on wire rack for 15 minutes

Loosen cake from pan and remove

Invert cake onto wire rack and cool cake completely

Wrap in plastic wrap and refrigerate for at least 4 hours to make slicing easier
Chocolate filling
Beat whipping cream, powdered sugar, and cocoa in a chilled bowel until stiff

Fold in orange zest
Chocolate buttercream frosting
Beat butter with remaining ingredients until the mixture reaches spreading consistency.

Reserve ½ cup for decorating
To assemble
Slice cake into 3 layers (should be about ½ inch each layer)

Spread filing onto first layer, top with another layer, spread filling onto second layer, and top with final layer

Spread buttercream on top and sides of cake

Use extra chopped nuts or ground nuts to decorate sides

Decorate top with reserved frosting and extra nuts if desired
Notes
* I used one pound of whole hazelnuts; after grinding, it yielded about 3.5 to 4 cups
If you like a lot of frosting, consider doubling the amount of frosting as this amount will provide a very thin coating
Nutrition
Calories:
584
kcal
Carbohydrates:
65
g
Protein:
9
g
Fat:
35
g
Saturated Fat:
12
g
Trans Fat:
1
g
Cholesterol:
129
mg
Sodium:
109
mg
Potassium:
139
mg
Fiber:
5
g
Sugar:
52
g
Vitamin A:
651
IU
Vitamin C:
2
mg
Calcium:
78
mg
Iron:
3
mg
Interested in More Recipes?
SUBSCRIBE to get recipes delivered to your email 🙂