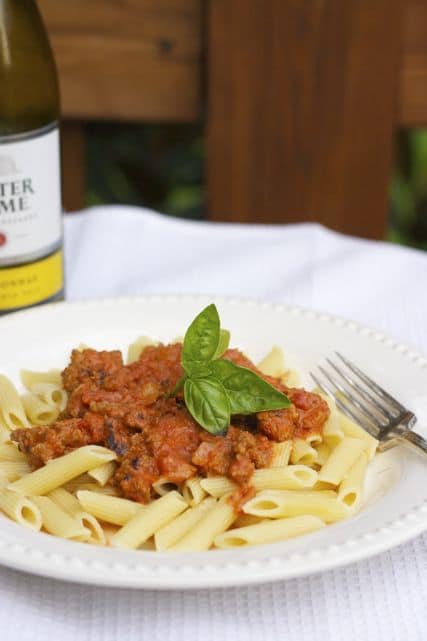 Ahhhh, pasta! We eat a decent amount of pasta around here. At least once a week. The thing that I love most about pasta is that it is usually a one pot meal. Serve it with a nice big salad and you have a complete and usually easy, meal.
My husband is a huge sausage lover, and so this recipe made him pretty happy. In fact, he loooved it. Emeril's recipes are pretty good that way. Looking back, I believe one of the earliest cookbooks that I owned was from Emeril Lagasse. The man can cook! This pasta dish was high on flavor and quick to put on the table. If you like blush sauces, give this one a try. You can definitely substitute chicken or shrimp for the sausage if you'd prefer and it would still be delicious!
Source: Slightly adapted from Emeril Lagasse, Food Network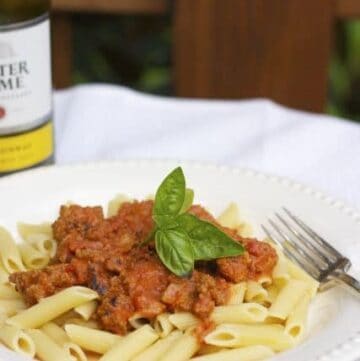 Pasta with vodka sauce
A creamy flavorful blush sauce made with Italian sausage, crushed tomatoes, and heavy cream
Ingredients
1

lb

penne pasta

4

tablespoons

olive oil

1

lb

Italian sausage

, casings removed

1

cup

chopped onions

1.5

teaspoons

salt

½

teaspoon

red pepper flakes

3

tablespoons

minced garlic

1.5

cups

crushed tomatoes

½

cup

vodka

6

tablespoons

heavy cream

3

tablespoons

of fresh basil leaves

, chiffonade

Grated Parmigiano-Reggiano cheese

for garnish
Instructions
Bring large pot of salted water to a boil.

Add pasta to water and cook about 6 to 10 minutes until al dente or according to package instructions.

Drain and return to pot.

In the meantime, heat the olive oil in a large saucepan over medium heat, add sausage, and cook until brown and all pink has disappeared, about 10 minutes.

Add onions, salt, and red peppers and cook until onions are translucent, about 10 minutes.

Add the garlic and heat until fragrant, about 3 minutes.

Add the tomatoes and stir, cook until the sauce thickens, about 4 to 5 minutes.

Add the vodka and cook until the sauce is reduced 6 to 10 minutes.

Stir in the cream and heat for 3 or 4 additional minutes.

Toss immediately with pasta and serve with grated cheese, topped with fresh basil.
Interested in More Recipes?
SUBSCRIBE to get recipes delivered to your email 🙂