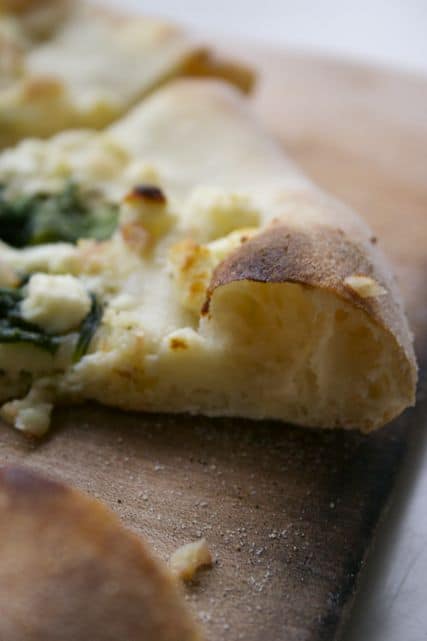 See that crust? I've been on a mission and this has been my goal. To craft a pizza with a crispy, airy rim that is both flavorful and light.
As you probably have guessed, I have a thing for pizza.
In fact, I love it.
I can probably eat pizza everyday without getting bored, provided that I can experiment with various toppings. After all, it's kind of like an open-faced sandwich. Bread on bottom with various toppings…
I'm very happy with my pizza dough recipe, but I'm still fiddling with ways to bake it in my non-commerical home oven. Until recently, I'd been preheating my stone for at least an hour at 550 degrees, while the stone has been placed within 6 to 8 inches of the top of the oven. This way, the top of the pizza browns in tandem with the bottom, which is cooked by the heat of the preheated stone.
This week, I became more daring and moved my stone up to the first position, within 4 inches or so from the top of the oven. I'll admit – it was very difficult to launch the pizza from the pizza peel to the stone but I successfully launched 3 of the 4 pizzas (don't ask about the last one!).
I feel that the oven spring was much improved, although I'm not sure if it was due to the newest oven position. I'm guessing that the more intense heat (the pizza cooked in about 1 minute less time than usual), is causing more oven spring to occur during the initial bake.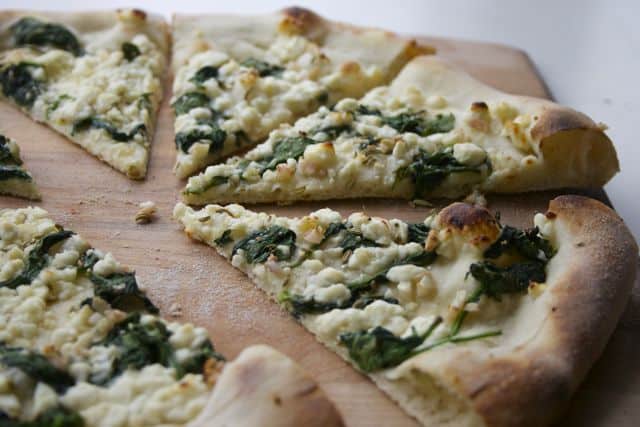 We (my husband and I) also have a love affair with spinach as a topping. In the past month or so, I've made pizzas with fresh spinach and ricotta cheese, spinach and artichoke with roasted garlic, as well as this pizza.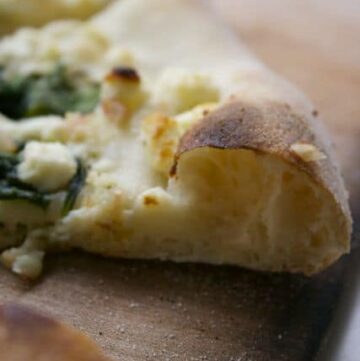 white pizza with spinach fennel and feta
A white pizza topped with feta, spinach, and fennel seed
Ingredients
2

pizza dough balls

, 11.5 oz each

2

bags

(6 oz) of fresh spinach

3

or 4 cloves of garlic

, minced

crumbled feta cheese

, 12 ounces, divided

fennel seeds

, 2 tablespoons, divided
Instructions
Place pizza stone in oven within 6 to 8 inches of top of oven.

Preheat oven to 550 degrees for at least one hour before baking.

In the meantime, saute spinach over medium heat in a nonstick skillet for 4 to 6 minutes or until wilted and set aside to cool.

Just before you are reading to bake, open your pizza dough ball to form a 14 inch circle and gently place it on floured pizza peel or parchment paper.

Immediately top pizza with half of the cooked and cooled spinach, half of the minced garlic, 6 ounces of feta cheese and one tablespoon of fennel seeds.

Launch pizza onto stone, and bake for 4 to 6 minutes until bottom and top are sufficiently browned.

Repeat with other dough ball.
Interested in More Recipes?
SUBSCRIBE to get recipes delivered to your email 🙂