Spring break on the Carnival Pride
It's been a few weeks since our family vacation on the Carnival Pride .
I'll start by saying we were all very much looking forward to this vacation aboard the Carnival Pride for many different reasons. Some of us needed a break from work and others needed a break from school and the challenges that go along with being a teenager. This cruise proved to be just what we all needed, although I was a bit skeptical beforehand. You see, we had only been on one other cruise, a Disney cruise, when the kids where much younger, and although it was a good cruise, I much preferred the Land part of the Disney Land and Sea vacation. This was probably because I really enjoy the Disney theme parks and also because I preferred the Epcot restaurants over the cruise food/Disney BBQ on their private island, but I digress. Back to Carnival...
In a nutshell, I thought that the cruise was extremely relaxing. And you know what? It was so refreshing to actually come home from vacation completely relaxed. Sad to say, that doesn't usually happen! Do you ever need a vacation after your vacation?
There were a lot of cruises to choose from, and we ended up on the Pride out of Baltimore MD based on a recommendation from my cousins who are long-time travel agents.

Photo above: early morning, Mermaid towel on Lido deck
Choosing to Sail on the Pride
We decided on the Carnival Pride because we live within driving distance to the port in Baltimore (we didn't want to fly into a port). We also liked that the Pride is a smaller ship with a capacity of ~2100 passengers. This was important because I. do. not. love. crowds. Especially on vacation 🙂 In retrospect, we lucked out choosing the Pride because we learned that many newer ships are built with a goal of cramming as many staterooms onboard as possible, and things like stateroom verandas are either disappearing altogether or getting so small that you cannot even stretch your legs while relaxing outside.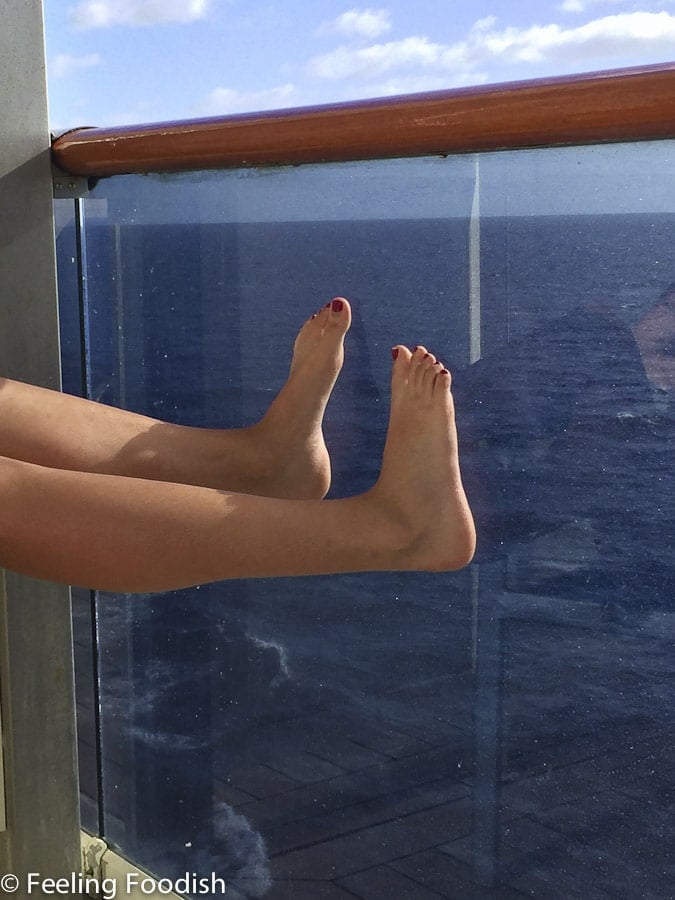 Photo above: Relaxing on our cabin's veranda, complete with two chairs and a small table
The extended veranda in our stateroom was simply awesome. Personally, being able to read on the veranda, or enjoy a glass of wine or breakfast out there was a highlight of the trip.

Photo above: View from buffet area, steps leading to David's Steakhouse
An Overview of the food
As someone who loves cooking and eating, it's only natural that I was wondering how the food would be on this ship. Cruises are often sold as vacations where food and drink are plentiful. But I couldn't help and wonder if this food would be mediocre at best? After all, the crew is cooking for over 2000 people. Despite my doubts, I'm happy to say that we were pleased overall with the food.
There are several choices for food, most of which are included in the price of your cruise. Alcoholic drinks and sodas are extra, as are the Steakhouse (which we tried and loved) and the Sushi restaurant (which we did not get a chance to try).
David's steakhouse
At the time of this writing (2017), the cost for dinner at the Steakhouse was $40 per adult - not bad for a 3-course, high quality meal. We made reservations for the first evening at sea, and received a free bottle of wine as a perk for booking on the first night.

Photo above: evening, inside David's Steakhouse
The views in the Steakhouse were absolutely beautiful and I was very pleased to spend the first night at sea enjoying the views from this part of the ship. I recommend going to the Steakhouse around sunset so you can see both daytime (below) and evening views (above). As you can see, the atmosphere was beautiful, and the food was top notch.

Photo above: sunset, David's steakhouse (atrium goes from pink during daytime to purple at night)
I loved the ombre vista, courtesy of the evening sky and sea. Now, that's not something that I get to see too often!

Photo above: evening, David's steakhouse, ocean views
On to the food...in addition to the complimentary wine, we also each received complimentary mini burgers. Isn't that cute? The tablecloth and dishes were drenched in pink, reflecting the pink atrium overhead.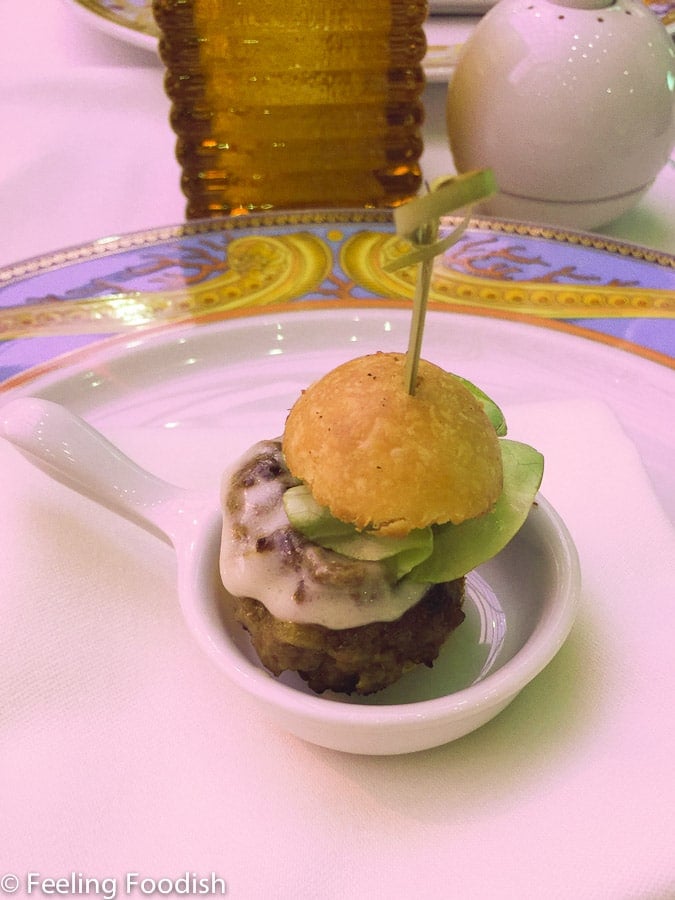 As one would probably expect, there were many choice for steak. We ordered a petite filet, which was tender and delicious.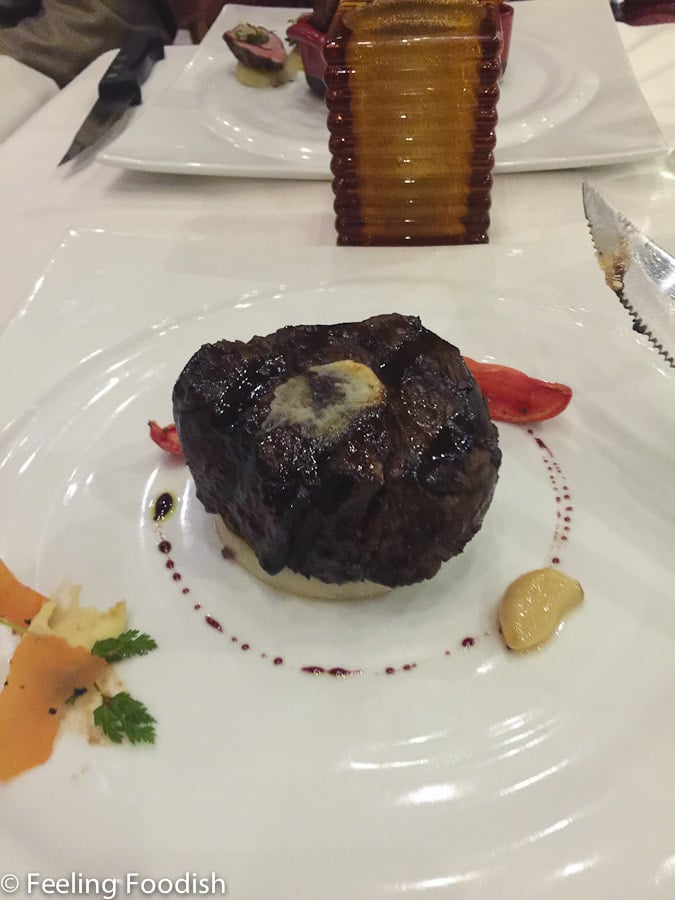 Photo above: steak dinner, David's Steakhouse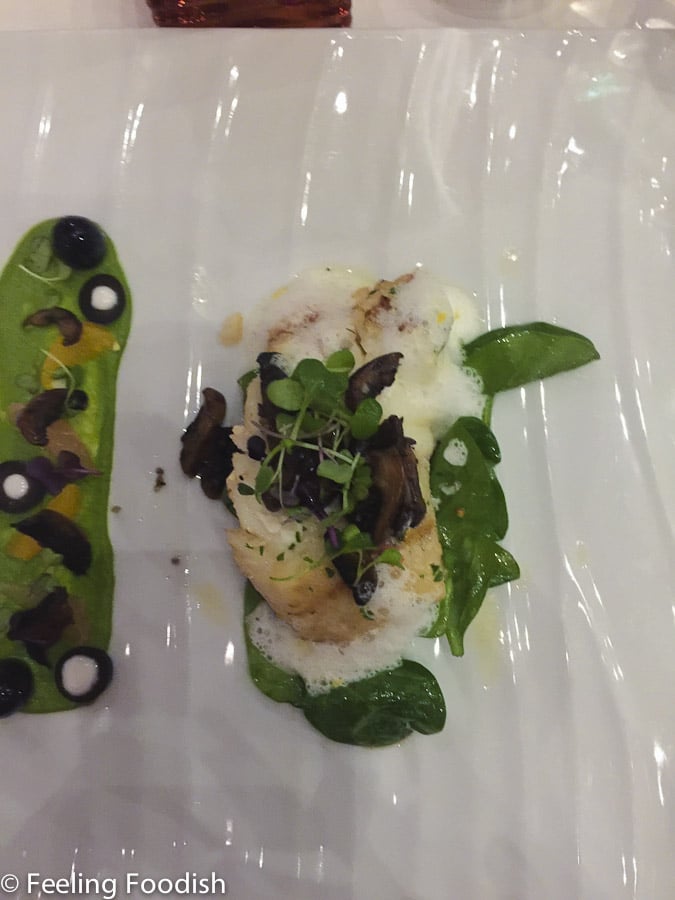 And for non-meat eaters, there is also seafood. This was Sea Bass - also very good and the plating was beautiful as well.

Photo above: Sea Bass, David's Steakhouse
The main dining room and the buffet area
Meals included in the price of the cruise were those served in the main dining room during breakfast (port days) or brunch (sea days) and during dinner (every night). The menu changed daily - I wish I had taken some snapshots of the menu, but alas there are none to show. To give you an idea, each evening, there were usually about 5 different choices for the main meals (some choice of red meat, pasta, seafood, chicken, and the vegan meal seemed unchanged - an Indian inspired lentil dish from what I recall). Also on the menu were a selection of appetizers, salads, and a daily soup. Fear not, dessert is also included daily, although we usually passed.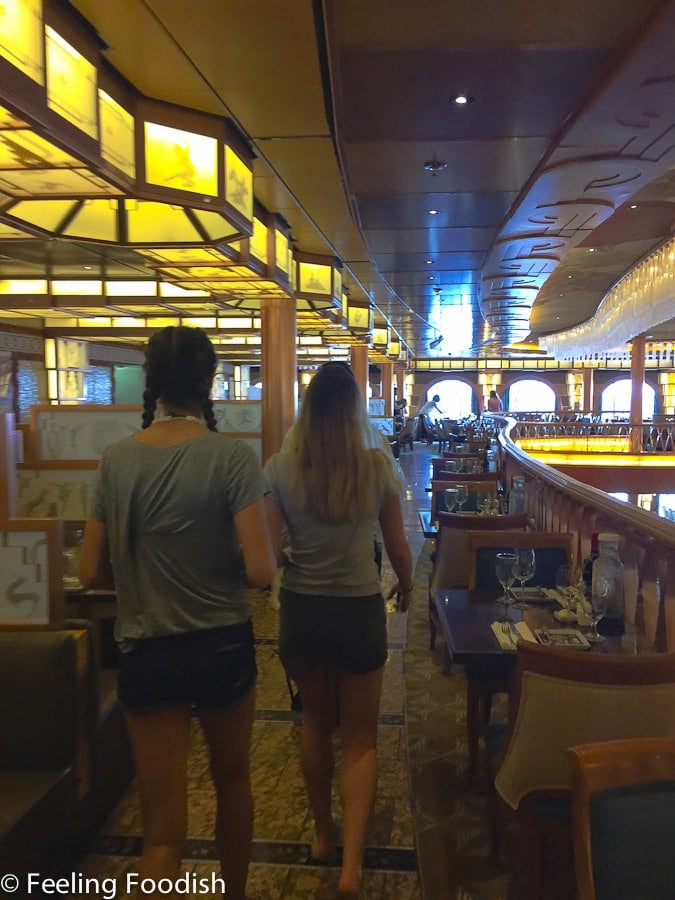 Photo above: Heading into the main dining room for dinner. The upper level is for "anytime dining" while the lower level is for fixed time dining (early followed by late seating)
A little known fact that I read prior to cruising is that you can order whatever you'd like at dinner. In other words, if you want 3 appetizers instead of one main meal, you may have it. If you can eat 2 dinners, order away. Typically, people assume they are only able to order a first course (app, salad, or soup) followed by the main dish and then dessert. A few nights we ordered, soup, salad, dinner but skipped desserts.
We opted for "anytime dining", which means you can show up anytime the dining room is open for dinner; despite this, we found ourselves showing up about the same time (545 PM/early) every night for dinner so that we could catch a comedy or other show by 8PM-ish.
Photo above: View of fixin bar from the BlueIguana Cantina, the mexican quick serve station on the Lido deck
The quick serve food was mostly located on the lido deck. Nearest to the pool, you will find the BlueIguana Cantina (counter service), Carnival Pride's version of Mexican food, and Guy's Burgers. At BlueIguana, I had a salad one day and soft tacos another day. This is a good option for eating lean protein with beans and grilled vegetables. They had all the usual options (rice, beans, meats, shrimp, steak, chicken). Always a line, and a good option. I read somewhere that the breakfast burrito was good, but I never had the chance to try one.
Guy's burgers were amazing.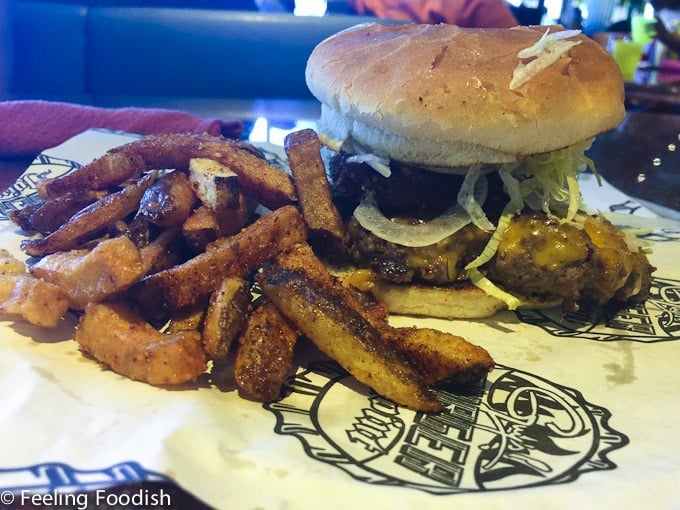 Photo above: Juicy burger with fries, Guy's Burger's on Lido deck
Guy's burgers! Okay, so not the healthiest choice, but hey it's vacation, riiiiight? Let me just say that my mouth still waters when I look at this burger. There were about 4 or 5 different choices for burgers, mostly related to different toppings, single vs double etc. Definitely a splurge.
The Pride's Pizza Pirate

Photo above: pepperoni pizza, Pizza Pirate on Lido deck
Heading away from the pool area, there was large indoor area for dining that included a few buffet stations including pizza. So I guess you're not surprised that I just had to check out the cruise pizza since I love making pizza. This pizza station was always busy, and was open very late (24 hours, I think). I liked their pizza, and would give it a 7 out of 10 rating. Each serving was a half of a small/medium-ish pizza.
The pizza place also served a pretty good Caesar salad, which complemented the pizza well. Extra points for serving salad with pizza, always!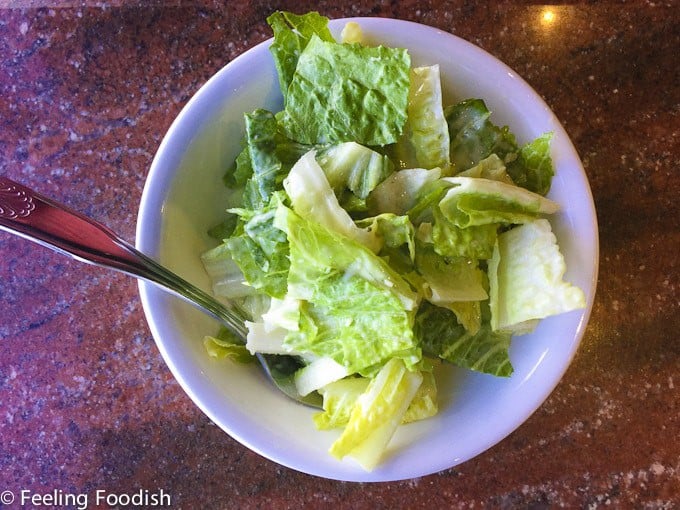 Photo above: Caesar salad, Pizza Pirate on Lido deck
And here's a view of the pizza oven, which I spied through the faux brick oven facade...I'm guessing this is the best choice for baking pizza at sea? I'm no expert. The Pizza Pirate is located on the Lido deck near the inside seating with the other buffet stations.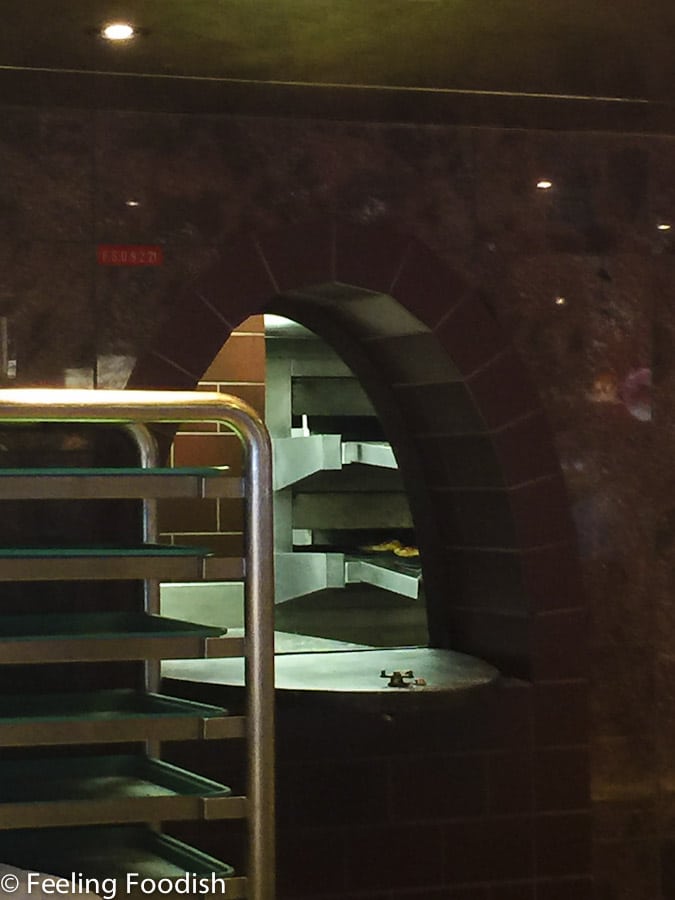 Photo above: Pizza oven, Pirate Pizza on Lido deck
The other buffet stations located on the Lido deck, which were part of the larger indoor restaurant area (all counter service, self serve) included a salad bar; a deli station (hot dogs, turkey clubs, Reuben sandwiches, etc); a themed station (changed daily, examples included Carribean, Italian, Thanksgiving/American, etc); a dessert area with slices of various desserts; and a beverage area (coffee, tea, sodas, and iced teas). Of these, I thought the deli station was pretty good, but the themed station was never a hit for me. Also, the breakfast in the buffet was my least favorite; it seemed that the eggs were boxed and I'm not a pancake/waffle person. If you have small kids, this may be a good option for you since it's quick. The main dining room also served breakfast, which was better quality in my opinion. So, if you have time, head to the main dining room for breakfast!
The ship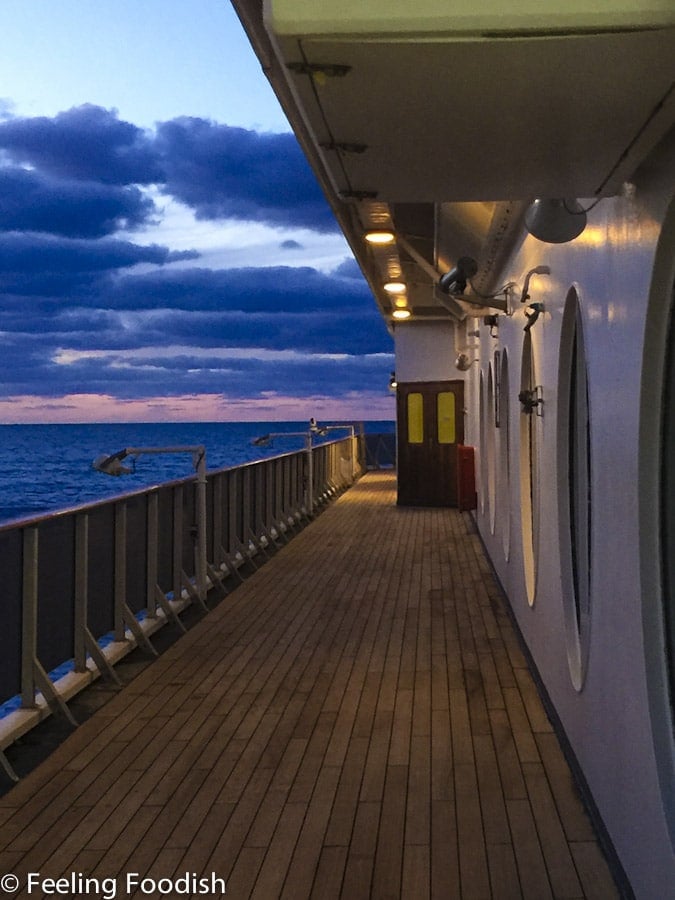 Photo above: early evening, Carnival Pride outside deck
Although I've only been on one other cruise, and so my opinion may be of limited value, I thought the ship was nice. I loved that it is on the "smaller" side as far as cruise ships go.
Here are a few snapshots taken throughout the ship. The views of the ocean were my favorite parts of the ship. Although I don't have photos to show this, there were many large windows throughout the ship, so it was easy to take in gorgeous views throughout the ship.

Photo above: view of lobby from elevator, Carnival Pride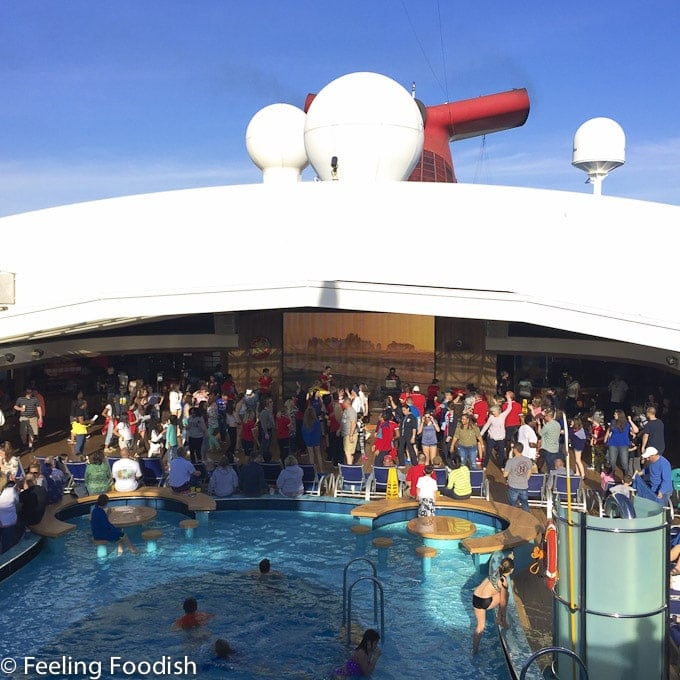 Photo above: Lido deck sail away party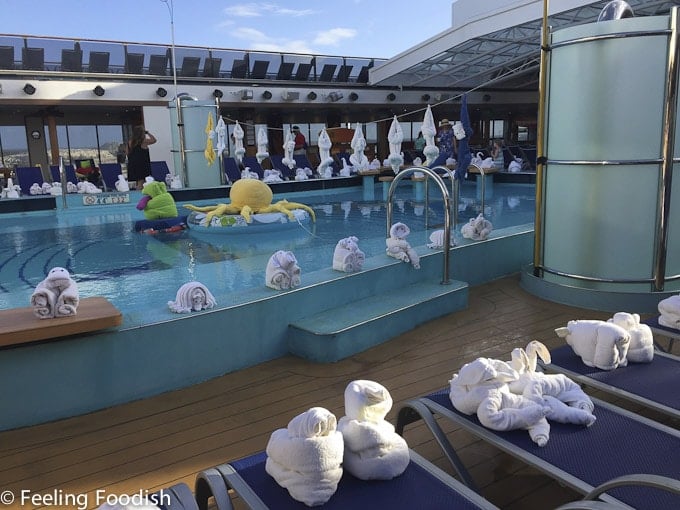 Photo above: early morning, cloudy day, towel animal party on Lido deck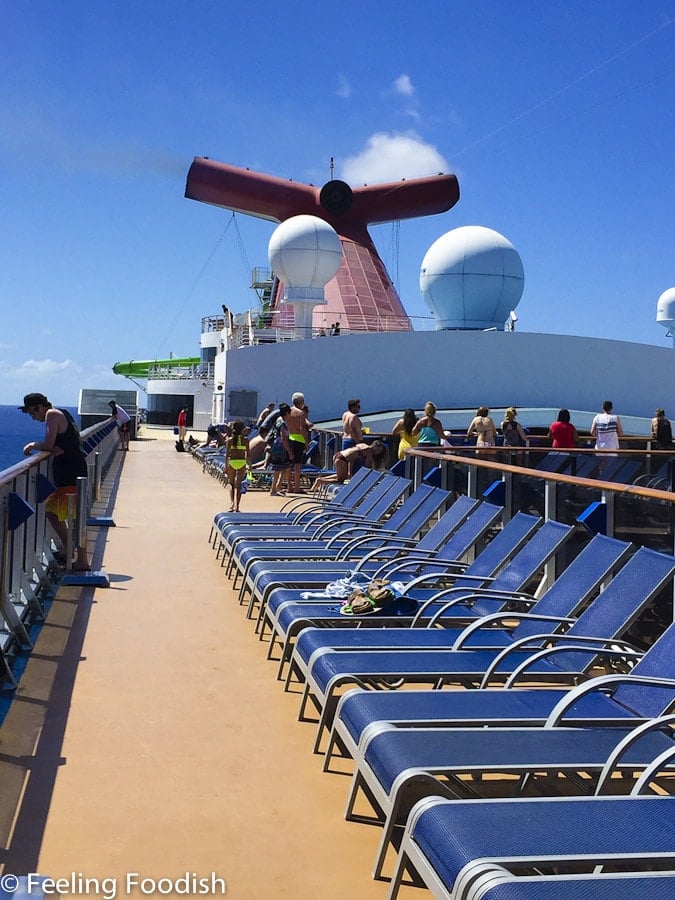 Photo above: afternoon, view on deck 10 (one floor above Lido) facing Aft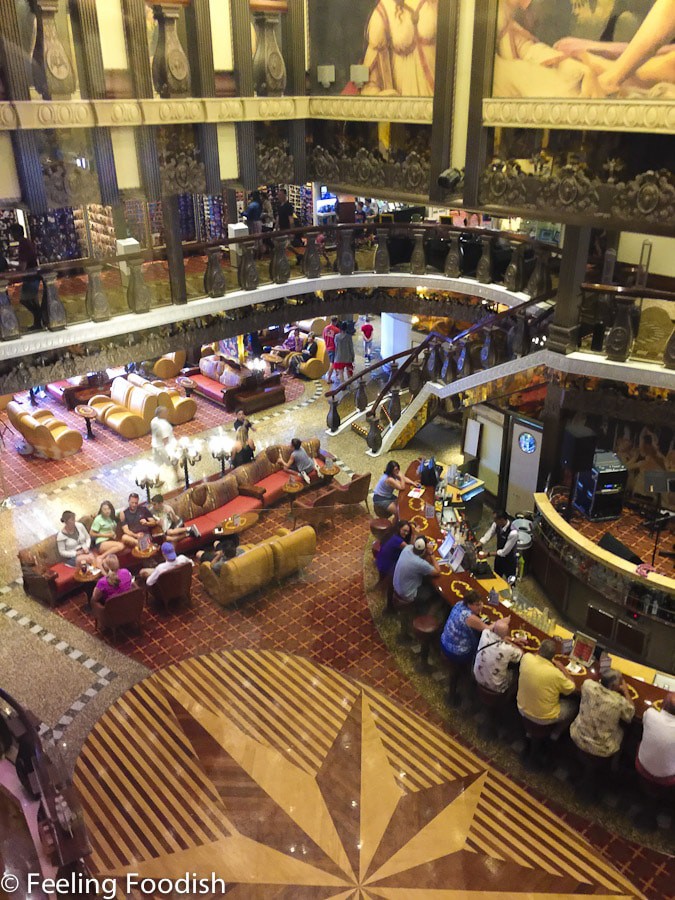 Photo above: View of Carnival Pride's lobby, deck 2 (there was usually live entertainment on the stage just above the bar)

Photo above: View of Carnival Pride's lido deck, main pool. This must have been early in the day as it was usually pretty full.
The ports
And of course, we can't talk about the cruise without showing you photos of the ports. The first port was Grand Turk, where we spent some time at Margaritaville.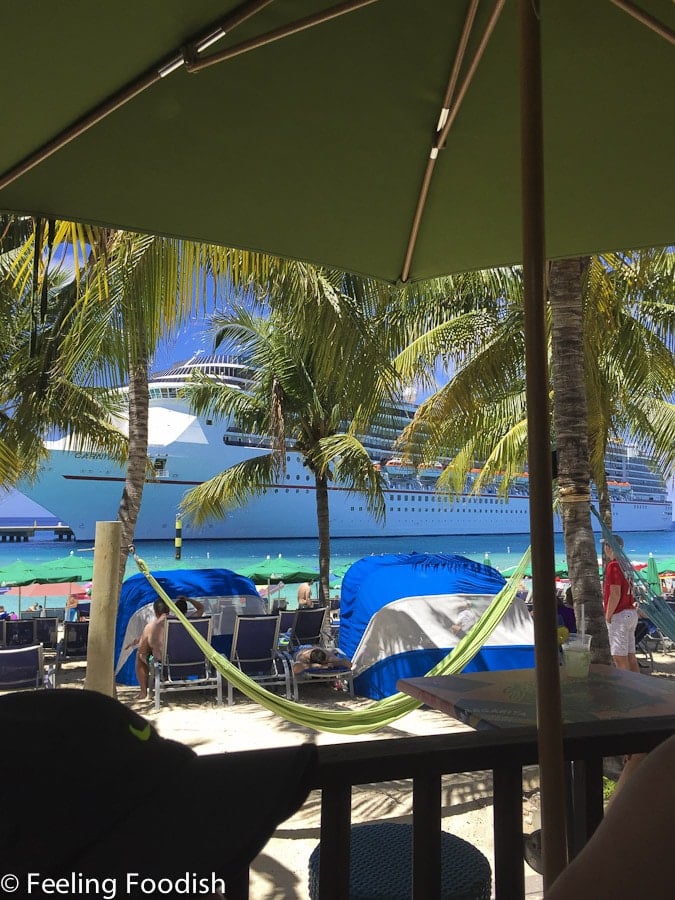 Photo above: view from Margaritaville, Grank Turk
This port was very convenient. Basically, the boat docks on the pier within a very short walk to a beautiful beach and a small shopping area including a Ron Jon's Surf Shop. There is a very large pool at Margaritaville that is free to sit by, had plenty of seating during our visit (there were 2 cruise ships docked that day) and enjoy if you get tired of the beach. We spent time at both the beach and the pool.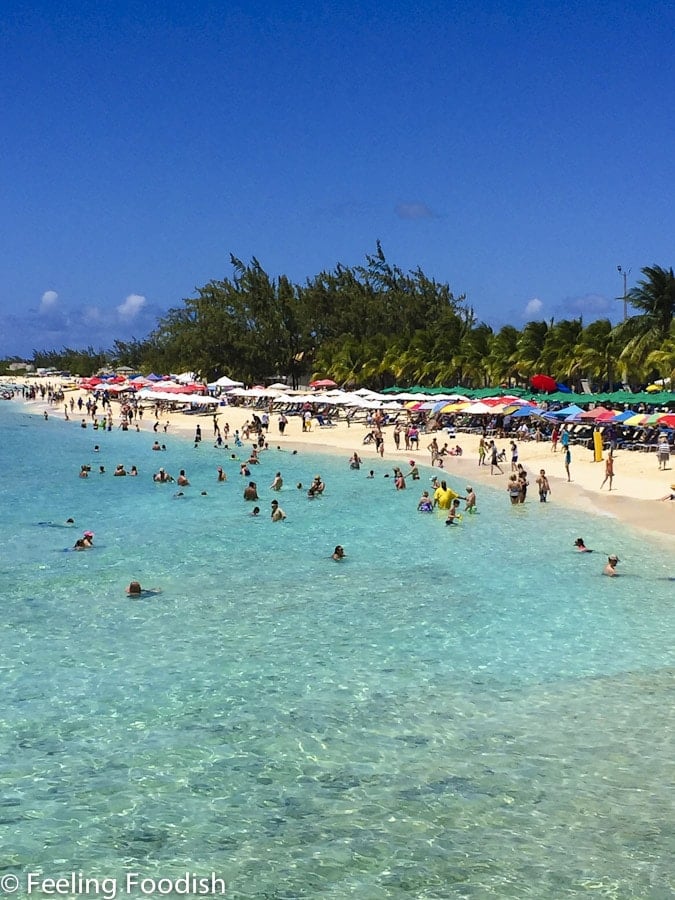 Photo above: Grand Turk beach
The water at both ports was crystal clear and the most beautiful shade of blue!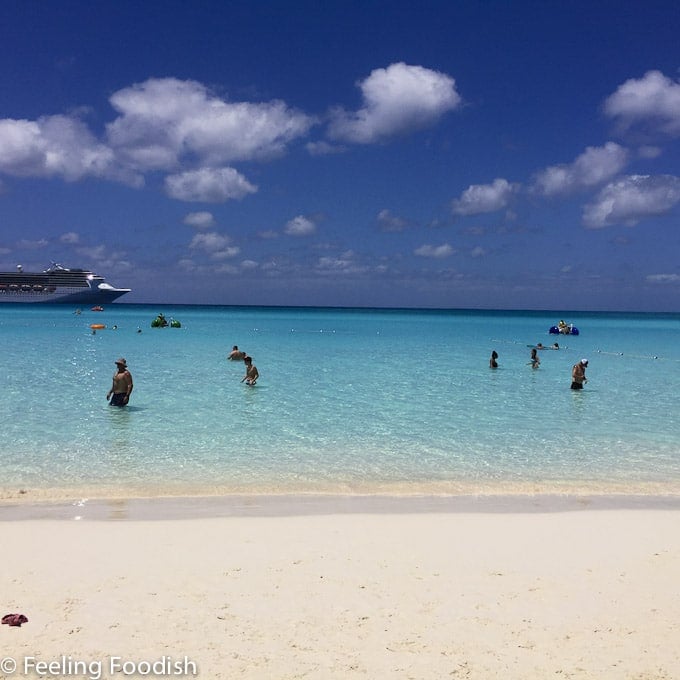 Photo above: Half Moon Cay, Carnival's private island
Half Moon Cay was our favorite port because it was a longer port day and it felt less crowded. We walked down the beach to the area where the large ship-like building was (a bar?) because there was music playing and it was less crowded. This also happened to be very close to where lunch was served.
The BBQ lunch included a large variety of foods, and it didn't disappoint. I expected the usual hot dog/hamburger fest but we also got lots of fruit, salad, beans, rice, and jerk chicken too.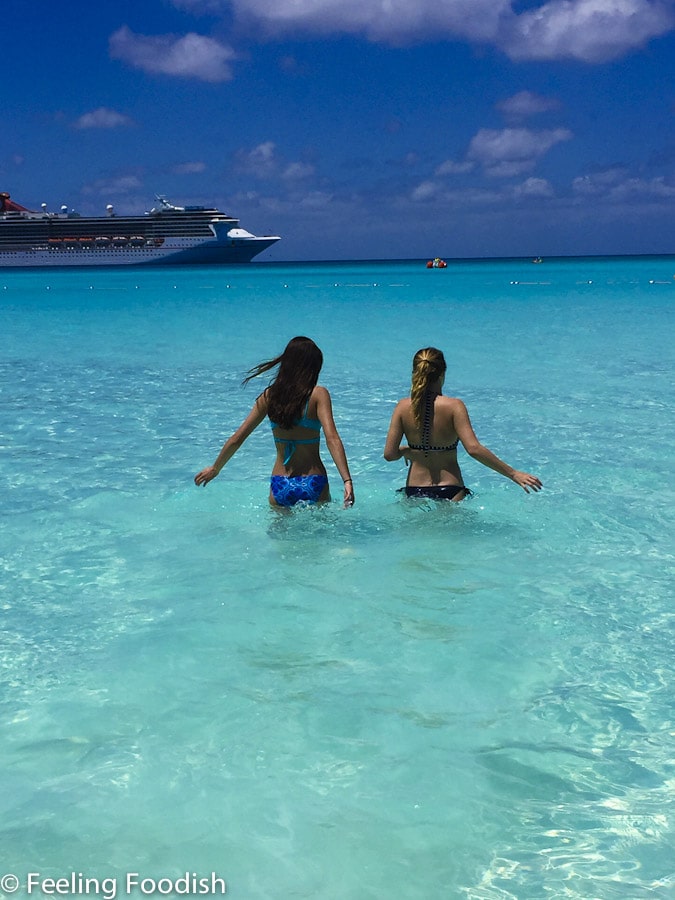 Photo above: Half Moon Cay, Carnival's private island
The sunsets and ocean views
If you're into photography, you will love to cruise since the sunsets are pretty amazing.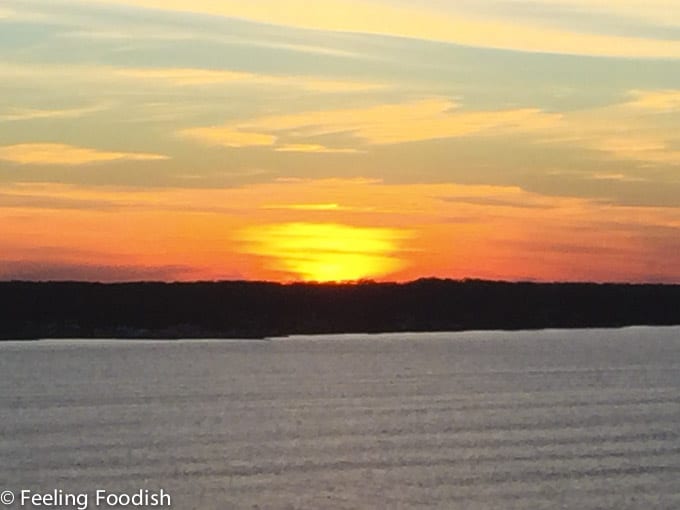 Photo above: sunset at sea, Carnival Pride
We had a little fun practicing silhouette photography one night.

Photo above: sunset at sea, Carnival Pride
Photo above: My daughter playing photographer, posing mom and dad (aka me and hubby) in the sunset....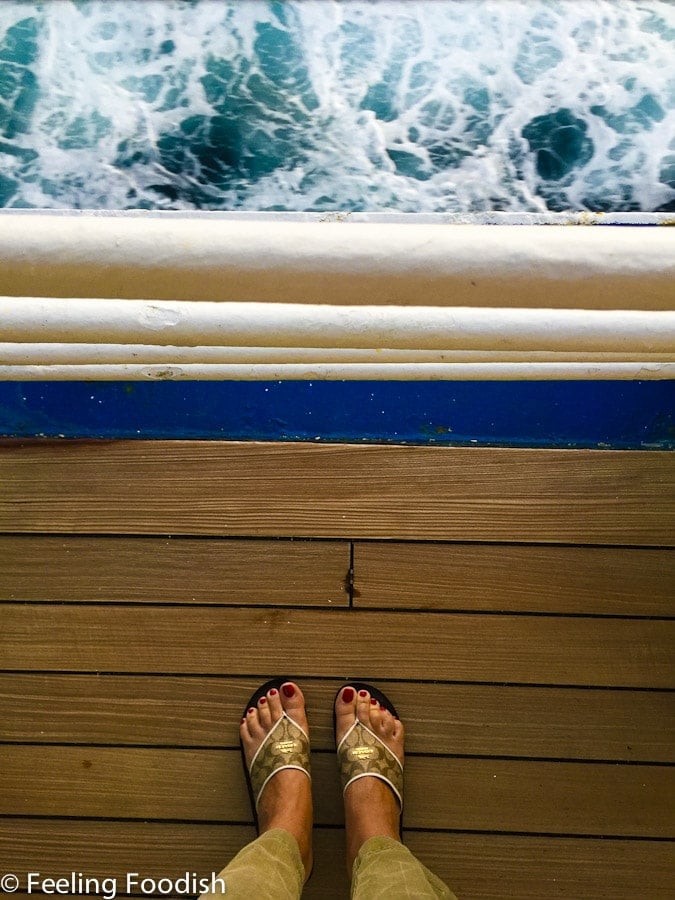 Photo above: Happy feet, Carnival Pride
We can't end without a recipe, so follow this link for Carnival's warm melting chocolate cake. My daughter's loved it!