A delicious treat or food gift, this chocolate bark is loaded with nuts, honey, and cherries. Sure to please and a great guilt free snack – yes, please!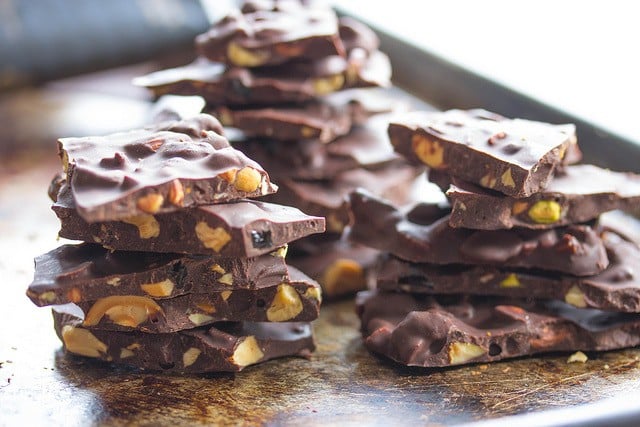 Note: Although I mention Valrhona chocolate in this post, I was not compensated by this brand. All opinions are my own.
This was my first time making chocolate bark. I've seen recipes here and there, but never was interested enough to attempt it. Somehow the combination of chocolate and cherries sparked my interest. In fact, this bark has many of my favorite snacks all under one roof. The combination of sweet and salty has always been one of my favorites.
The chocolate I used was Valrhona. I'd always heard that this was some good chocolate, and indeed, it was! Many years ago, I used to work with someone who had gone to culinary school and he loved to bake. He would always use Valrhona chocolate, but I had difficulty finding it. Fortunately, I spied some in my local Trader Joe's this week. If you can't find Valrhona, any of your favorite dark chocolate will do just fine.
I think this bark makes a great gift for the holidays and is nice to keep on hand for company. Of course, it's also good to keep all for yourself if you want. I promise, I won't tell:)
If you don't have much experience melting chocolate, see this video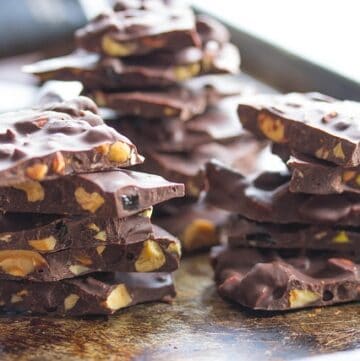 dark chocolate bark with nuts, honey, and dried cherries
Ingredients
7.5

ounces

dark chocolate

(I used 85%)

2

tablespoons

honey

½

cup

mixed nuts

, chopped (I used almonds, cashews and pistachio mix)

½

cup

dried cherries

, chopped

½

teaspoon

salt

(if nuts are unsalted)
Instructions
Melt chocolate in microwave using a medium sized microwave-safe bowl; heat in 1-minute increments, stirring very well after each minute until melted (stirring will help the chocolate melt)

If you have not melted chocolate before, see link in my post about melting chocolate since overheating will cause the chocolate to seize up and be ruined

When the chocolate has melted, add the remaining ingredients and stir well to incorporate.

Cover a cookie sheet with parchment paper or tin foil and spread chocolate mixture (about ¼ inch thick) on top.

Place in freezer for about 1 hour

Break apart and enjoy! To store, follow directions on chocolate wrapper.
Interested in More Recipes?
SUBSCRIBE to get recipes delivered to your email 🙂