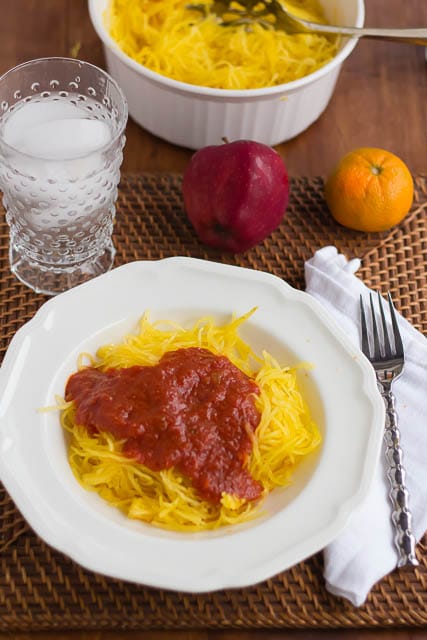 Have you even eaten spaghetti squash? If not, you must give this vegetable a try! A 3-cup portion has only 126 calories and packs a whopping 6.5 grams of fiber! This is a great vegetable to eat when you are trying to lose weight and even when you're not.
The best part of the dish though was topping it with a generous portion of this amazing spaghetti sauce. I used my mom's homemade spaghetti sauce (affectionately called gravy in the Philadelphia area – don't ask me why!), which I keep stocked in my pantry at all times.
My mom's spaghetti sauce is slowww cooked and she uses only the best brand of tomatoes as an ingredient.
Back in time, when I was a kid, our family would faithfully go the one of the New Jersey farms and pick bushels and bushels of plum tomatoes. My mother would then proceed to jar her own spaghetti sauce for YEARS using these farm fresh tomatoes.
She finally stopped doing that about 5 years ago and now uses canned tomatoes to make her sauce  – and here's the thing – the sauce is SO. MUCH. BETTER.
What?!? I can hear you asking…"why??"
Let me emphasize that I typically do not condone eating canned foods. But the thing is that the local tomatoes are sometimes good, and sometimes not so good/just okay. Brands like San Marzano or Muir Glen are a lot more consistent and a lot better tasting! Other favorites include Red Pack, Nina, Contadino, and Tuttorosso. It's hard to compete with companies like these, which have developed superior tasting tomatoes.
The other trick to this spaghetti sauce is that if you use whole tomatoes or even crushed tomatoes, you should definitely use a food mill to get all the seeds out, since the seeds will make your sauce bitter. One of the best ways to instantly improve your spaghetti sauce is to get those seeds out of your tomato sauce!
The other way to get a great sauce is to slow cook it, a process that really brings out the flavor.
We jar/can the sauce after cooking it but you can also freeze it if you have the space. Directions for preserving/canning are available on the Ball website.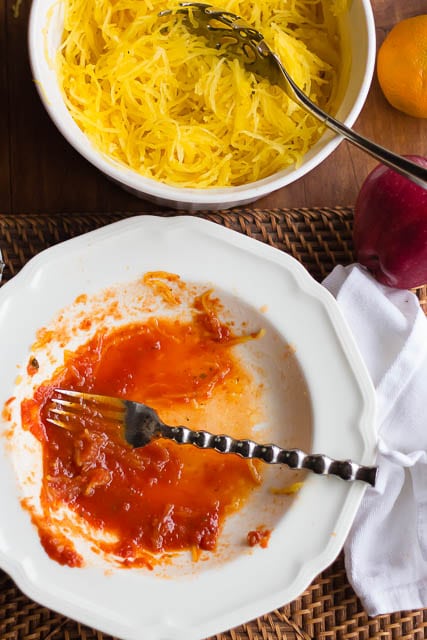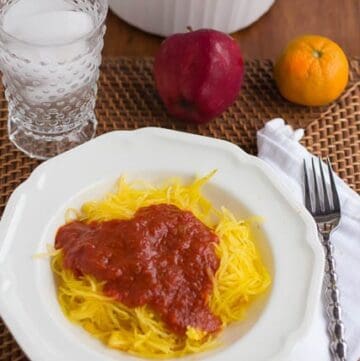 spaghetti squash with Nonna's spaghetti sauce
a healthy low-calorie version of traditional spaghetti
Print
Pin
Rate
Ingredients
For the spaghetti squash:
1

medium-sized spaghetti squash

1/4

cup

olive oil

salt and pepper

, to taste
For the spaghetti sauce:
3

large cans of high-quality tomatoes

(sauce, crushed, or whole that are processed in food mill), 28-ounces each (**see note**)

3

small onions

, chopped

6

to 8 cloves garlic

, peeled

1/4

cup

olive oil

fresh basil

, about 1/2 cup

1

teaspoon

sugar

2

teaspoons

salt

1/2

teaspoon

black pepper
Instructions
For spaghetti squash:
Preheat oven to 400 degrees F

Cut squash in half diagonally and scrape out seeds/fibers

Drizzle with oil, salt and pepper

Place squash face down on foiled lined baking sheet

Bake for 45 minutes or until tender but not mushy (test at 40 minutes)

Use a fork to remove squash
For spaghetti sauce:
In a small food processor, add onions, garlic and oil and process until smooth

Transfer to a small saute pan, and heat over medium heat until fragrant

In a large dutch oven or slow cooker, add the canned tomatoes, and onion/garlic/oil mixture.

Add the salt, pepper, sugar, and basil

Bring the sauce to a low boil and then reduce heat to low and cook between 4 to 6 hours (if using slow cooker, use high setting for 1 hour then reduce to low for remaining time) (IMPORTANT NOTE: leave the lid slightly ajar or altogether off so that sauce can thicken) Cook until it is thick enough for you
Notes
Good brands include San Marzano, Muir Glen, Tuttorosso, Contadino, RedPack, Cento. Whole tomatoes and crushed should be processed in food mill prior to cooking to remove seeds. Makes about 3 quarts or 6 pints of spaghetti sauce.