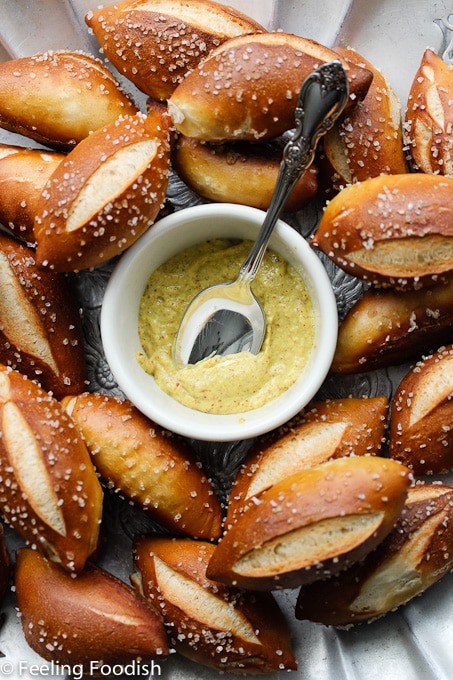 This soft pretzel recipe is from The Bread Bible, by Rose Levy Beranbaum
Trying to make soft pretzels at home has been on my bucket list for a while! Of course, being a Philadelphia native, pretzels were and still are a big part of living in the area. I can still remember having a deliciously soft pretzel as my grade school snack, from a vendor named Val, who would have a wonderful assortment of mustards to go along with those delicious soft pretzels that we would buy during recess from the playground. I would always ask for the extra hot mustard on my pretzel and Val would always say, "Now be careful – that mustard is HOT". It was an extra special treat when those pretzels were still warm from the oven!
I never thought it was that hot..to this day, I like spicy mustard and spicy foods in general.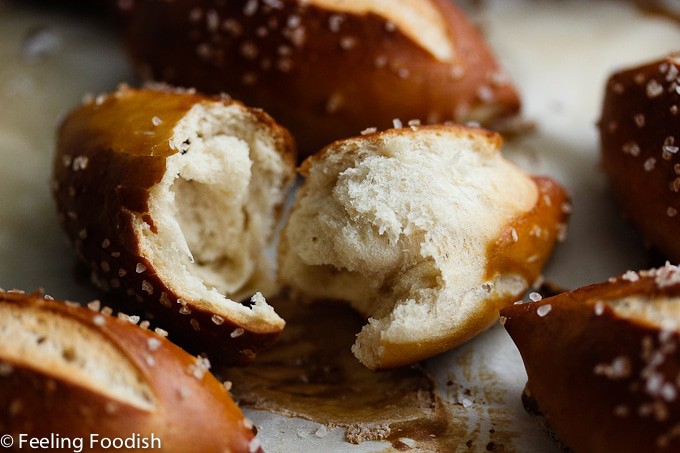 For truly authentic pretzels, you really must use lye. Now, I was as nervous as anyone to use lye, but perhaps my recent soap making adventures helped alleviate some of the concern about working with lye, but not necessarily eating things made with lye. Still, it's very worthwhile because authentic pretzels must be made with lye and the lye is burned off in the oven.
If you decide to try working with lye, remember to use protective eye wear in case of splashing and gloves are also recommended. Most importantly, NEVER add water to LYE; always always always add the LYE to the WATER. I've read this time and time again and it's because of the reaction that occurs when the two are mixed. If you add the water to the lye, you can create a violent reaction called the volcano effect.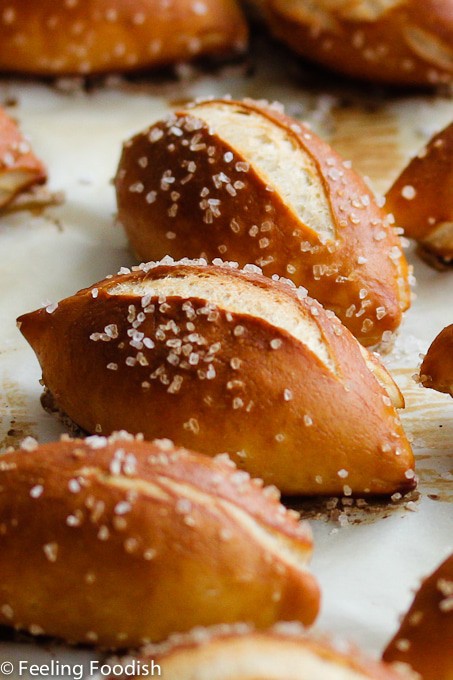 Also, the pretzels must be very firm when you dip them in the lye bath and so you must refrigerate for an hour (I froze mine for 30 minutes). Afterwards, I slashed them with a lame, dipped them and set them on parchment.
To create steam in the oven, I used a pie pan filled with lava rocks that was preheated on the bottom shelf of my oven and then added ½ cup of water just before loading the pretzels and I baked them for about 15 minutes.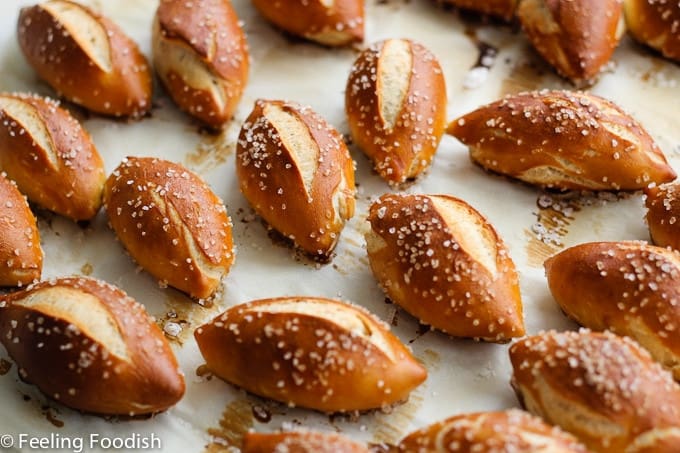 The recipe was a lot more straightforward then I thought: it is simply flour (I used Kryol, which is 14% protein; but next time I'll aim for a flour with a protein content of 12 to 13%); instant yeast, salt, and water. Oh, and I used barley malt syrup, which can be found at the health food store. After bulk proofing and shaping, you make a lye bath to dip the pretzels in, and then they are baked.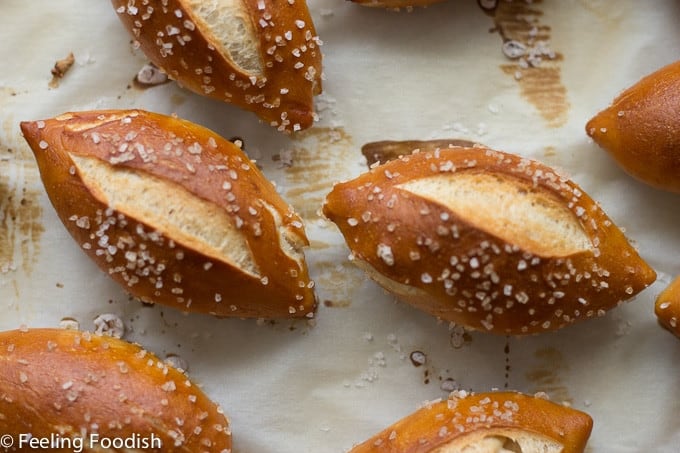 I'm excited about developing my own pretzel recipe using this as a starting point!
These are great served with all kinds of mustards (sweet, hot, etc), cheese dip, cream cheese, and even chocolate dips. The most popular here in the Philly area are mustard and cheese dips.
Due to publisher restrictions, our group cannot share the recipes from this book. All opinions are my own, and I didn't receive a copy of the book or any compensation for this post. For more information, the recipe can be found in The Bread Bible, by Rose Levy Beranbaum