Trying to make soft pretzels at home has been on my bucket list for a while (along with tomato pie pizza)! Of course, being a Philadelphia native, pretzels were and still are a big part of living in the area.
Philadelphia soft pretzels are unique in their shape and are sometimes a bit denser than the soft pretzels you may find in your grocery store freezer. They are also a fun project for people like me who love to bake breads.
It's been said that Philly pretzels get their shape because bakers were trying to maximize space on their baking sheets. This makes sense, as the elongated shape allows for more pretzels to be baked on a single sheet.
I can still remember having a deliciously soft pretzel as my grade school snack, from a vendor named Val, who would have a wonderful assortment of mustards to go along with those delicious soft pretzels that we would buy during recess from the playground.
I would always ask for the extra hot mustard on my pretzel and Val would always say, "Now be careful - that mustard is HOT". It was an extra special treat when those pretzels were still warm from the oven!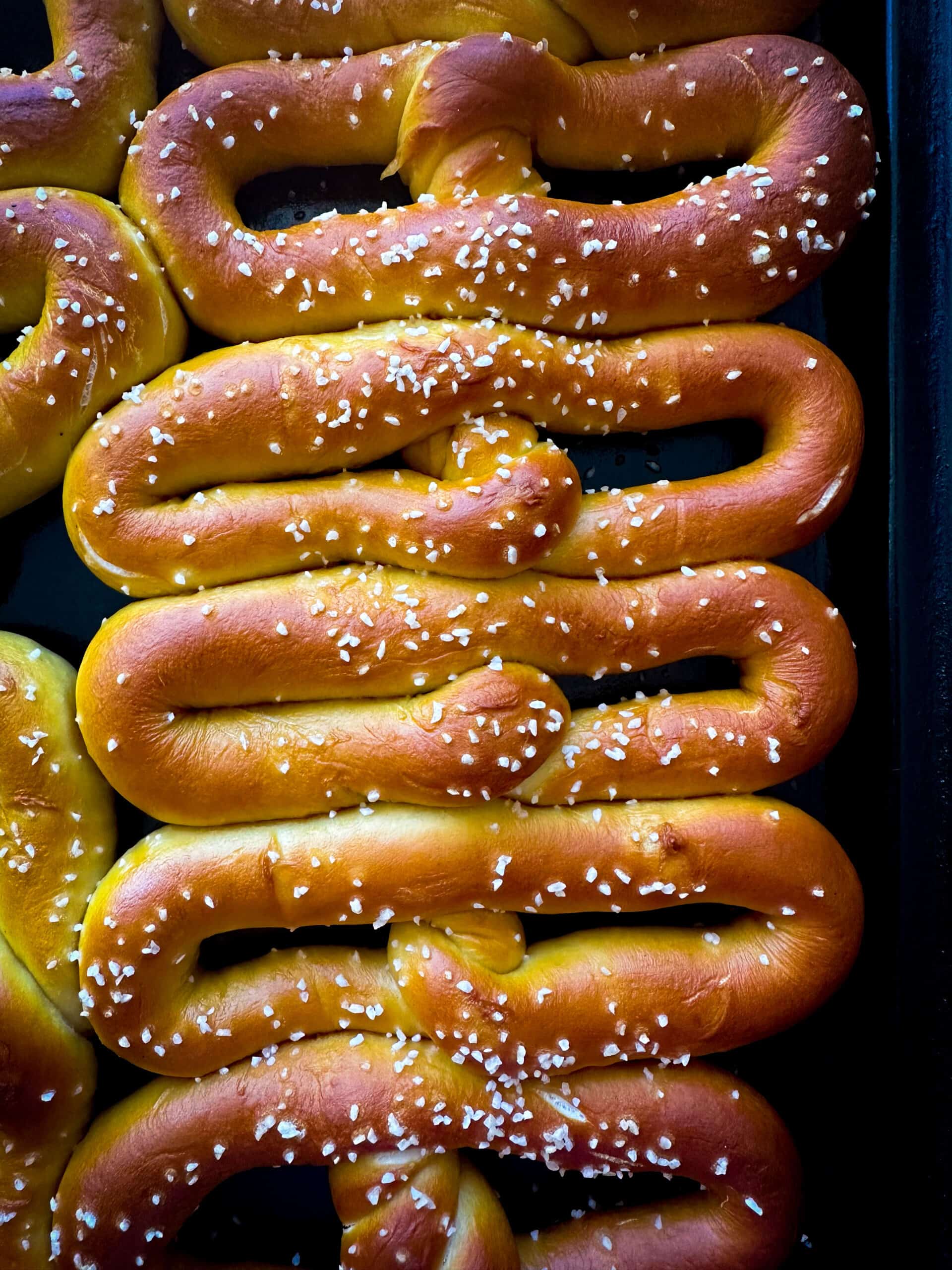 Jump to: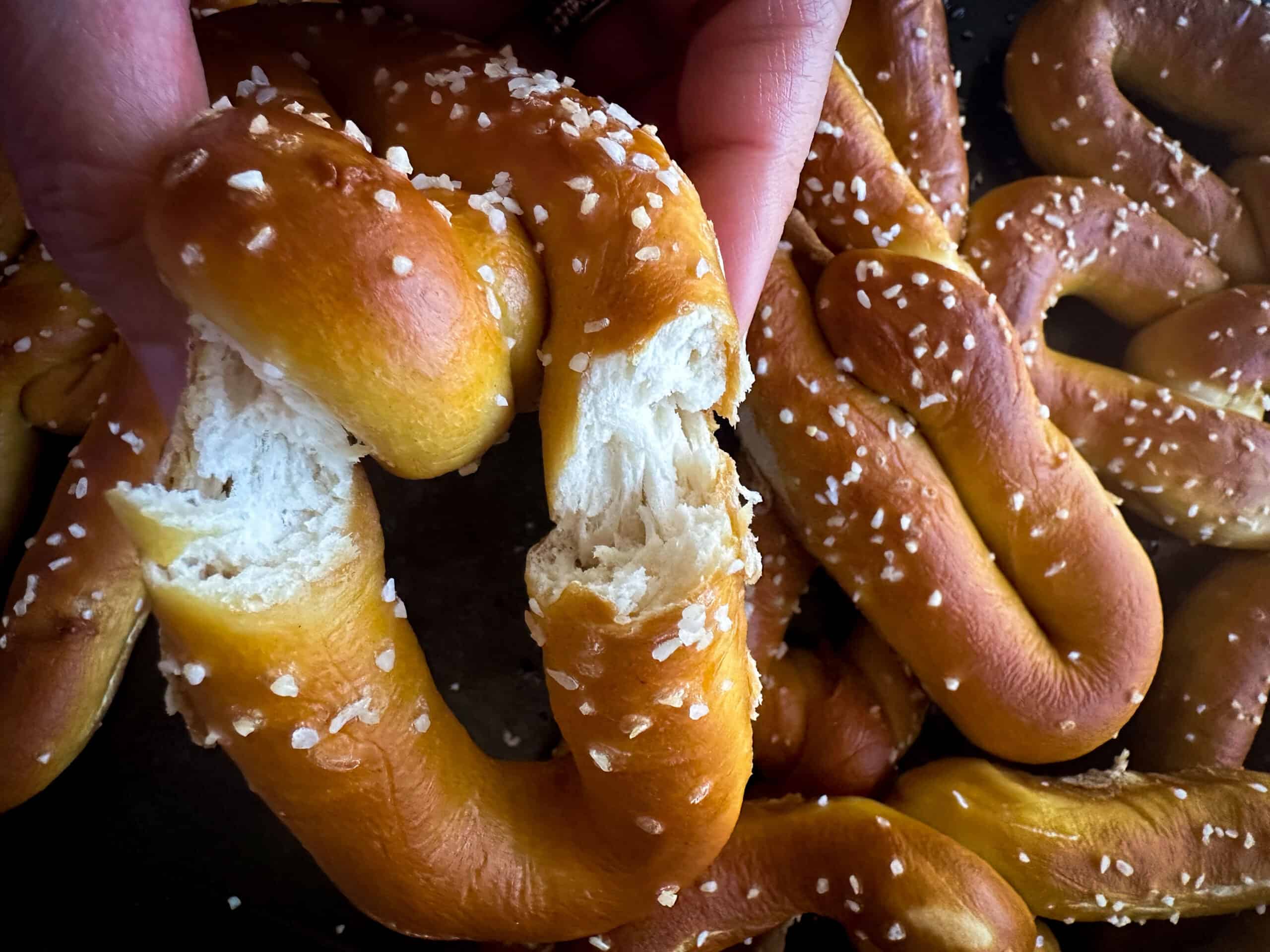 Using Lye to Make Pretzels
For truly authentic pretzels, you really must use lye. Now, I was as nervous as anyone to use lye, but perhaps my recent soap making adventures helped alleviate some of the concern about working with lye, but not necessarily eating things made with lye.
Still, it's very worthwhile because authentic pretzels must be made with lye and the lye is burned off in the oven.
If you decide to try working with lye, remember to use protective eye wear in case of splashing and gloves are also recommended. Most importantly, NEVER add water to LYE; always always always add the LYE to the WATER.
I've read this time and time again and it's because of the reaction that occurs when the two are mixed. If you add the water to the lye, you can create a violent reaction called the volcano effect.
I always place my "lye dipping dish/pan" into the sink as I'm dipping the pretzels in case of any spills, everything goes right down the drain.
If you are hesitant to use lye, you can always substitute a baking soda bath for the lye bath. Read about the differences between lye and baking soda bath at King Arthur Baking.
Is Lye Safe in Foods?
When lye is used in the process of making pretzels, it undergoes a chemical reaction during baking that neutralizes its caustic properties. This means that the lye essentially "burns off" or reacts with other compounds, resulting in a safe and edible product.
During the baking process, the heat causes the lye to react with the dough, resulting in a chemical reaction called the Maillard reaction. This reaction is responsible for the browning and flavor development in baked goods, including the characteristic crust of pretzels.
It's important to note that while the lye is neutralized during baking, it's still necessary to handle it with caution before it goes into the oven. This includes wearing protective gear and taking appropriate safety measures to avoid any contact with the skin, eyes, or inhalation of fumes.
If you have concerns about using lye or prefer not to handle it, you can opt for alternative methods such as using a baking soda solution, as mentioned earlier. Baking soda can also help achieve a similar crust color and flavor without the caustic properties of lye.
How to Shape a Pretzel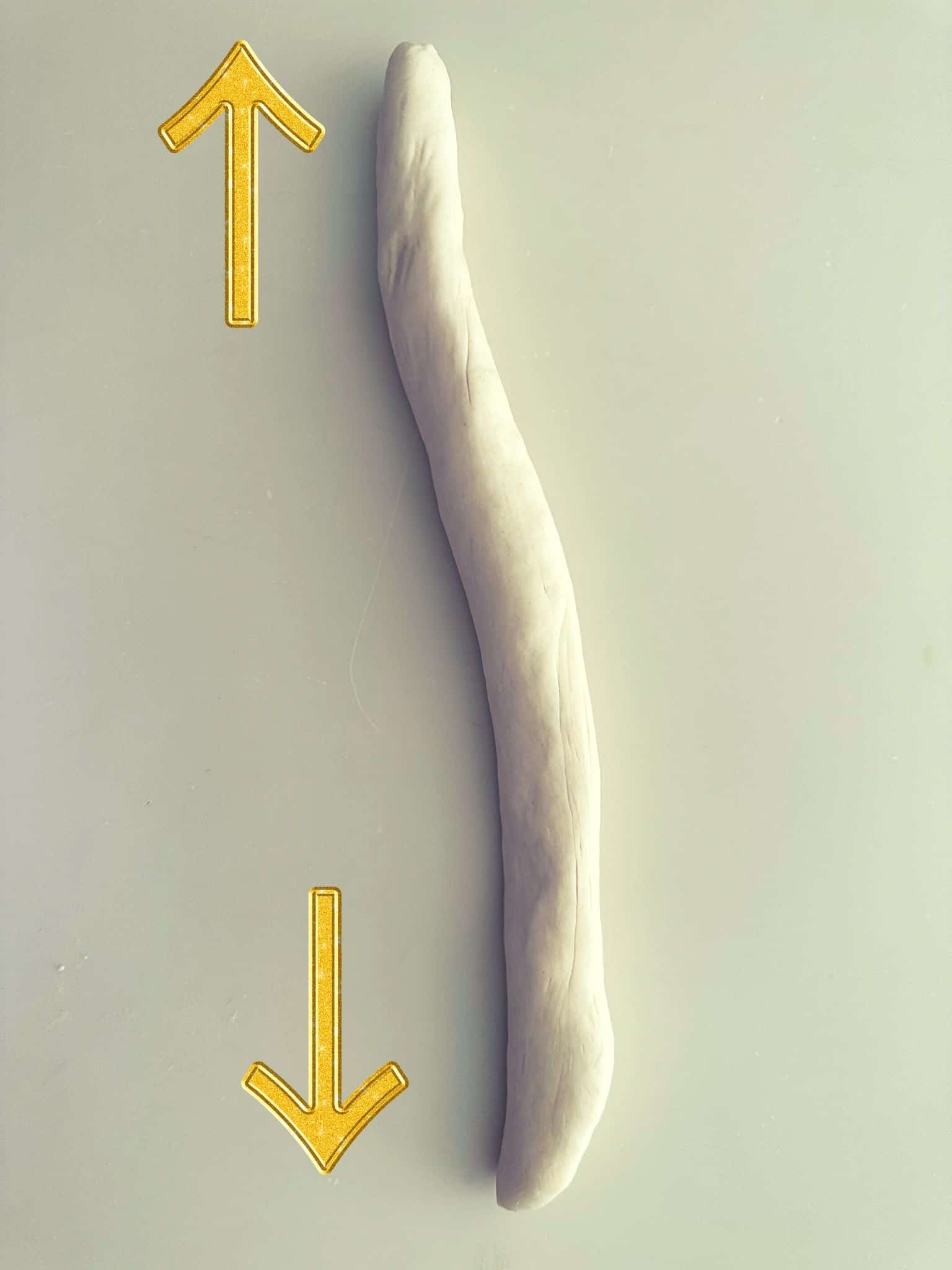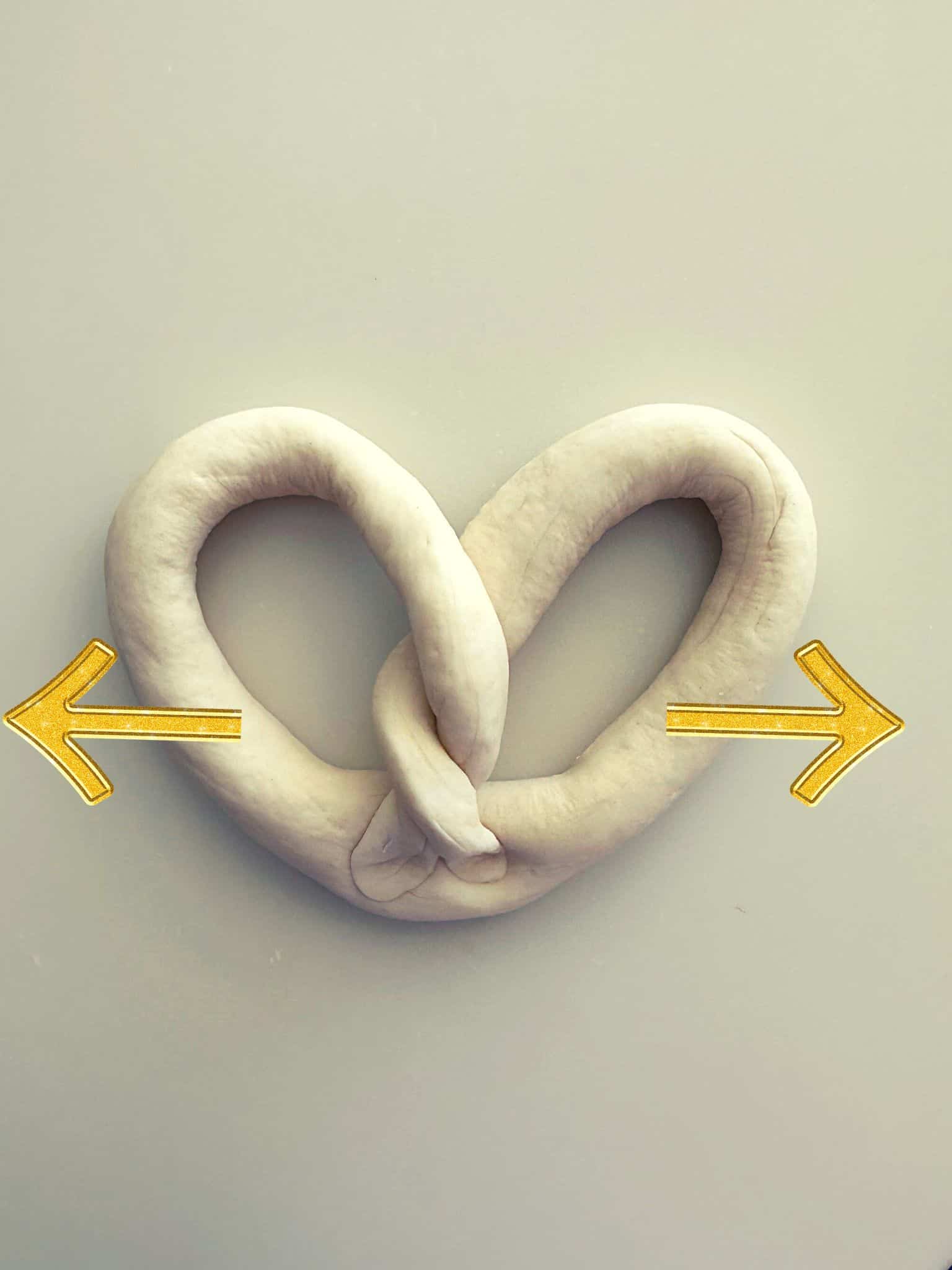 Tips to Make Soft Pretzels at Home
The pretzels must be very firm when you dip them in the lye bath and so you must refrigerate for an hour or freeze for about 30 minutes. They will be much easier to handle.
A food scale helps to ensure the dough is divided evenly (I weigh the total amount of dough and then divide by 12 [or however many you are making] to determine how much each pretzel should weigh.
Pretzel dough can't be "made ahead" as the dough will be difficult to shape after it has been fully developed - it's not as sticky.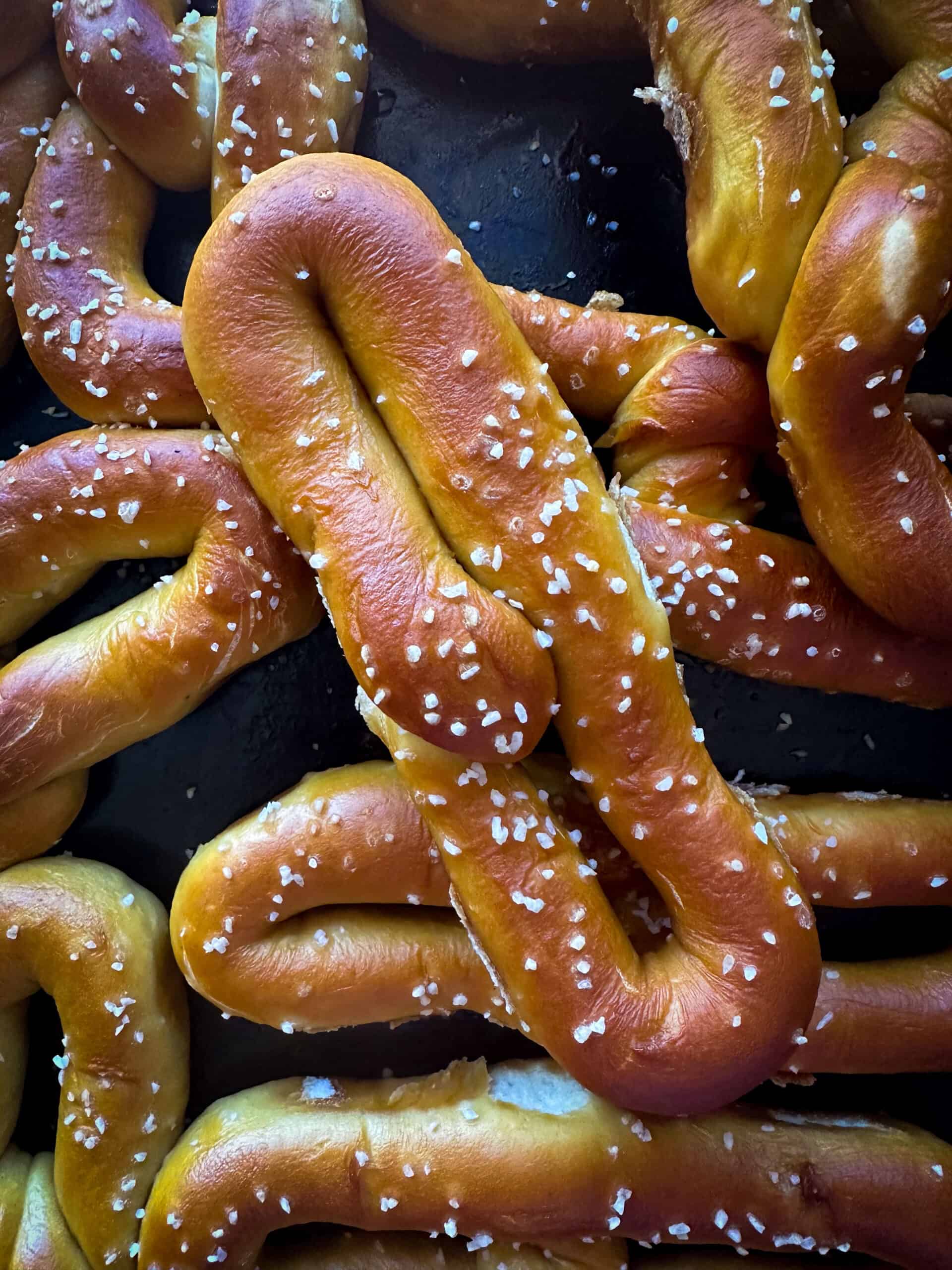 Serving Philadelphia Soft Pretzels
These are great served with all kinds of mustards (sweet, hot, etc), cheese dip, cream cheese, and even chocolate dips.
Most people enjoy Philadelphia soft pretzels plain or with mustard. If you order a party tray, the most popular here choice of dips are mustard and cheese dip.
Instead of the pretzel shape, you can shape the dough into "nuggets" (as an example for a party tray) by rolling ropes and cutting into 1 to 2 inch pieces.
Storage and Make Ahead
Pretzels are best eaten the day they are made.
You may freeze pretzels after the lye bath and then bake them at a later time.
Baked pretzels may also be frozen for up to 1 month (to reheat, warm in 350 degree oven for 10 minutes) .
📖 Recipe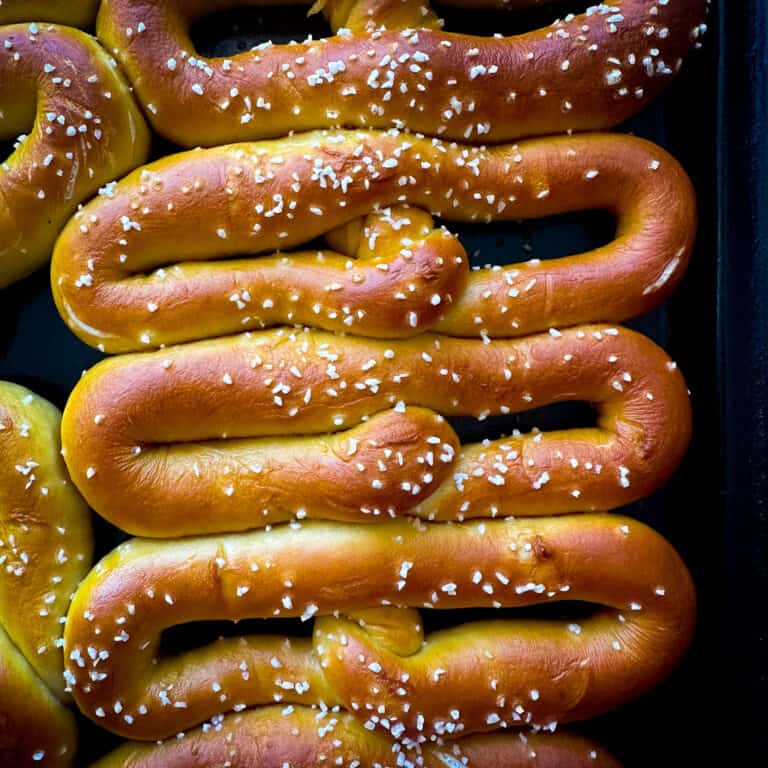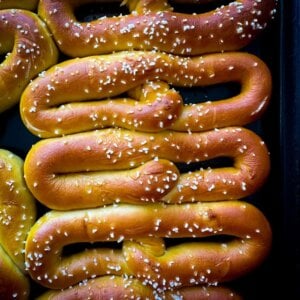 Philadelphia Soft Pretzels
Fresh from the oven, homemade Philadelphia pretzels are easy to make and delicious to eat. Get em while their hot!
Equipment
baking sheet

(about 13 by 18 inches)
Ingredients
For the lye bath
4

cups

(

946.35

g

)

boiling water

4

teaspoons

(

19.72

g

)

lye

(See NOTES: may substitute baking soda)
For the dough
950

grams

(

7.5

cups

)

bread flour

485

grams

(

2.0

cups

)

water

28.5

grams

(

1.5

tablespoon

)

salt

9.5

grams

(

0.75

teaspoon

)

instant dry yeast
For the topping
2

tablespoon

pretzel salt

may substitute any coarse salt; amount will vary depending on how heavy or light you sprinkle it on.
Instructions
To Make the Dough
Add all ingredients into the bowl of standing mixer and beat slowly until all ingredients are incorporated and no flour remains.

Turn up speed to medium and knead for about 10 minutes. If the dough is too dense to use the machine, knead on the counter for about the same amount of time.

Cover the dough with a damp cloth and let rest for about 10 minutes.

Divide the dough into 12 equal portions (a kitchen scale helps a lot) and cover with a damp cloth.

Preheat oven to 425 degrees to prepare for baking.
To Form the Pretzels
Keep the dough covered and work with one piece at a time.

Rolling the dough into a long rope about 10 to 20 inches in length.

Twist the ends twice and then lift the ends to join the center of the bottom loop and pinch shut (see video if needed)

Gently tug at ears of the pretzel to elongate the pretzel and then place them directly next to each other on a baking sheet.

Cover the pretzels lightly with oiled plastic wrap and let rise slightly for about 30 minutes.

To firm up pretzels in preparation for dipping, place tray of pretzels in freezer for 30 minutes or refrigerator for 1 hour, uncovered.
To Dip the Pretzels in the Lye Bath
Set a metal rack over a baking sheet or parchment paper for pretzels to rest after they have been dipped in the lye solution.

Also prepare a baking sheet for the pretzels to go into the oven. If your baking sheet is not well seasoned, spray with cooking spray or rub lightly with oil.

To prepare the lye solution, pour 2 cups of boiling water in a heat proof glass baking dish. Let cool slightly for about 3 or 4 minutes.

Carefully add the lye to the water using protective eye wear (ie, glasses) and gloved hands in case of splashing, and step back to avoid breathing in any fumes.

After lye has dissolved, take pretzels out of freezer (or fridge) and dip them - either one or two at a time in the lye solution for about 10 to 12 seconds, making sure they are fully immersed in the solution. Use metal tongs, protective eye wear, and gloves.

Place the dipped pretzels on a metal rack set over a baking sheet to allow the excess lye to drip.

Transfer to prepared baking sheet and sprinkle lightly with pretzel salt while the pretzels are still wet.
To Bake the Pretzels
Once oven has reached 425 degrees, you are ready to bake.

Load the pretzels into the center of the oven and close the door.

The pretzels should be ready is about 15 minutes or so. Check them at 10 minutes. They are ready when they are a deep golden brown.
Notes
Food grade lye can be found via mail order (I use Amazon)
Pretzel salt can be found via mail order (I also used Amazon) - you may use any coarse salt in a pinch. 
To use a baking soda bath instead of a lye bath, add 2 tablespoons of baking soda to 6 cups of boiling water and immerse pretzels one at a time for 1 minute. Let water cool slightly before dipping pretzels. 
Baker's Percents: Flour 100%; Water 51%; Salt 3%; Yeast 1%
Each pretzel should weight approximately 128 grams. 
Nutrition
Calories:
288
kcal
Carbohydrates:
58
g
Protein:
10
g
Fat:
1
g
Saturated Fat:
0.2
g
Polyunsaturated Fat:
1
g
Monounsaturated Fat:
0.1
g
Sodium:
1312
mg
Potassium:
87
mg
Fiber:
2
g
Sugar:
0.2
g
Vitamin A:
2
IU
Vitamin C:
0.003
mg
Calcium:
14
mg
Iron:
1
mg
Interested in More Recipes?
SUBSCRIBE to get recipes delivered to your email 🙂