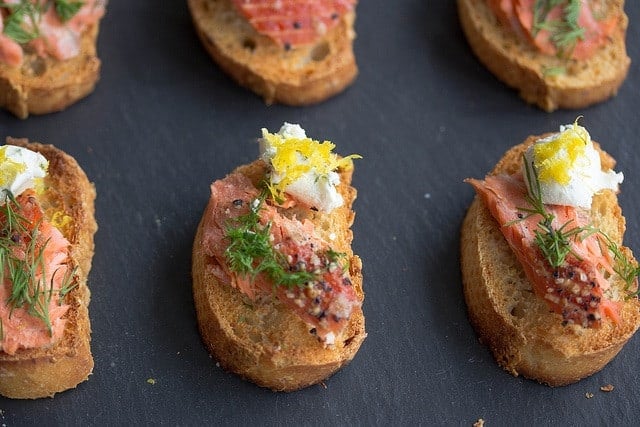 It has been a bussssyyyy week. Wowza. I think I've seen more people during the past week than I have seen all year. Well, not quite, but you get my point. All fun, but I'm really. wiped. out.
We started celebrating on Christmas Eve with the traditional Italian 7 fish dinner, made by my cousin, who is a fantastic cook. The dinner starts with jumbo shrimp cocktail topped with lump crab meat followed by homemade clams casino, salad, and the most amazing pasta topped with scallops, lobster, clams, and calamari in a red sauce made from Muir Glen and San Marzano tomatoes. And just when you think you can't eat another thing, out come the vegetables and fried tilapia. Of course, there are always tons of desserts at the finish and plenty of wine and fresh baked bread served throughout dinner.
The next day, the festivities continue at the homes of our dear friends who serve more great food. This year, upon entering one of those homes, we were served some on this wonderful smoked salmon from Trader Joe's. It's a sockeye smoked salmon that is only available around the holidays (no, this is not a paid/sponsored post). The salmon is hot-smoked after brining and is seasoned with lemon, black pepper and mustard seed. I enjoyed this salmon very much but you can use any variety of smoked salmon for the crostini recipe shown here.
Using smoked salmon takes a lot of the prep work out of this appetizer, and I'm always looking for appetizers that do not require much/any cooking.  These are great to serve during special occasions like New Year's Eve or anytime you need to put something on the table quickly in preparation for a special dinner.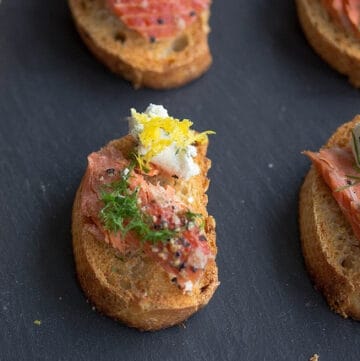 Ingredients
Smoked salmon

(I used sockeye), about 6 oz

Cream cheese

, 4 oz (1/2 cup)

Lemon zest

, (from about 2 lemons)

Dill

, finely chopped, 2 tablespoons

Black pepper

, 1/4 teaspoon or to taste

Baguette

, 12 slices
Instructions
Toast bread in oven (2 minutes per side using broil setting)

Combine cream cheese, black pepper, 1/2 teaspoon lemon zest, and 1 teaspoon dill in small bowl

Arrange toasted bread slices on serving platter

Divide salmon into 12 pieces

Top toast with pieces of salmon and a small dollop of seasoned cream cheese

Garnish with additional zest and dill