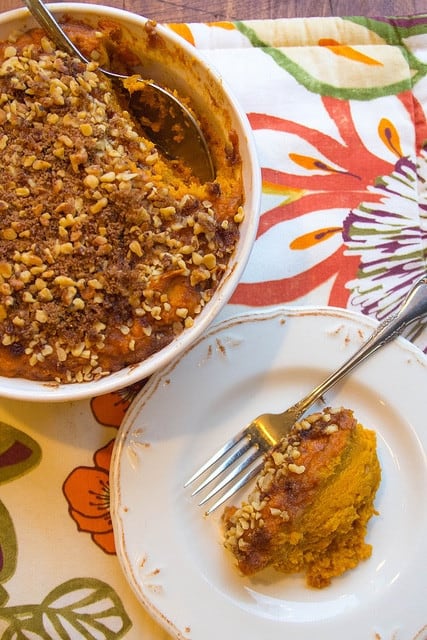 This is my favorite Thanksgiving side dish. I've always loved sweet potatoes!
As a kid, my mom and dad would make a candied version, which is still very popular. But, a few years ago, I decided to make 2 versions of sweet potatoes – one candied and one in "souffle" form.  I used a recipe from Food Network that is much richer than this version. It contained more than double the sugar and included sweetened condensed milk and butter. Lots and lots of sugar…
This version feels much less sinful. In fact, I'd dare to say that it's fairly healthy. It's high in potassium and vitamin C and also has a good amount of fiber. The typical sweet potato souffle often taste more like a dessert than a side dish (I know, I know – that's tempting isn't it?). But really, I don't think you'll miss the extra sugar or the butter (this version has none)!
Happy Thanksgiving to you and your family!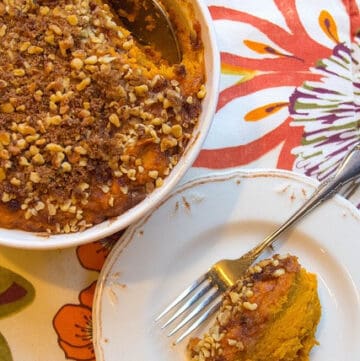 Ingredients
For souffle:
3

pounds

sweet potatoes

,

½

cup

brown sugar

½

cup

low fat milk

1

teaspoon

vanilla extract

3

large eggs

1

teaspoon

cinnamon

¼

teaspoon

nutmeg

½

teaspoon

salt
For topping:
⅓

cup

packed brown sugar

½

cup

chopped pecans or walnuts
Instructions
Preheat oven to 325 degrees

In the meantime, peel potatoes and cut into similar sized chunks

Boil potatoes until fork tender, then drain

Whip potatoes with brown sugar, milk, vanilla, eggs, cinnamon, nutmeg, and salt

Spoon mixture into a baking dish

Combine topping ingredients and sprinkle on top of potatoes

Bake for 25 minutes