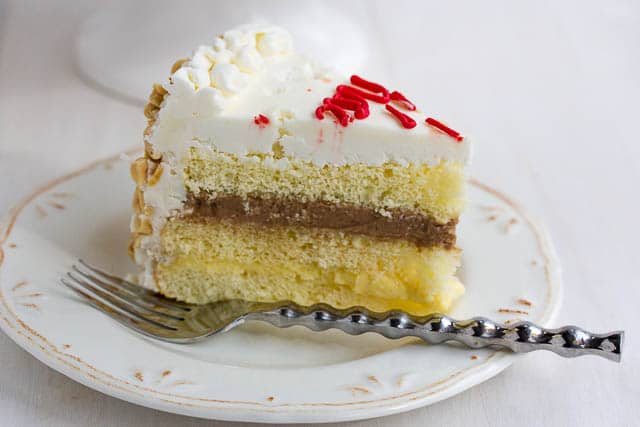 this is my all time favorite cake – please try it!
This cake has been on my want-to-make list for such a loooong time.
I'm thrilled with the result – it was amazing and rivals that from my favorite bakery. Quite a feat for a first time attempt, if I do say so myself:)
This cake is one of my weaknesses. If I let myself, I could probably eat the WHOLE thing. No kidding. Last day on earth? Yes, I'll take a piece of this cake as part of my last meal. Heck, maybe even make it the entire meal!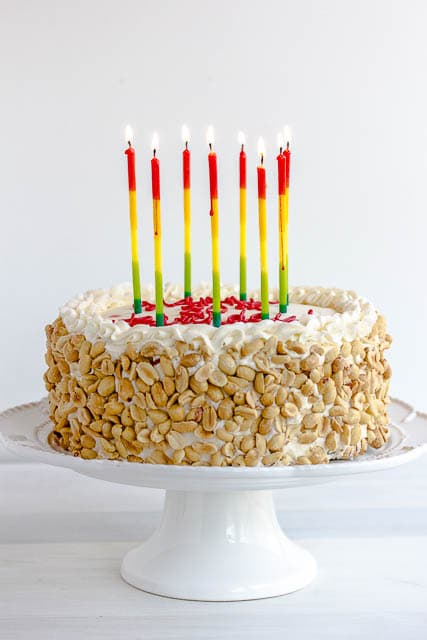 childhood memories
Growing up, Italian Rum cake was a must-have for every birthday celebration. We didn't do chocolate cake,  sheet cake, or any other cake. My family and most other Italian families in the neighborhood had this kind of cake to celebrate birthdays.
Italian rum cake will always remind me of my old neighborhood in Philly; my mother; my Italian roots; my childhood….bittersweet memories for sure. I'm so glad that I've found a way to make it just as I like it because it seems to be harder and harder to find a good Italian rum cake.
what is Italian rum cake?
The cake is made with three layers of sponge cake (think Angel Food cake but with the egg yolks) that are soaked with a rum-flavored syrup, filled with layers of vanilla and chocolate pastry cream, iced with a bakery style frosting, [update: I am now using a stabilized whipped cream frosting] and adorned with crushed peanuts (or sliced almonds) on the outside (peanuts should be crushed a tad bit more than shown in photo).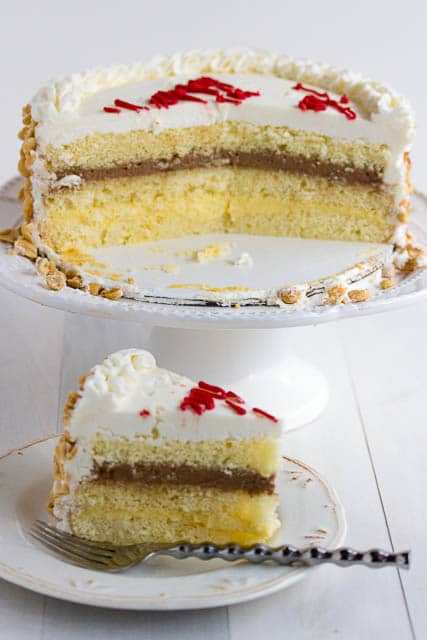 it's not as hard as it looks to make!
Don't be intimidated by the instructions – the key is to make the cake in small steps over time, and then assemble it the day before or morning of the celebration. I made the sponge cake and froze it a week ahead, and also made the frosting a few days prior. I made the pastry cream the night before assembling the cake and the rum syrup the morning of assembly.
almonds vs peanuts?
I've seen a few versions of this cake online but with almonds instead of the peanuts. In Philadelphia, most if not all of the rum cakes that I've seen have the peanuts – I do wonder what area uses the almonds? It's easy enough to substitute, but here in Philly, we've gotta have the peanuts.
Sources: Pastry cream adapted from Good Things by David; Sponge cake from Baking911; Bakery Frosting from My Madison Bistro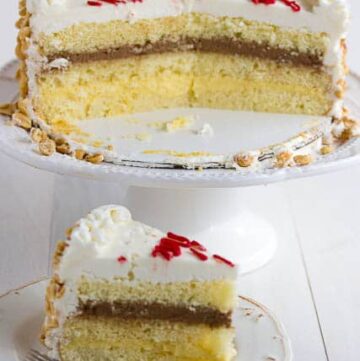 Italian Rum Cake
Makes an 8-inch, three layer vanilla sponge cake sprinkled with rum syrup then filled with vanilla and chocolate pastry cream, topped with bakery-style buttercream and decorated with crushed peanuts - does it get any better?!?
Print
Pin
Rate
Ingredients
Ingredients for the bakery frosting (UPDATE: I now recommend stabilized whipped cream frosting, see link at end of this post for recipe):
28

ounces

of powdered

(confectioners) sugar (7 cups)

1

cup

butter

, room temperature

1

cup

shortening

(use high-ratio, if available)

1

teaspoon

clear vanilla extract

milk to thin

, if needed
Ingredients for the vanilla pastry cream filling:
5

egg yolks

½

cup

sugar

4

tablespoon

cornstarch

1

cup

milk

1

teaspoon

vanilla extract

pinch of salt

¼

cup

heavy cream
Ingredients for the chocolate pastry cream filling:
5

egg yolks

½

cup

sugar plus 2 tablespoons

4

tablespoon

cornstarch

1

cup

milk

2

tablespoons

of cocoa powder

pinch of salt

¼

cup

heavy cream
Ingredients for the sponge cake:
1

cup

sifted unbleached all-purpose flour; sift onto a sheet of waxed paper and then spoon into measuring cup and level to rim

(4.25 ounces King Arthur all-purpose flour or 4.625 Gold Medal)

½

teaspoon

salt

6

large eggs

, separated; separate when cold. Can use cold in the recipe.

1

cup

superfine or regular sugar

, divided

1

teaspoon

cream of tartar

3

tablespoons

water

, cold

1

teaspoon

vanilla extract
Ingredients for the rum syrup:
1

cup

water

½

cup

sugar

1

tablespoon

plus 1 teaspoon rum extract
Ingredients to assemble the cake:
2

cups

crushed peanuts OR sliced almonds

, lightly salted

8-

inch

cake board

(optional)
Instructions
How to make the bakery frosting:
Combine butter and shortening

Add powdered sugar slowly, 1 cup at a time

Mix on medium-to-low speed to prevent air bubbles from forming

Add vanilla extract and mix to combine
How to make the pastry creams:
In a small bowl, add egg yolks and cornstarch. Whisk to blend and set aside

In a medium saucepan, add milk, sugar, salt, and vanilla or chocolate; heat until small bubbles form (scalded) and remove from heat.

Temper eggs by adding small amounts (about 4 ounces) of the hot milk mixture at a time, while whisking very QUICKLY to prevent the eggs from curdling.

After all of the milk mixture has been incorporated into the eggs/cornstarch, return everything to the saucepan and cook over medium heat and stir constantly until thickened.

My mother does this over a water bath because it quickly thickens and can very easily burn; I didn't use a water bath.

Cool the pastry cream and refrigerate until ready to use. (should be eaten within 3 days)

Whip heavy cream only until soft peaks form (overbeating will cause it to turn to butter) and fold together with cooled pastry cream (rewhip this if it has been refrigerated).
How to make the rum syrup:
Combine all ingredients in a saucepan and heat over medium-high heat until sugar dissolves and then cool or store in refrigerator.
How to make the sponge cake:
Preheat oven to 350 degrees and position rack in center of oven

Line bottom of pans (I used two 8-inch) with parchment paper (UPDATE, Feb 2015: I used three 8-inch pans and split the batter equally)

Combine flour with salt in a small bowl and set aside.

In a standing mixer, whip the egg whites on medium-low speed until foamy (not stiff) and then add the cream of tarter and continue mixing until the white become opaque

Add ½ cup sugar slowly to the side of the bowl and increase the speed of the mixer until soft but not stiff peaks form. Scrape the contents to another bowl and set aside

Using the same bowl, which is now empty, add the egg yolks and whip at high speed for 3 to 5 minutes until lightened in color and the mixture "ribbons" when the beaters are raised

Slowly add the remaining sugar (ie, ½ cup), cold water, and vanilla into the egg yolks and mix until combined on low speed

Sift the flour onto the egg yolks in two additions, and stir gently with large spatula to combine.

Gently but thoroughly fold in the whipped egg whites
How to bake the cake
Transfer mixture to prepared pans and bake for about 20 to 30 minutes until cooked through; if using one pan instead of 2 adjust time accordingly. (using 3 pans, I only needed 20 minutes)

Remove from oven, cool, and then run knife carefully around rim to loosen and invert to wire rack. After fully cooled, wrap and refrigerate or freeze. When ready to use, slice each cake carefully into 2 layers (will only need 3 of the 4 layers) (NOTE: see update below)

UPDATE: I used three 8 inch pans and split the batter equally among the pans and it worked just as well with no waste; that is, no need to split the layers if you use 3 pans.
How to assemble the cake:
Remove frosting from the refrigerator and allow to come to room temperature to facilitate spreading.

Using a teaspoon, spoon the rum syrup evenly over each of the three cake layers.

Place one cake layer on the bottom of an 8-inch cake board or cake dish (you may spread some frosting between the dish and bottom layer to prevent the cake from shifting)

Spread all of the vanilla pastry cream on top on the bottom layer and then top with another layer of sponge cake.

Spread all of the chocolate pastry cream on top of middle layer and then top with final layer of sponge cake

Frost cake, and add generous amount of crushed peanuts or sliced almonds to the sides of the cake.

Decorate the top if desired and refrigerate until serving.
Notes
NOTE: nutrition does NOT include frosting (since I now recommend the stabilized whipped cream frosting) (use triple the amounts stated [ie, 3 cups of heavy cream, ¾ cups powdered sugar, 3 teaspoons unflavored gelatin, 4 tablespoons of cold water)
If you are baking in 1 or 2 pans, freezing the cake makes it much easier to cut into layers. I'm now using 3 eight inch pans so I no longer split it.
Ensure frosting is at room temperature and fully softened before trying to frost cake.
5 tablespoons of light rum or ½ tablespoon of dark rum may be substituted for rum extract
UPDATE: I am now using a stabilized whipped cream frosting (link opens in new window) that use instead of the bakery frosting listed here. Make sure to make 6 cups, which is THREE times the amount in the linked recipe. 
Also, a reader recently commented about the use of cream cheese frosting for a more authentic cake. Although my Italian-born mother always used cream cheese frosting in her cake, the Italian bakeries in the Philadelphia area did not - feel free to customize the frosting to your taste. 
Nutrition
Calories:
300
kcal
|
Carbohydrates:
37
g
|
Protein:
8
g
|
Fat:
14
g
|
Saturated Fat:
4
g
|
Trans Fat:
1
g
|
Cholesterol:
157
mg
|
Sodium:
99
mg
|
Potassium:
206
mg
|
Fiber:
2
g
|
Sugar:
26
g
|
Vitamin A:
328
IU
|
Vitamin C:
1
mg
|
Calcium:
68
mg
|
Iron:
1
mg