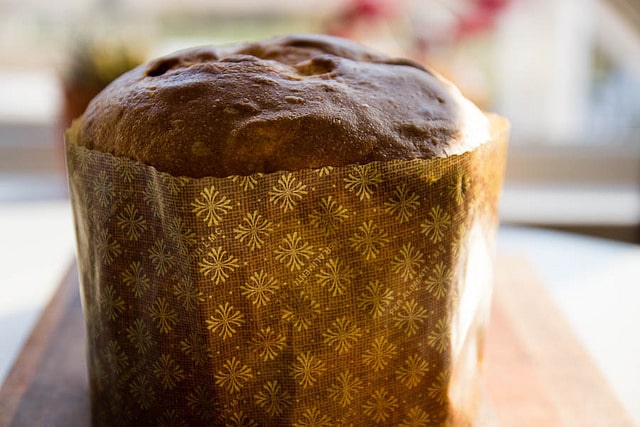 Giorilli Panettone
This is a beast of a recipe, so it's taken me a while to post this. For this reason, I am late in posting this recipe for classic panettone but better late than never, right? This is definitely an **advanced** recipe, for those who want a challenge.
This panettone is made using a sourdough starter/levain and the dough is made over 2 days. On day 1, you will make the first dough and then let it sit for 12 hours (or overnight) and then you will add ingredients to make the second (ie, final) dough, which is then ultimately baked.
I used Giorilli's recipe – Giorilli is considered one of the best panettone bakers in the world (among a few others!). To quote the words describing this panettone on the original recipe website:
"This panettone is light as a feather, an enchanting, aromatic, fragrant and infinitely good unfriendliness."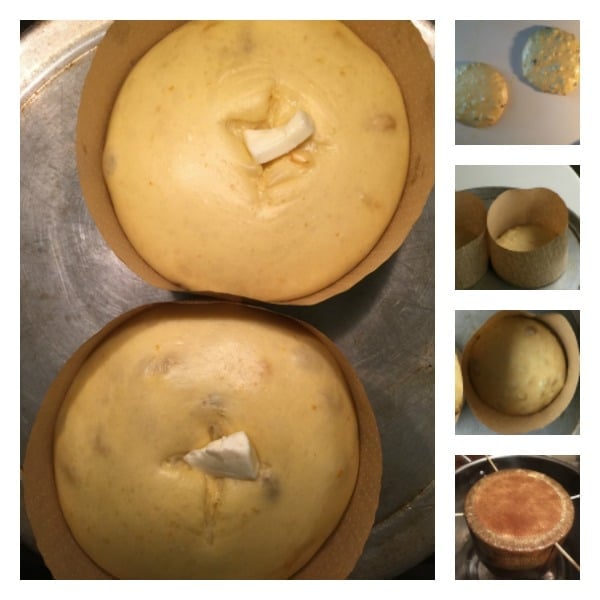 Overview of the process in pictures
The process is time consuming but the results are very worthwhile and these make impressive gifts for those who enjoy homemade baked goods! The photos above show the final proofed loaves before going into the oven (largest photo), the raw dough, dough in the liners (unrisen and risen) and the loaves immediately placed upside down in a large pot to prevent collapse after they have been baked.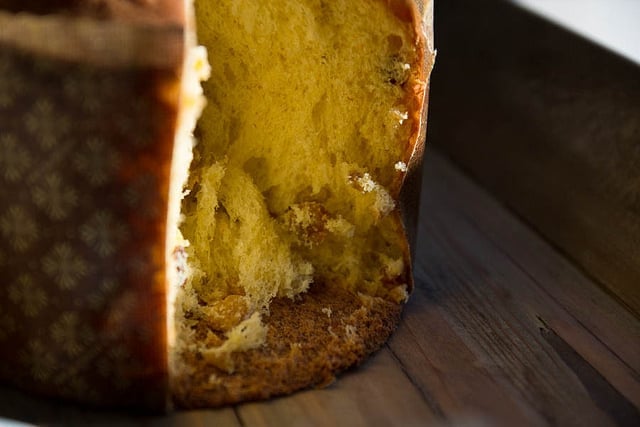 Above and below are crumb shots of the panettone, which is soft and shreddable.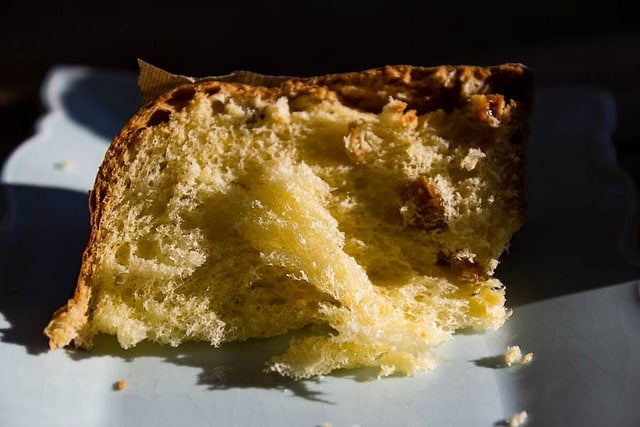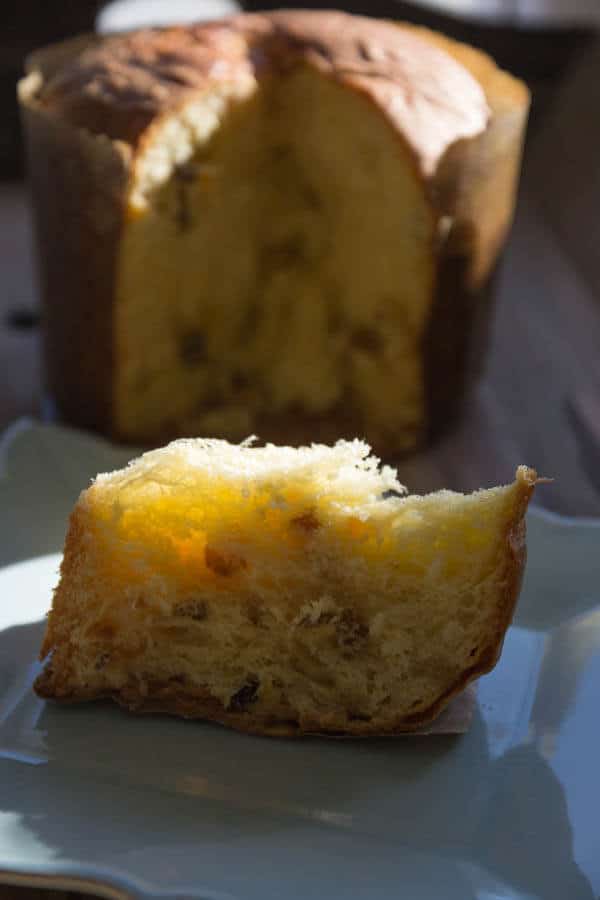 Storing panettone
Once the panettone is completely cooked, it can be stored in a polypropylene food bag. The panettone can be stored for a long period (up to 60 days) but you should spray the inside of the food bag with pure alcohol to reduce the risk of the formation of mold.
Source: Giallo Zafferano
The following link contains a document, although in Italian, which describes the adjusted amounts to make more loaves.
PANETTONE-GIORILLI-DOSI-PIROTTINI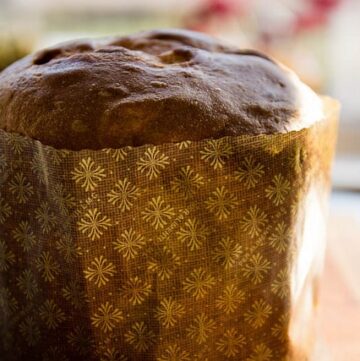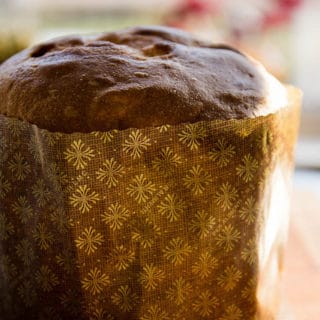 italian pannetone
Makes two 500 grams loaves; or 1 large loaf (1 kg)
Print
Pin
Rate
Ingredients
First dough:
Levain

, 50 g (100% hydration) (or 75 g of 45% hydration)

75

g

sugar (superfine/caster) (see note)

120

g

water

55

g

egg yolks

(about 3)

75

g

butter

, softened not melted and cut into several pieces

265

g

high gluten flour

(13.5% to 15% protein) (if using stiffer levain [45% hydration, use 240 g flour)
Second dough:
60

g

high gluten flour

(13.5% to 15% protein)

All of the aromatic mix

(recipe follows)

1/2

teaspoon

salt

(~3 grams)

70

g

sugar (superfine/caster)

95

g

egg yolks

(about 4)

95

g

butter

, softened not melted and cut into several pieces

2

g

barley malt

(about 1/4 teaspoon)

120

g

white raisins

, soaked

60

g

candied orange

, diced small

30

g

candied citron

, diced small
Aromatic mix:
30

g

honey

1

vanilla bean

half lemon grated

half orange grated
Egg wash (optional)
One egg beaten with a splash of milk or cold water
Instructions
***Day 1***. Overview and Preparation
Overview of day 1: prepare aromatic mixture (will sit for 24 hours until day 2), soak raisins (soaks for 1.5 hours), refresh levain/starter 3 times throughout morning and afternoon (example, 8AM, noon, and 3PM), and then make first dough in evening (45 mins to 1 hour active time)
Mix Aromatic Blend and Soak Raisins
To begin, mix ingredients for aromatic blend in a small bowl, cover and let sit for 24 hours

Rehydrate raisons by soaking them in bowl of hot water for 30 minutes, rinse well and then soak again in warm water for 1 hours. Drain, squeeze out all water, and then place on cloth lined baking sheet and cover with clean dry cloth, and let sit overnight. Make sure to re-weigh raisins once hydrated because you will need less as they will weight more.
Refreshing your Starter/Levain (Liquid)
Ensure that your levain (liquid or stiff) has been refreshed enough times so that it is very active (suggestion is at least 3 refreshers the day that you are making first dough) (eg, refresh at 8AM, noon, 3PM, and then use some to make first dough at 7PM)
Mixing the First Dough
When ready to mix the first dough, add the levain to the bowl of a standing mixer, along with flour and water.

Mix for 10 to 15 minutes, then add sugar and then softened butter in several pieces.

Only after butter is completely blended, add the egg yolks in several stages.

Ensure that the dough temperature stays under 26 degrees C (78F). If it goes higher, place dough in freezer for 10 minutes (remember this for second dough too)

Mix for 25 minutes until you get a silky smooth elastic dough. Test dough for windowpaning.
Bulk Rise of First Dough (12 hours/overnight)
Place dough in large container (three times the size of the dough), cover, and let rise at 28/30 C (82 to 86F) for 12 hours.
***Day 2***. Overview and Mixing of Second Dough
Overview: Make dough two (45 mins), form loaves/rest dough (1 hour), let loaves rise (6 to 9 hours), and bake (35 mins to 1 hour, depending on liner size, see note)

To begin, consider placing dough/bowl/hook in refrigerator while measuring ingredients for dough two

When ready to proceed, add flour and barley malt to the day 1 dough and mix at slow speed than medium for 15 minutes

Slowly incorporate sugar

Afterwards, add half the egg yolks, salt, and aromatic blend.

Knead until smooth and homogenous

Add 70 grams of the softened butter, mix well, and then the rest of the yolks.

Knead until smooth and then add the remaining butter, the raisins, and the candied fruit.
Bulk Rise of Second Dough
Remove from machine and let stand in covered bowl for 30 minutes

Remove dough from bowl and let sit uncovered on counter for 15 minutes
Final Rise of Second Dough
Divide dough and form into balls sized according to size of the containers/pans/liners you are using (see notes)

Allow loaves to rise in liners placed on a on baking sheet, covered by plastic wrap at a temp of 28 to 30 C (82 F to 86F) for 8.5 to 9 hours.

The dough should rise within 1 inch of top of mold.
Preparing to Bake
In the meantime, before baking, pre-heat the oven to 165 C (330 F) and allow panettone to form skin by uncovering for 15 to 20 minutes prior to baking

Cut a cross on top of panettone prior to baking and add a chunk of butter to the center (see photo collage) If you want shiny loaves, consider brushing top with egg wash
Bake loaves
Center should read 94 C (201 F) when done (takes about 50 to 55 minutes for 1 kg dough; see note for baking according to size)
Invert and cooling of loaves
To cool, immediately invert loaves by inserting wooden skewers across bottom and hang upside down on top of deep pot (see photo collage) (NOTE: you should use very pointy skewers or it may be difficult to pierce the panettone liners; some folks pre-skewer their liners before baking. The loaves stick to the side of liners so they should not fall out. When serving, it is okay to cut right through paper and peel it off).

After completely baked, place the loaves in plastic/cellophane bags. Before wrapping in plastic, you must wait 10 to 12 hours for loaves to completely cool. (to reduce risk of mold, consider spraying inside of bags with pure food grade alcohol and dry out completely before using)
Notes
Caster/superfine sugar (NOT as fine as confectioner or powdered sugar!) can be made by adding 1 cup plus 2 teaspoons of granulated sugar to food processor and processing for 30 seconds. 
*Dough should occupy about 1/3 of the panettone liners
**Liner sizes:
1 kg dough: 12.5 cm high x 18 cm wide (~6 x 8 inches)
750 kg dough: 11 cm high x 17 cm wide (~5 x 8 inches)
500 kg dough: 10 cm high x 14 cm wide (~4.5 x 6.5 inches)
300 kg dough: 9 cm high x 12 cm wide (~4 x 5.5 inches)
100 kg dough: 5 cm high x 7 cm wide (~2.5 x 3 inches)
***7 egg yolks per 1 kg dough
Baking times and temperatures:
500 g dough: 35 minutes at 170/180 C (340 F to 360 F)
1000 g dough: 50 to 55 minutes at 170/180 C (340 F to 360 F)
1500 g dough: 70 to 75 minutes at 170/180 C (340 F to 360 F)
2000 g dough: about 90 minutes at 160/170 C (320 F to 340 F)
After baking, bread must be immediately skewered and turned upside down to prevent deflating! Leave this way for 10 to 12 hours
Variations: Can soak raisins in rum; other dried fruit can be used, ie, cranberries, cherries, etc
Source for ordering pannetone liners: Fantes.com