Giorilli is considered to be one of the best panettone bakers in the world!! To quote the original recipe website, "This panettone is light as a feather, an enchanting, aromatic, fragrant and infinitely good unfriendliness." Who can resist?!?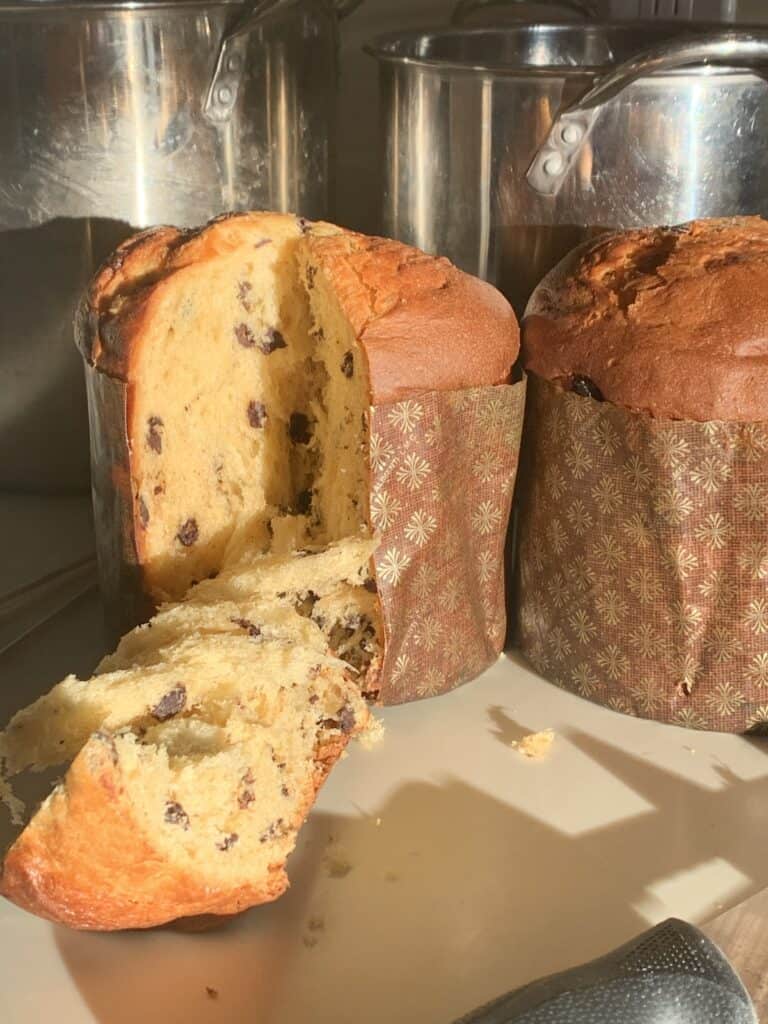 Overview of Panettone Making Process
This is definitely an **advanced** recipe, for those who want a challenge. It is well worth the effort!
You will need an established sourdough starter/levain (can be either liquid or solid, which is called pasta madre). Pasta madre is said to be the better choice, but I have successfully used both (I will always opt for pasta madre now and that will be the subject of another post).
You will also need a standing mixer, panettone cases, and skewers or needles to insert at the bottom of the panettone so you can flip it over after baking to prevent collapsing. It is also highly recommended to have a thermometer to monitor the dough temperature and also a thermometer to gauge/monitor the temperature of the area where you will rise the dough.
The dough is made over 2 days, assuming you have an active pasta madre or liquid starter/levain.
On day 1, you will make the "first dough" and then let it sit for 12 hours (or overnight) and then you will add ingredients to make the "second (ie, final) dough", which is then ultimately baked.
In addition to your starter being active and healthy, time and temperature control are critical to the success of panettone making.
The Ingredients: First dough (panettone)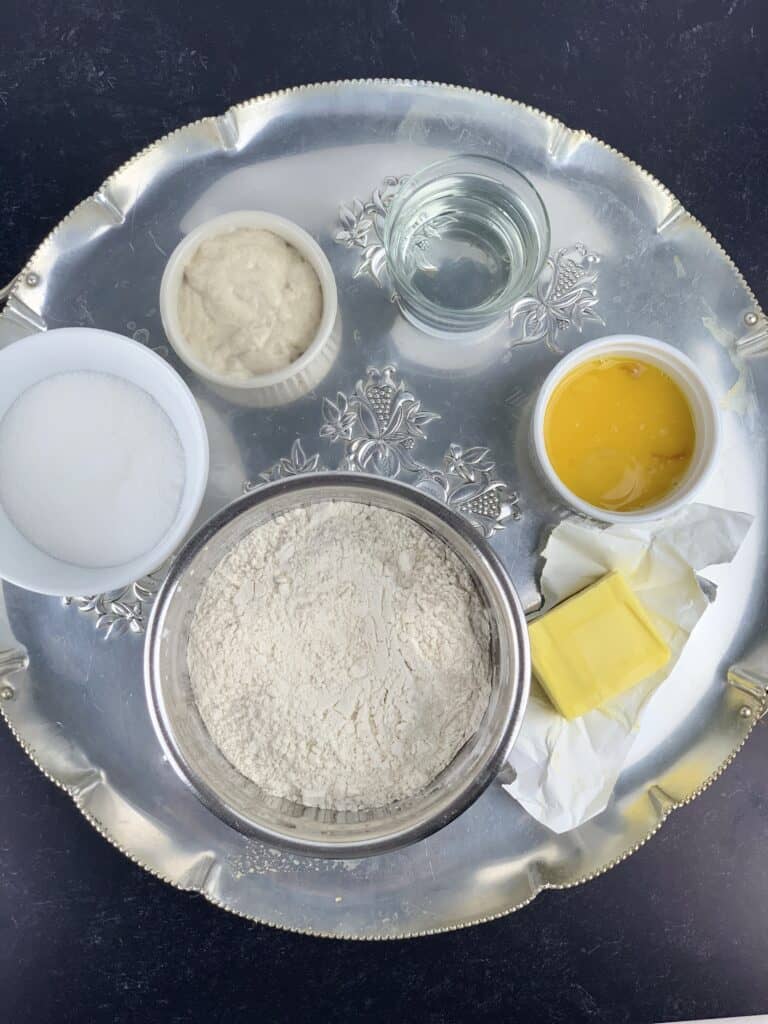 Ingredients for second dough (panettone):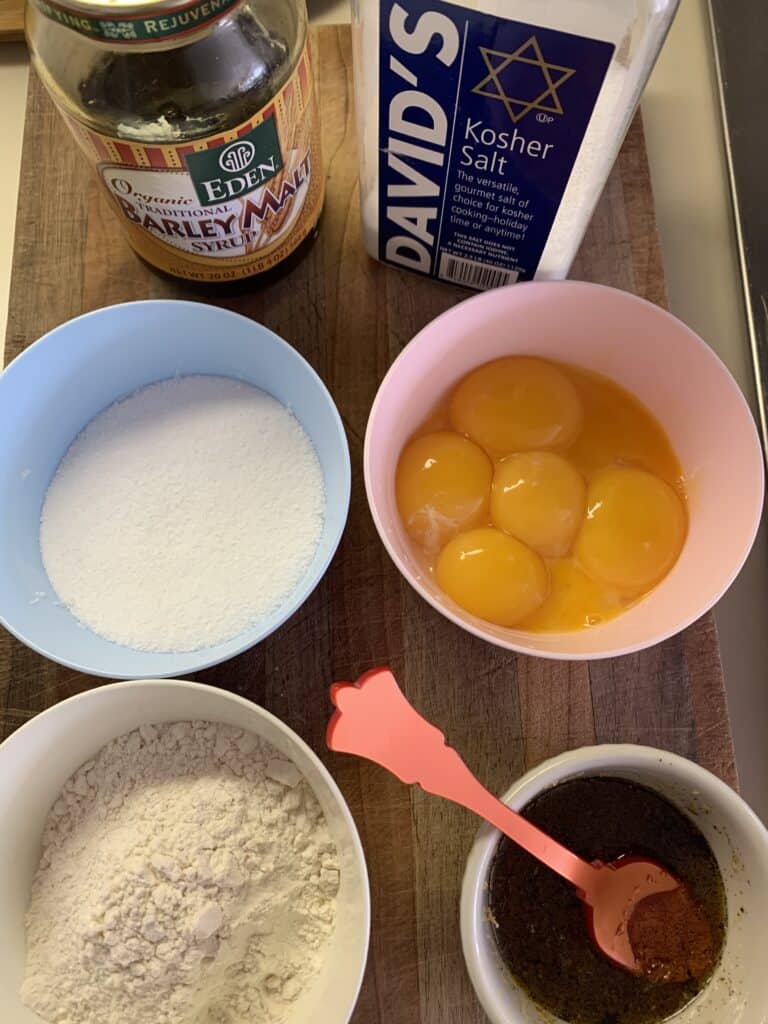 Making the first and second doughs
Below is a very brief overview of making the doughs. Making the first dough (looks like batter initially); when it's done it, you should be able to pull a windowpane. After the first dough rise and mixing of the second dough, you will add in your mix-ins. Finally, the risen dough is shown, and final baked panettone. Immediately skewer the bottom and hang in large pot or between two chairs.
You will have about 20 seconds to skewer and invert the panettone before it may start to collapse so work quickly!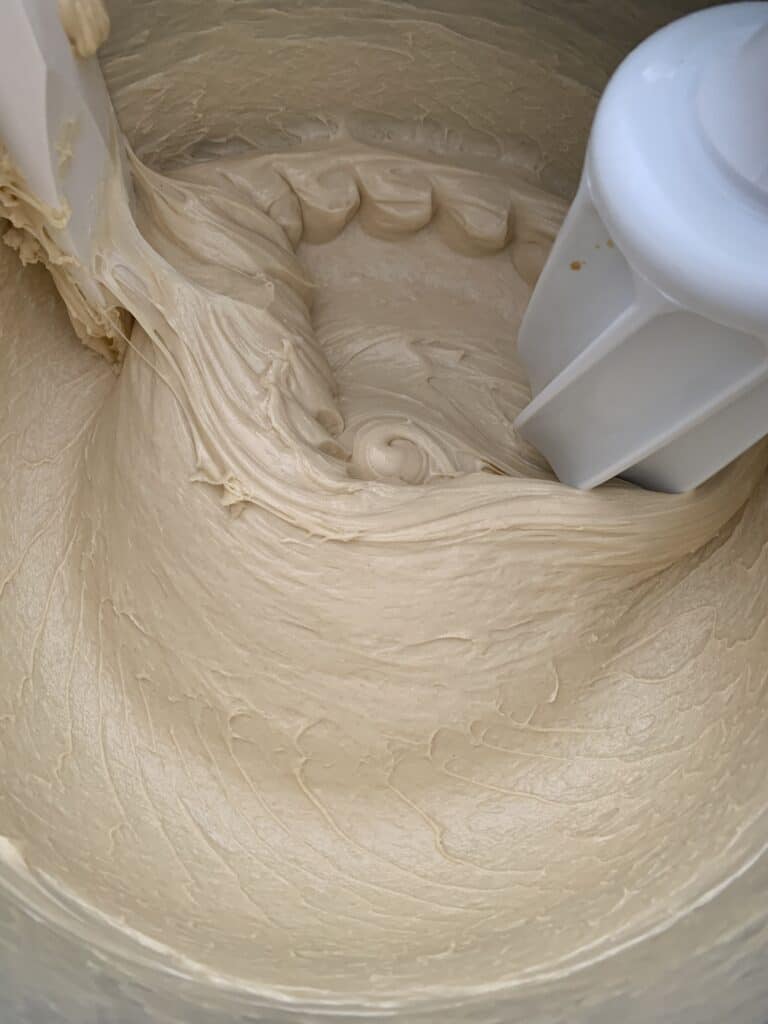 The results are very worthwhile and these make impressive gifts for those who enjoy homemade baked goods!
Panettone: The crumb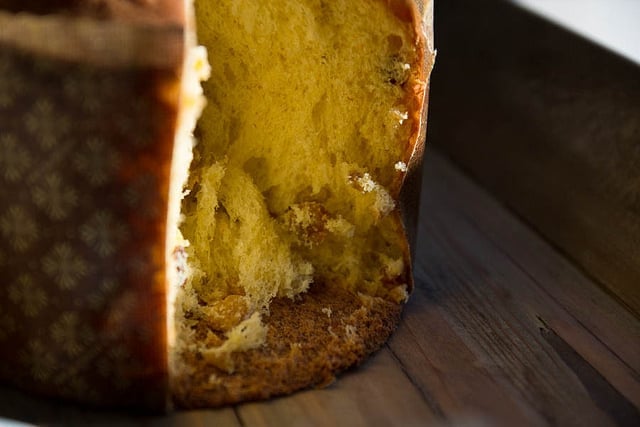 Above and below are crumb shots of the panettone: the goal is getting a beautifully soft and shreddable crumb.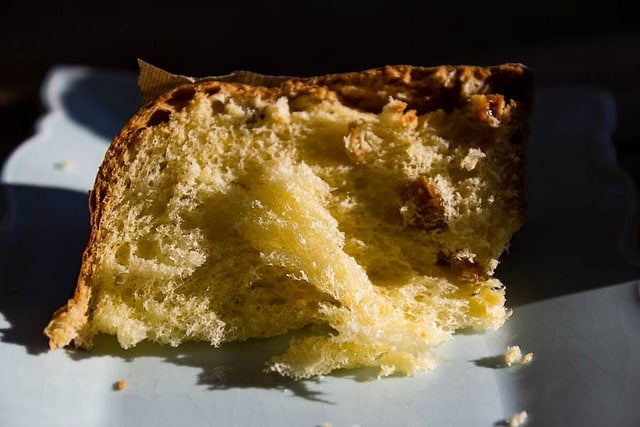 I couldn't resist including several photos of the inside of the panettones I've made over the years; the inside is super soft and shreddable.
The use of natural leavening/starter provides this soft interior and also helps keeps the panettone fresh for days to weeks, depending on the amount of dextrans produced, according to a book by Bread-Editions, called Sourdough Panettone and Viennoiserie. (this book is highly technical and geared toward professional bakers or very serious home bakers.)
The balance of bacteria and yeasts, including the specific strains is a major subject in it's own right and the reason why panettone masters will refresh their mother dough/pasta madre/starter several times over several days at specific temperatures.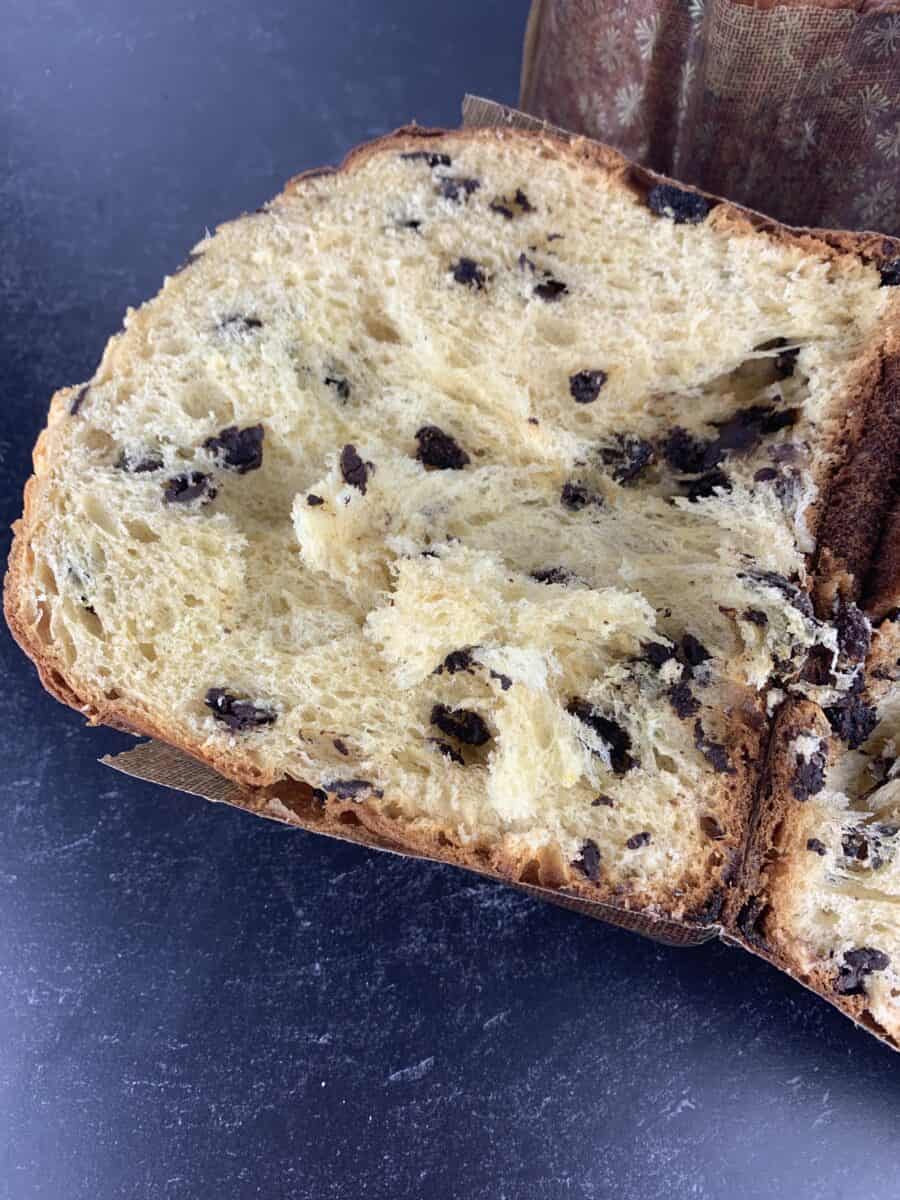 What is 320/350 Flour (W-strength)?
The strength of the flour is important when making panettone because you need a very strong gluten network to support all that butter and all those egg yolks you will be adding.
The figure below is shown in Italian, but it is easy to view the flour strength ratings (ie, W-strength) from low (blue) to high (red).
Low W-strength absorb less water, have lower protein content, and leavens more quickly. Conversely, high-strength flours absorbs more water, take longer to ferment, and have a higher protein content.
Note the corresponding protein content ranges for each W-strength rating:
9-10.5% (W90/W130)
10-11% (W130/W200)
10.5-11.5% (W170/W200)
12-12.5% (W220/W240)
13% (W300/W310)
13.5-15% (W340/W400).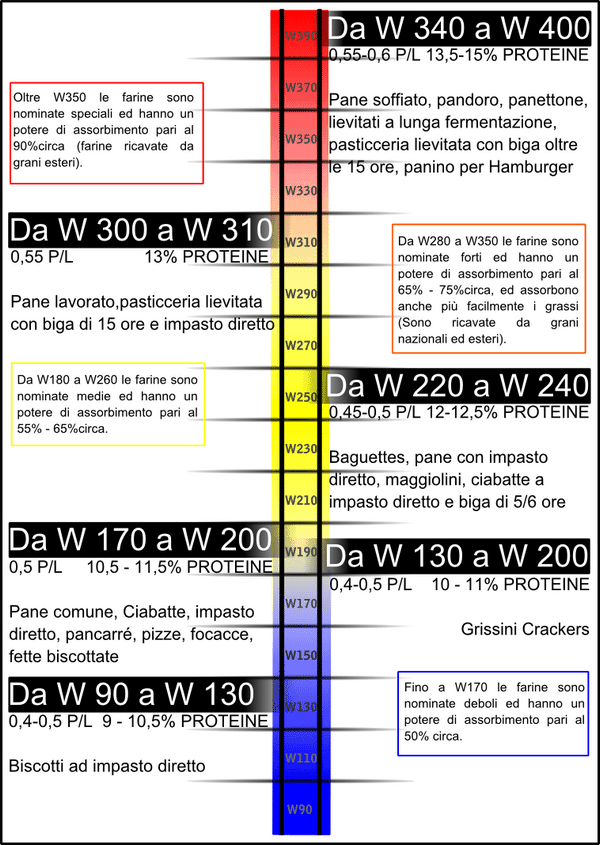 Tips for Making Panettone
Your starter or levain must be in very good shape and not acidic at all. You must refresh three times during the day of mixing the first dough. Suggested time table is 9AM; 12noon; and 4PM and then make dough at 8PM.
Some experts recommend it is best to complete three cycles of refreshments (that is, over a total of 3 days, refresh your starter 3 times daily)
Use the same flour to feed your starter that you do to make your panettone.
Follow a well tested recipe (Giorilli, Massari, etc).
Ensure your dough is well kneaded and well developed.
The dough needs to be strong in order to absorb and carry the fats in the high amounts of butter and egg yolk.
It may seem like it will take a very long time for the dough to finally come together. At times, I have even let the dough rest a few minutes before continuing to mix.
Eventually, what seems like a batter will turn into a very soft and wet dough.
Use the highest quality ingredients, including vanilla bean or real vanilla extract, not imitation.
Measure out all ingredients before starting so you can concentrate on the dough development.
Monitor the temperature of the dough!
The ideal dough temperature is 77 degrees F to a maximum of 82.5 degrees F.
If the dough temperature rises above 86 degrees F, you risk degrading the gluten.
If in doubt, place dough in the refrigerator to cool before proceeding. Monitor during the long mix.
Conversely, dough temperature below 71 to 72 degrees F will result in gluten not developing properly and give you a very slow rise.
Thank you to LievetoNaturale for these tips!
How Much Dough for Different Sized Panettone Cases/Molds?
There is a fantastic dough calculator available via an Italian website called LievetoNaturale.
This calculator will recommend how much dough to make according to the diameter and height of your panettone mold.
You will be asked to input the diameter of the bottom in centimeters and the height of the mold in centimeters. After inputting these numbers, hit enter. You will see the amount of dough (in grams or kilograms) that is recommended for each size mold.
Please note that the recipe shown below is for 1 kg of dough; you can split it up if you have the appropriately sized smaller liners. Again, use the calculator to figure out what amount of dough you need.
Where to Buy Panettone Cases
Storing Panettone
Once the panettone is completely cooked, it should be stored in a polypropylene or cellophane food bag. Otherwise, it will start to harden.
The panettone can be stored for a long period (up to 60 days for some, depending on recipe and the dextrans produced), thanks to natural leavening, but you should spray the inside of the food bag with pure alcohol to reduce the risk of the formation of mold.
Make sure the panettone has been completely cooled and the bag, if sprayed, is completely dry.
Also note that the flavor of the panettone is said to be best approximately 5 days after baking.
Sources: Giallo Zafferano and Lieveto Naturale
How to adjust the amount of dough in the recipe below (if you need more or less)
The following links (in Italian or in English) describe the adjusted amounts to make more or less dough than shown in recipe below (recipe below shows 1 kg of dough).
The links below will give you ingredient amounts for the following sizes of panettone:
1 loaf weighing 750 grams.
2, 3, or 4 loaves weighing 750 grams each.
2, 3 loaves weighing 1000 grams each.
PANETTONE-GIORILLI-DOSI-PIROTTINI (in ITALIAN)
PANETTONE GIORILLI INGREDIENTS BY DOUGH WEIGHT (in ENGLISH)
Other Highly Regarded Panettone Recipes
Note: These are in Italian; use Google translate or other translation services.
Keep in mind you can make your own homemade lemon paste, which some recipes call for.
Additional Reading on Pasta Madre and Panettone Making
Like this recipe? If you'd like to see more recipes, SUBSCRIBE today to get free recipes from Feeling Foodish directly to your email.
📖 Recipe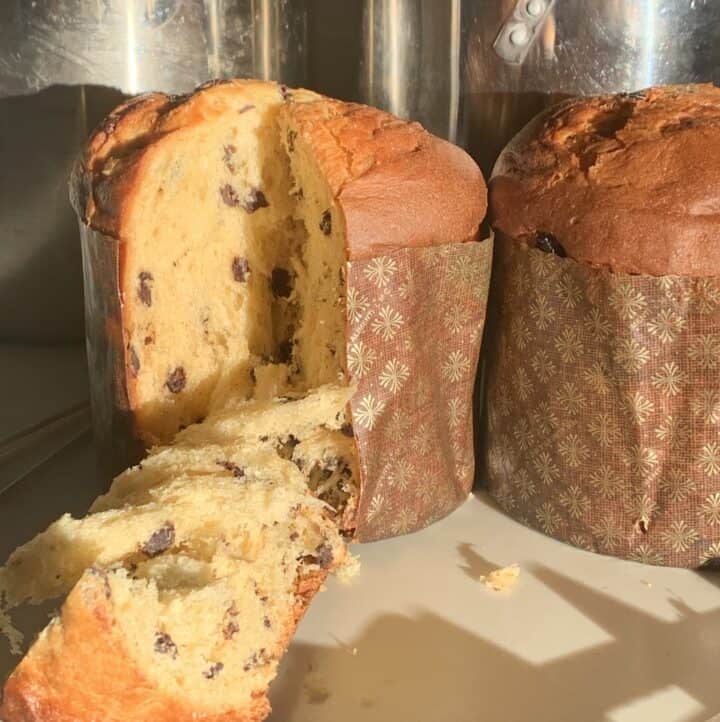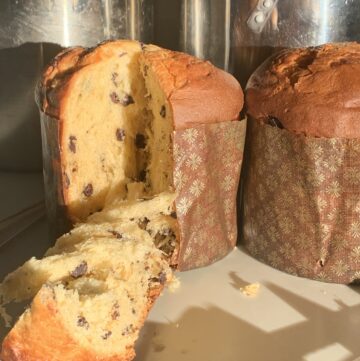 Panettone (Giorilli's recipe)
Makes two 500 grams loaves; or 1 large loaf (1 kg)
Equipment
Standing mixer

Panettone cases (some call them liners)

Skewers to insert into the panettone after baking to invert (prevents collapsing)

Digital thermometer (highly suggested)
Ingredients
First dough:
Levain

, 50 g (100% hydration) (or 75 g of 45% hydration)

75

g

sugar (superfine/caster) (see note)

120

g

water

55

g

egg yolks

(about 3 or 4)

75

g

butter

, softened not melted and cut into several pieces

265

g

high gluten flour

(13.5% to 15% protein) (if using stiffer levain [45% hydration, use 240 g flour)
Second dough:
60

g

high gluten flour

(13.5% to 15% protein)

All of the aromatic mix

(recipe follows)

½

teaspoon

salt

(~3 grams)

70

g

sugar (superfine/caster)

95

g

egg yolks

(about 5 or 6)

95

g

butter

, softened (not melted)and cut into several pieces

2

g

barley malt

(about ¼ teaspoon)

120

g

white raisins

, soaked

60

g

candied orange

, diced small

30

g

candied citron

, diced small
Aromatic mix:
30

g

honey

1

vanilla bean

half lemon grated

half orange grated
Egg wash (optional)
One egg beaten with a splash of milk or cold water
Instructions
***Day 1***. Overview and Preparation
Overview of day 1: prepare aromatic mixture (will sit for 24 hours until day 2), soak raisins (soaks for 1.5 hours), refresh levain/starter 3 times throughout morning and afternoon (example, 8AM, noon, and 3PM), and then make first dough in evening (45 mins to 1 hour active time)
Mix Aromatic Blend and Soak Raisins
To begin, mix ingredients for aromatic blend in a small bowl, cover and let sit for 24 hours

Rehydrate raisons by soaking them in bowl of hot water for 30 minutes, rinse well and then soak again in warm water for 1 hours. Drain, squeeze out all water, and then place on cloth lined baking sheet and cover with clean dry cloth, and let sit overnight. Make sure to re-weigh raisins once hydrated because you will need less as they will weight more.
Refreshing your Starter/Levain (Liquid)
Ensure that your levain (liquid or stiff) has been refreshed enough times so that it is very active (suggestion is at least 3 refreshers the day that you are making first dough) (eg, refresh at 8AM, noon, 3PM, and then use some to make first dough at 7PM)
Mixing the First Dough
When ready to mix the first dough, add the levain to the bowl of a standing mixer, along with flour and water.

Mix for 10 to 15 minutes, then add sugar and then softened butter in several pieces.

Only after butter is completely blended, add the egg yolks in several stages.

Ensure that the dough temperature stays under 26 degrees C (78F). If it goes higher, place dough in freezer for 10 minutes (remember this for second dough too)

Mix for 25 minutes until you get a silky smooth elastic dough. Test dough for windowpaning.
Bulk Rise of First Dough (12 hours/overnight)
Place dough in large container (three times the size of the dough), cover, and let rise at 28/30 C (82 to 86F) for 12 hours. You may leave the covered dough inside the oven (turned off!) with the oven light turned on for warmth if you have a cool kitchen.
***Day 2***. Overview and Mixing of Second Dough
Overview: Make dough two (45 mins), form loaves/rest dough (1 hour), let loaves rise (6 to 9 hours), and bake (35 mins to 1 hour, depending on liner size, see note)

To begin, consider placing dough/bowl/hook in refrigerator while measuring ingredients for dough two

When ready to proceed, add flour and barley malt to the day 1 dough and mix at slow speed than medium for 15 minutes

Slowly incorporate sugar

Afterwards, add half the egg yolks, salt, and aromatic blend.

Knead until smooth and homogenous

Add 70 grams of the softened butter, mix well, and then the rest of the yolks.

Knead until smooth and then add the remaining butter, the raisins, and the candied fruit.
Bulk Rise of Second Dough
Remove from machine and let stand in covered bowl for 30 minutes

Remove dough from bowl and let sit uncovered on counter for 15 minutes
Final Rise of Second Dough
Divide dough and form into balls sized according to size of the containers/pans/liners you are using (see notes)

Allow loaves to rise in liners placed on a on baking sheet, covered by plastic wrap at a temp of 28 to 30 C (82 F to 86F) for 8.5 to 9 hours. You may leave the covered dough inside the oven (turned off!) with the oven light turned on for warmth if you have a cool kitchen.

The dough should rise within 1 inch of top of mold. If it rises more than that, you risk getting a mushroom shaped panettone, which is not considered ideal.
Preparing to Bake
In the meantime, before baking, pre-heat the oven to 165 C (330 F) and allow panettone to form skin by uncovering for 15 to 20 minutes prior to baking

Cut a cross on top of panettone prior to baking and add a chunk of butter to the center (see photo collage) If you want shiny loaves, consider brushing top with egg wash
Bake loaves
Center should read 94 C (201 F) when done (takes about 50 to 55 minutes for 1 kg dough; see note for baking according to size)
Invert and cooling of loaves
To cool, immediately invert loaves by inserting wooden skewers across bottom and hang upside down on top of deep pot (see photo collage) (NOTE: you should use very pointy skewers or it may be difficult to pierce the panettone liners (I twist them for easy insertion; some folks pre-skewer their liners before baking. The loaves stick to the side of liners so they should not fall out. When serving, it is okay to cut right through paper and peel it off).

After completely baked, place the loaves in plastic/cellophane bags. Before wrapping in plastic, you must wait 10 to 12 hours for loaves to completely cool. (to reduce risk of mold, consider spraying inside of bags with pure food grade alcohol and dry out completely before using)

Panettone is best eaten at least 5 days after baking as the flavors continue to develop after baked.
Notes
Caster/superfine sugar (NOT as fine as confectioner or powdered sugar!) can be made by adding 1 cup plus 2 teaspoons of granulated sugar to food processor and processing for 30 seconds. 
*Dough should occupy about ⅓ of the panettone liners
**Liner sizes:
1228 kg dough: 12.5 cm high x 18 cm wide (~6 x 8 inches)
964 kg dough: 11 cm high x 17 cm wide (~5 x 8 inches)
595 kg dough: 10 cm high x 14 cm wide (~4.5 x 6.5 inches)
394 kg dough: 9 cm high x 12 cm wide (~4 x 5.5 inches)
100 kg dough: 5 cm high x 7 cm wide (~2.5 x 3 inches)
***7 egg yolks per 1 kg dough
Baking times and temperatures:
500 g dough: 35 minutes at 170/180 C (340 F to 360 F)
1000 g dough: 50 to 55 minutes at 170/180 C (340 F to 360 F)
1500 g dough: 70 to 75 minutes at 170/180 C (340 F to 360 F)
2000 g dough: about 90 minutes at 160/170 C (320 F to 340 F)
After baking, bread must be immediately skewered and turned upside down to prevent deflating! Leave this way for 10 to 12 hours
Variations: Can soak raisins in rum; other dried fruit can be used, ie, cranberries, cherries, etc
Source for ordering pannetone liners: Fantes.com
Nutrition
Serving:
7
g
Calories:
263
kcal
Carbohydrates:
36
g
Protein:
5
g
Fat:
11
g
Saturated Fat:
6
g
Cholesterol:
125
mg
Sodium:
161
mg
Potassium:
72
mg
Fiber:
1
g
Sugar:
15
g
Vitamin A:
401
IU
Vitamin C:
1
mg
Calcium:
17
mg
Iron:
1
mg
Interested in More Recipes?
SUBSCRIBE to get recipes delivered to your email 🙂