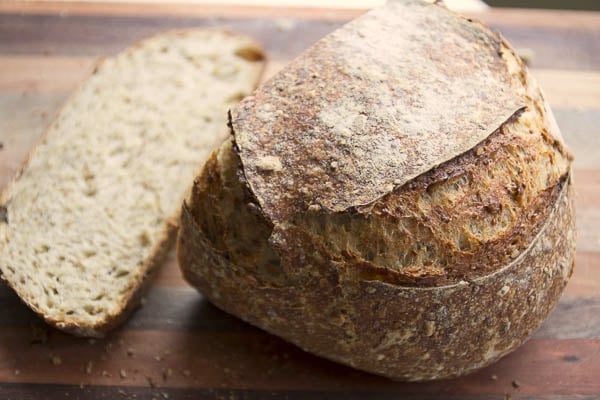 Yes, I've been on a bread baking kick. It's no surprise really – there is something so magical about that transformation of dough into the finished product. And the discovery that we home bakers can create bakery quality loaves bread at home using a dutch oven makes me incredibly happy!
No doubt though, bread baking is not something that can be learned simply by following a recipe. There is far too much to learn by doing. For example, learning to read your dough for signs of sufficient proofing and sufficient mixing.
At this point, it seems that the best strategy to do this is to bake the same recipe consistently until I have perfected the stages of mixing and proofing. Sounds like a fun experiment, no?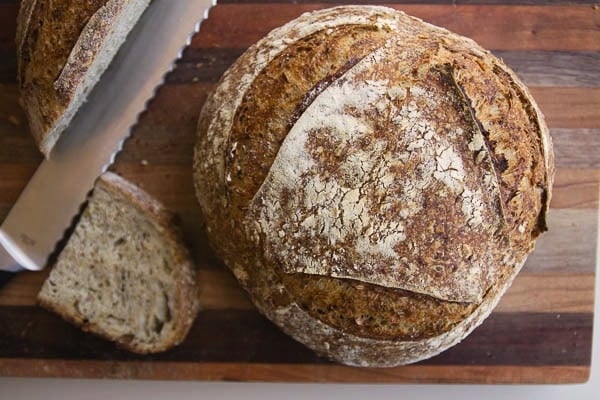 This was my first time baking this bread and I was pleased overall. I had hoped for a more open crumb but I'm unsure if a bread with the amount of seeds that this recipe contains could have a very open crumb. Still, I think my ultimate goal is to make some type of whole grain bread with a light airy crumb as well as the perfect baguette. Oh, bread baking could sure keep me busy!
I think this might have been one of my husband's favorites. It was very tasty! This will definitely be made again soon.
Recipe from Bread by Jeffrey Hammelman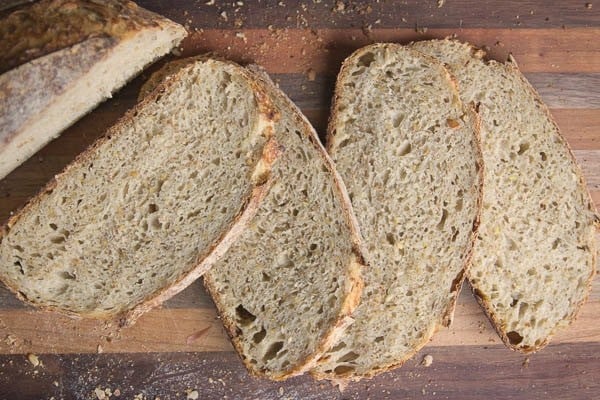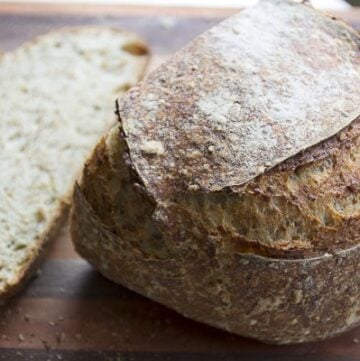 5-Grain Bread
A delicious homemade 5 grain bread with wheat, quinoa, flax, sunflower, and oats (nutrition info based on 20 servings per loaf, ½ inch slices)
Ingredients
For the levain:
bread flour

, 8 oz (1 ⅞ cups)

water

, 10 oz (1 ¼ cup)

starter

, 1.6 oz (3 tablespoons)
For the soaker
quinoa

, 2.9 oz (½ cup)

flax seed

, 2.9 oz (⅝ cup)

sunflower seeds

, 2.5 oz (½ cup)

oats

, 2.5 oz (¾ cup)

water

, boiling 13 oz (1 ⅝ cup)

salt

, 0.2 oz (1 tsp)
For the dough:
Bread flour

, 16 oz (4 ⅜ cups)

whole wheat flour

, 8 oz (1 ¾ cups)

water 8.4 oz

(1 cup)

salt

, 0.6 oz (1 tablespoon)

yeast

(instant dry), 0.1 oz (1 tsp)

soaker

, 1 pound, 8 oz (all of the above)

liquid levain

, 18 oz, (all but 3 tablespoons)
Instructions
The day before making the dough:
Mix the levain at least 12 to 16 hours before you plan to mix the dough

Combine all levain ingredients and let stand covered at about 70 degrees F

At the same time, mix the soaker by mixing all of the grains in a bowl, and pour boiling water on top. cover with plastic wrap and let stand at room temperature
To make the dough:
Add all of the ingredients to a standing mixer and mix on low speed for 2.5 minutes and then low-medium speed for 4 to 5 minutes. the final dough temperature should be 76 degrees

Bulk ferment for 1 to 1.5 hours (fold once at 45 minutes if fermenting for 1.5 hours)

Divide and shape into 1.5 pound pieces and place into bannetons and cover with towel or plastic wrap

Final fermentation is 1 hour at 76 degrees (or you can refrigerate overnight; if refrigerating, bulk fermentation should be extended to 2 hours and commercial yeast should be left out of the mix).
Bake day:
Preheat oven at 500 degrees for at least 30 minutes with dutch oven inside placed on baking stone

When ready to bake, load loaf into dutch oven, score the top with lame or razor, and reduce heat to 460 degrees

Bake bread for a total of 40 to 45 minutes (covered for the first 20 minutes)

Let cool on rack for at least 2 hours
Nutrition
Serving:
1
g
Calories:
124
kcal
Carbohydrates:
22.4
g
Protein:
4
g
Fat:
1.6
g
Sodium:
60
mg
Fiber:
2
g
Interested in More Recipes?
SUBSCRIBE to get recipes delivered to your email 🙂