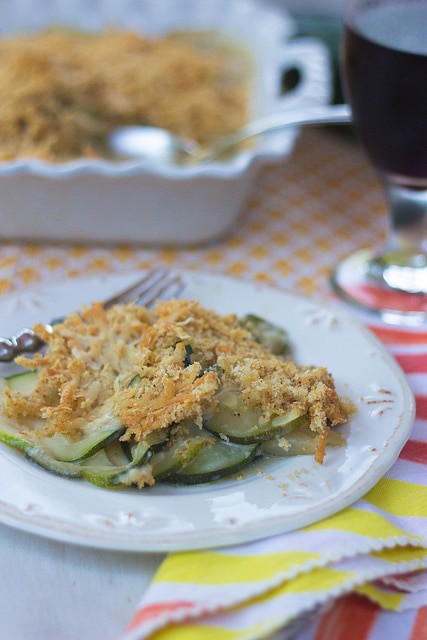 For the first time ever, I planted a small garden this year. And yes, zucchini was one of the vegetables that I planted along with cucumbers, eggplant, watermelon, and corn. And also tomatoes – but they are a fruit, right? Sadly, all in all, it wasn't a great year for most vegetable gardeners in this area, as we had tons of rain this season and extreme temperature fluctuations were fairly common. My mother's good friend, who is an expert gardener, did not have much luck with his vegetable garden, and so I know it wasn't anything I did wrong.
That said, I only planted one zucchini plant and it produced plenty of zucchini! Luck maybe? I also got a decent amount of cucumbers and but only small ears of corn and few tomatoes. I've read that the corn should have been planted in rows (I only did one row) and needs to be watered heavily at a certain point in order for it to produce large ears of corn. And, as luck would have it, the heavy rain occurred at the wrong time. Maybe next year…
Back to the zucchini – since the plant produced so many zucchini, we enjoyed many different zucchini-based recipes this year including zucchini bread (chocolate this year!), zucchini "noodle" salad, zucchini crisps, "mock" zucchini crab cakes, and zucchini with tomatoes. Who knew there were so many ways to eat zucchini? I think most people with zucchini in their gardens have a dozen or more recipes up their sleeves.
Most recently, I made this version of zucchini – how can you go wrong with anything gratin, I ask? It was a nice change from the typical zucchini dishes that I make.  I loved the contrasting textures of crisp breadcrumb topping with the creamy sauce. The zucchini flavor is really enhanced by the addition of onion. And the cheese? Cheese makes everything better!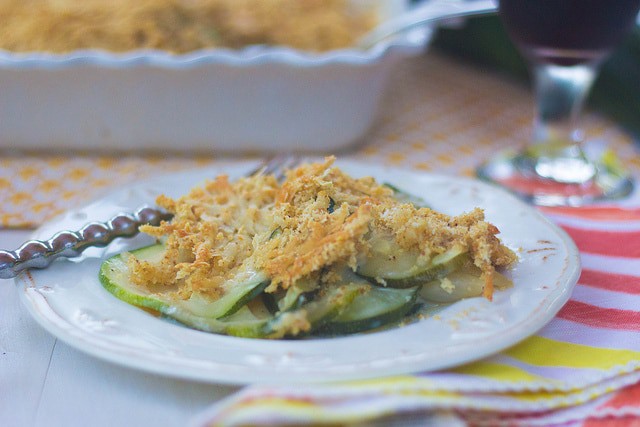 Recipe slightly adapted from Ina Garten, Food Network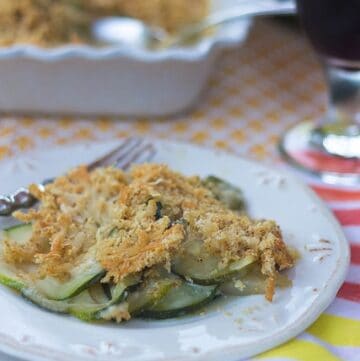 zucchini gratin
Try this creamy way of serving up zucchini - easy and delish!
Print
Pin
Rate
Ingredients
2

pounds

of zucchini

(~4 medium zucchini), cut into 1/4 inch slices

3/4

pounds

of onions

, sliced thinly (about 2 small onions)

6

tablespoons

butter

3

tablespoons

all purpose flour

1

cup

of warm milk

2

teaspoons

salt

1

teaspoon

black pepper

1/4

teaspoon

nutmeg

3

ounces

of shredded Gruyere cheese

(3/4 cup)

1/2

to 3/4 cups of bread crumbs
Instructions
In a large dutch oven, melt butter over low temperature on stove top and then add onion.

Cook over low heat for about 15 minutes until onion is soft but not browned

Add zucchini, cover, and cook for 10 additional minutes, stirring occasionally.

Add salt, pepper and nutmeg and stir to combine.

Sprinkle flour over zucchini mixture and then slowly add milk and stir to combine.

Cook for a few more minutes until thickened and then pour into a buttered 8 x 8 casserole dish.

Combine cheese and breadcrumbs and use to top zucchini.

Bake for about 20 minutes until golden brown.