Our family loves Mexican food – we eat it fairly often. Some of our favorites include the usual suspects like tacos, burritos, and quesadillas (although I just read that burritos aren't Mexican..really?)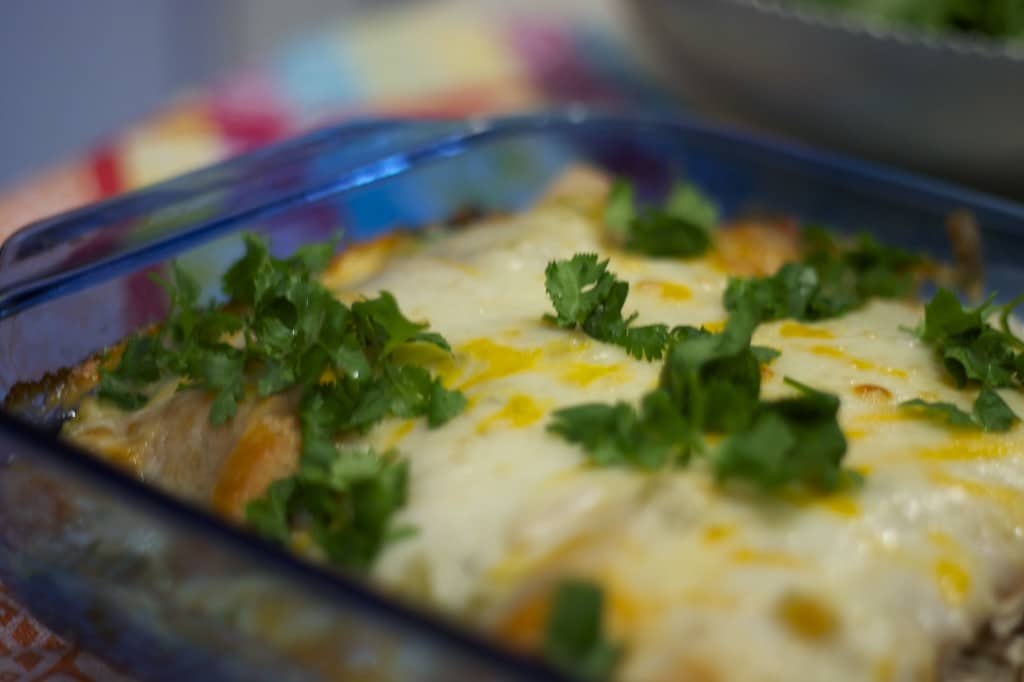 We haven't had many enchiladas. Since I'd been seeing a lot of white chicken enchilada recipes on Pinterest, I decided to prepare some by slightly modifying the Pioneer Woman's recipe. This version contains shredded chicken, minced onion, garlic, jalapenos, diced green chili, and one of my all time favorite ingredients – cream cheese! Maybe it's the Philly girl in me? Isn't everything better with a little cream cheese?
You can dial the heat up or down by modifying the amount of jalapeno in the filling and picante sauce as a condiment. This version is also topped with fresh cilantro – one of my all time favorite herbs. We all really enjoyed it, and hope you do too!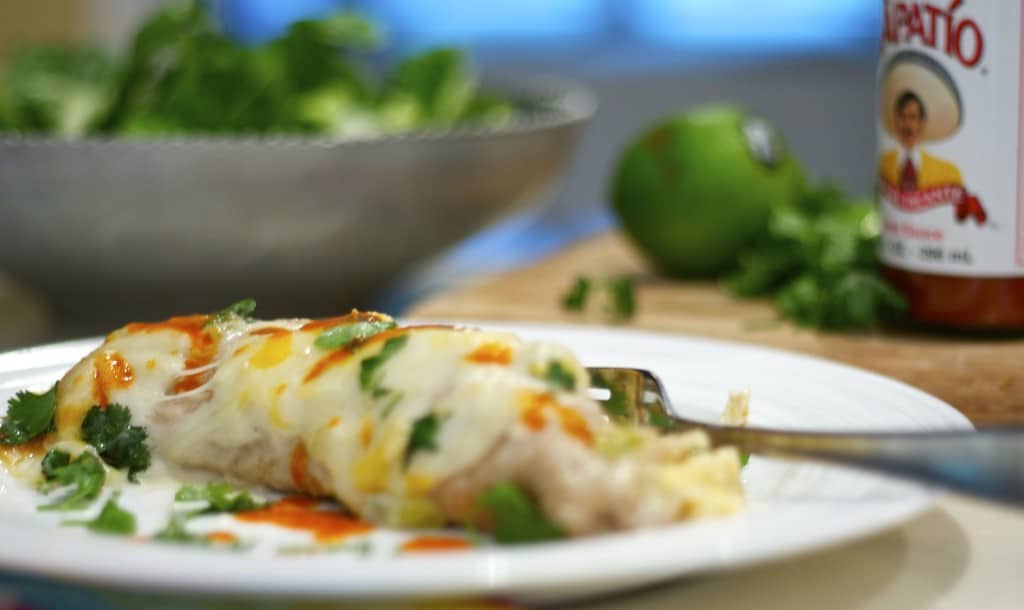 Creamy White Chicken Enchiladas
A very creamy, very cheesy, one-dish Mexican chicken casserole that will ruin your diet!
Ingredients
Chicken breasts

, 1.5 lbs

canola oil

, 2 tablespoons

corn tortillas

, 12

one small onion

, finely diced

3

to 4 garlic cloves

, smashed and finely diced

small jalapeno pepper

, finely diced

cream cheese

, 8 oz

heavy cream

, 1 cup divided

paprika

, 1 teaspoon

butter

, 2 tablespoons

flour

, 2 tablespoons

chicken broth

, 2 cups

Mexican cheese blend

, 1.5 to 2 cups

salt and pepper

Cilantro

, chopped (optional)

Picante sauce

(optional)
Instructions
Begin by cooking your seasoned (salt and pepper) chicken breasts in the crock pot for 3 to 4 hours on high

In the meantime, lightly fry your corn tortillas in about 1 tablespoon of canola oil (about 5 to 10 seconds per side), but do not allow them to become crisp

After the chicken is cooked, shred the breasts using two forks, set aside, and reserve any broth from the pot

Preheat your oven to 350 degrees and grease a 9x13 casserole dish just before you are about to begin preparing the filling

For the filling, using a large saute pan, heat the garlic in a tablespoon of canola oil on medium heat until fragrant, about 2 minutes

Add the diced onion and continue sauteing until translucent (about 3 to 4 minutes)

Add the diced jalapeno peppers and cook until softened, about 3 minutes

Add the cream cheese and continue cooking until the cheese is softened and incorporated into the vegetable mixture.

Add the ½ cup of the heavy cream to mixture and continue to cook for 2 to 3 minutes

Season the mixture with paprika and salt and pepper to taste

Remove the cream cheese/vegetable mixture from the stove and fold it into the shredded chicken. Check seasoning (salt and pepper)

Spoon the chicken mixture evenly along the center of each of the corn tortillas and top with some shredded Mexican cheese blend prior to rolling (about ½ cup for all)

Roll each enchilada, and place them seam side down into a prepared baking casserole.

To make the sauce, melt 2 tablespoons of butter in a saute pan and add 2 tablespoons of flour to make a roux

Add 2 cups of chicken broth gradually while whisking

Add ½ cup of heavy cream followed by 1 cup of shredded Mexican cheese blend and continue heating on low to medium until the cheese is melted

Finish the sauce by adding 1 can of diced green chilis and again checking seasonings to taste

Pour the sauce mixture over the enchiladas and top with ½ cup more cheese if desired

Bake until heated through and bubbly at 350 degrees

Top with chopped fresh cilantro and serve with picante sauce
Interested in More Recipes?
SUBSCRIBE to get recipes delivered to your email 🙂