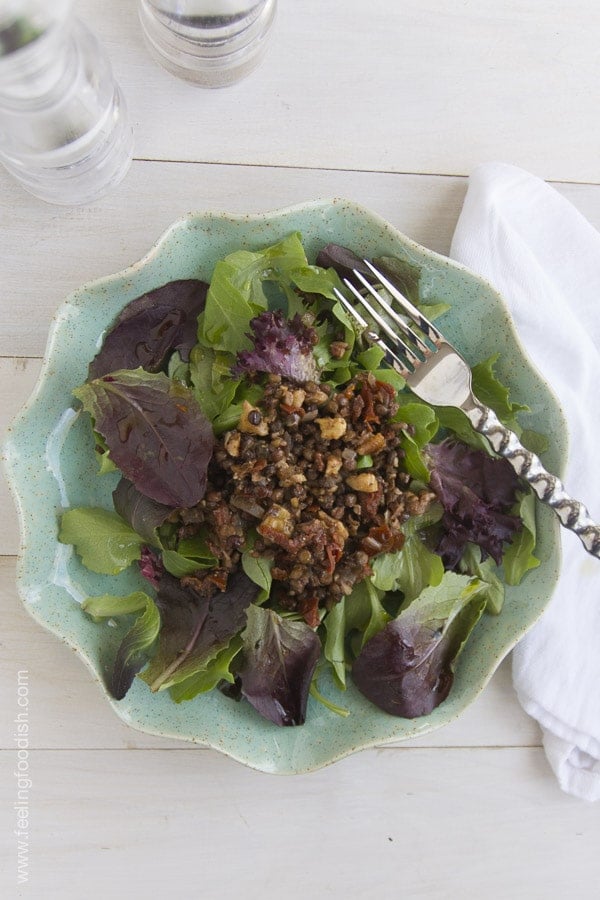 Ohhhh, lentils!
If you are like I was as recent as last year, you may be wrinkling up your nose just about now?
Frankly, I never liked lentils with the exception of this amazing lentil soup, made with the red lentils. In that post, I talk about how my mother would make lentil soup every New Year's in keeping with the good luck tradition of prosperity for the New Year to those who ate their lentils. She'd practically BEG me, every New Year, to eat the lentils she would make. I think she was worried that I'd go broke if I didn't eat them....well, I'm not superstitious, and I wasn't eating the lentils!
Over time though, I opened up to trying lentils again, and I'm so so glad that I did. These little beauties are not only good, but they are full of fiber and protein!
This recipe? I must thank the "Trader Joe's girl".  During one of my recent visits to Trader Joes, I drifted off into the corner of the store to chase the amazing aroma that was wafting throughout the sampling area, and there were samples of this salad.
When I asked what it was, she replied it was lentil salad. Now, this salad smelled so amazing, and so I asked her the ingredients. In reply, she explained that it was easy to make and only included lentils (they sell theirs precooked, yay!), sun dried tomatoes (I love anything with those things in it!), onions, and walnuts (interesting, I wouldn't have paired them with lentils, but good idea!)
Armed with a bag of their lentils, I made my way home and recreated this simple salad.
I am a lentil convert. Yum.
Spring Fever? Yah, me too!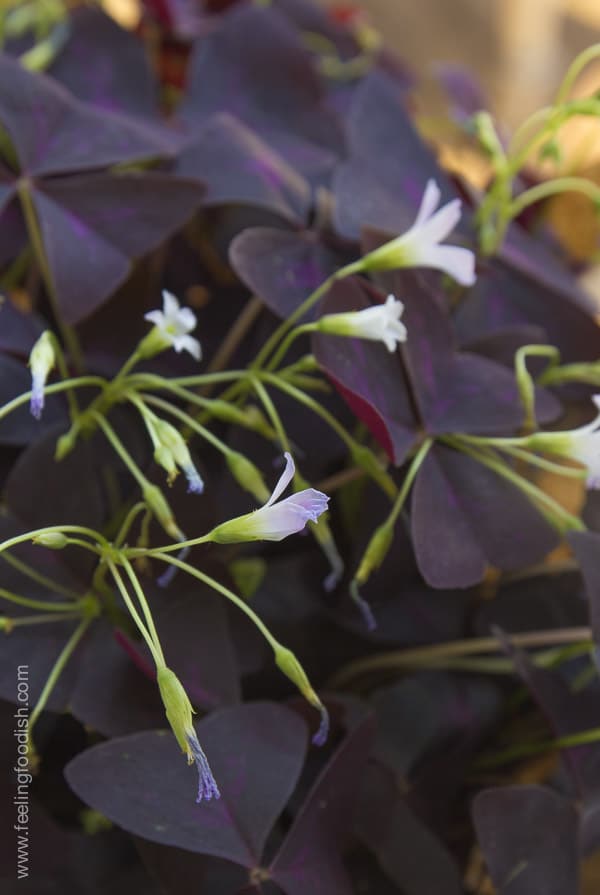 📖 Recipe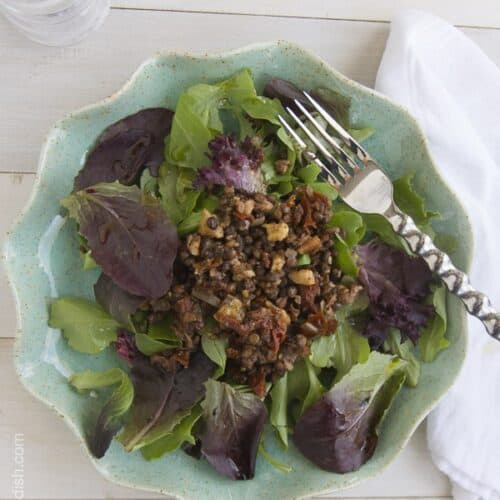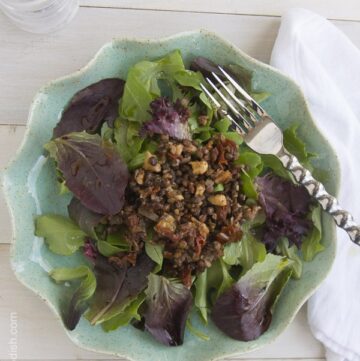 Ultimate Lentil Salad
This spring mix and lentil salad is a fresh and satisfying meal that's packed with flavor and nutrition. The tender lentils, sautéed onions, sun-dried tomatoes, and crunchy walnuts are piled high on a bed of mixed greens, and drizzled with a light and flavorful olive oil dressing, creating a delicious and healthy dish that's perfect for any occasion.
Ingredients
1

teaspoon

olive oil

, plus more for dressing

2

tablespoons

minced onion

¼

cup

cooked lentils

4

sun dried tomatoes

(oil packed), chopped

1.5

tablespoons

crushed walnuts

4

cups

spring mix

salt
Instructions
In a small saute pan, heat 1 teaspoon olive over medium-high heat and cook onion for about 1 minute or until fragrant, softened, and slightly translucent

Add cooked lentils and sun dried tomatoes to the pan and continue cooking until heated through - about another minute or 2

Remove from heat, let cool slightly and add walnuts

Place salad greens on serving dish, top with lentil mixture, and drizzle with additional olive oil and salt to taste
Nutrition
Serving:
1
g
Calories:
381
kcal
Carbohydrates:
38.5
g
Protein:
18.5
g
Fat:
18.4
g
Saturated Fat:
2
g
Sodium:
156
mg
Fiber:
19.1
g
Sugar:
2
g
Interested in More Recipes?
SUBSCRIBE to get recipes delivered to your email 🙂