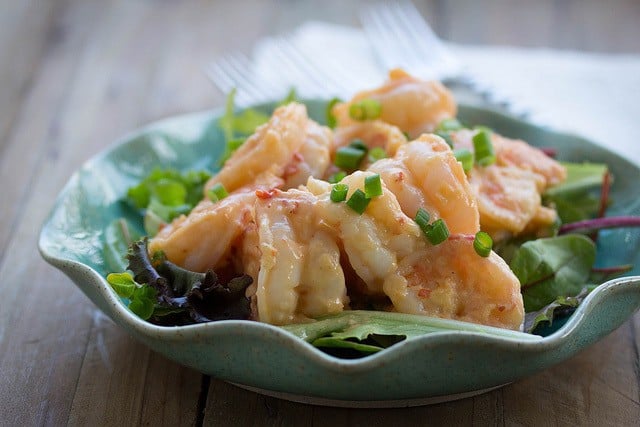 Have you ever had Bang Bang shrimp at Bonefish Grill? They are one of my favorite appetizers! The combination of sweet and spicy is just right in the creamy sauce that those shrimp are rolled around in. I first had that dish years ago at a girls night out when I lived in NJ. I recall my friend asking if I had ever tried the shrimp. When I said no, she ordered it promising me that I'd love it and boy she was right. After all these years, I still like the shrimp there.
Alas, the Bang Bang shrimp are probably loaded with calories since the shrimp are deep fried, from what I understand, and the sauce is rumored to be made with oodles of mayonnaise. And so, the slimmed down version was born.
From what I've read, the sauce seemed easy enough to recreate using just three ingredients (Thai sweet chili sauce, garlic chili sauce, and mayonaisse) but since I wanted to cut the fat a little, I reduced the mayo and substituted some greek yogurt instead to maintain the creaminess and decrease the calories. In addition, I chose to broil the shrimp instead of fry them.
The results were very good! So good that the shrimp disappeared within a few minutes (embarrassing but true). Someone did help me, so I didn't feel like a total glutton. I'm already craving this again. A good sign I suppose!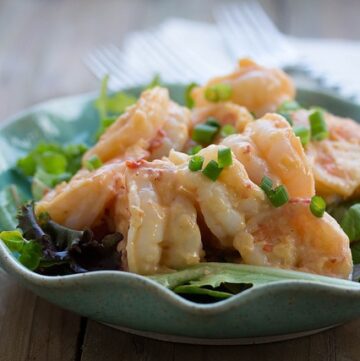 Ingredients
12

large shrimp

, raw (cleaned and peeled)

1/3

cup

all purpose flour

1/2

teaspoon

salt

1/4

teaspoon

pepper

cooking spray

1.5

tablespoons

plain greek yogurt

, nonfat

1.5

tablespoons

Thai sweet chili sauce

2

teaspoons

low-fat mayonnaise

1/2

teaspoon

garlic chili sauce
Instructions
Preheat oven broiler using high setting

Combine flour, salt, and pepper in a medium-sized bowl

Spray a baking sheet with cooking spray

Toss shrimp in the seasoned flour and arrange on baking sheet

Spray lightly with cooking spray and broil for 8 to 10 minutes or until cooked through

In a small bowl, combine remaining ingredients (yogurt, mayo and both chili sauces)

When shrimp are done cooking toss them in the sauce and serve