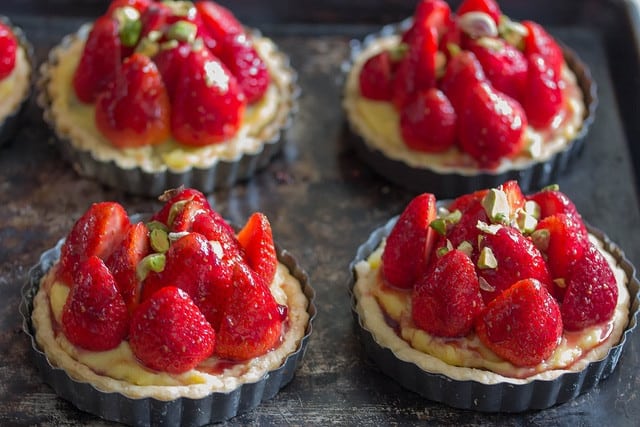 I think it's time for some dessert, don't you?
My daughter asked me to make strawberry tarts – I've never made them before so I'm not sure where she got this idea into her head, but I'm glad she did!
I found this excellent recipe by Ina Garten but modified it a tiny bit.
For starters, I had extra pie dough in the freezer so I used that in place of the pastry that Ina recommends and I also used my own pastry cream recipe, which is very similar to Ina's. I omitted the liquor to make the recipe kid-friendly and I also added a layer of melted chocolate under the pastry cream to both add flavor and to prevent the crust from getting soggy after the pastry cream was added. .
I love the color that the pistachios add to these tarts and the salty sweet combination is one of my favorites.
Source: Inspired by Food Network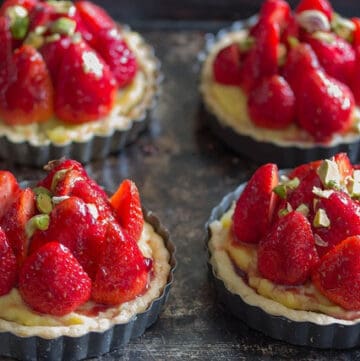 Ingredients
Pie Dough

, enough for one double crust pie

Pastry Cream

, about 1 cup

Jam

, apricot or other flavor, 3 tablespoons

Fresh strawberries

(preferably small), rinsed, hulled, and halved, 4 to 5 cups

Pistachios for garnish

(optional)
Instructions
Preheat oven to 375 degrees

Roll out pie dough to 1/4 thickness and cut to fit into tart shells (take care not to stretch dough as you insert into tart pans)

Use rolling pin to trim excess dough by rolling over top of tart pans

Blind bake shells lined with pie weights (or greased aluminum foil weighted with beans/rice) for 10 minutes

Remove pie weights and continue baking for 15 minutes

After the shells are cooled, melt chocolate in microwave on low power (stir every 30 seconds) until melted and then brush top of crust with a thin layer of melted chocolate

Divide pastry cream evenly among tarts and spread over chocolate layer

Gently heat jam over medium heat, thinning with a few drops of water, in a small sauce pan until jam is melted

Arrange strawberries on top of pastry cream, brush with jam, and top with pistachios if desired.