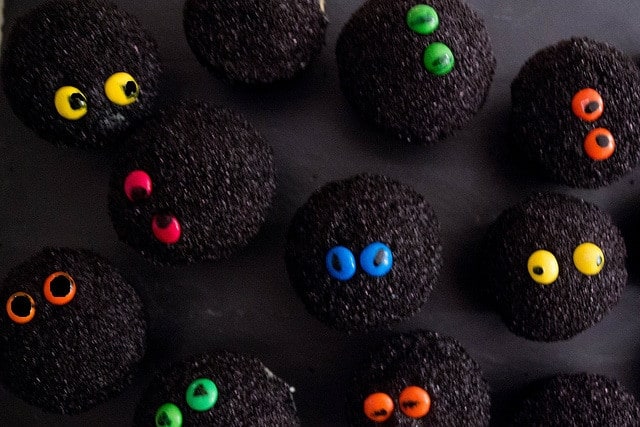 Happy Halloween! We all need treats around this time of year, right? This idea comes from one of my favorite bloggers, Annie over at Annies-Eats. Annie is a big fan of Halloween, and so it's especially fun to check out her site at this time of year. Last year, I made blood brain cupcakes, which I also saw on her site. They were a big hit too, and so much fun to make.
But these cupcakes were easier to make. Although Annie used chocolate cake and also chocolate icing, I chose to use vanilla as both the cake flavor and the icing since my younger daughter isn't a fan of chocolate (yet). The black sugar covers the frosting very well, so one wouldn't know if you use chocolate or vanilla, so pick your favorite.
I've been very pressed for time lately and so – gasp! – I used cake mix to make my cupcakes:) And while I can tolerate cake mix pretty well, I haven't found a pre-made frosting that I like, so I've been using "The best frosting ever" from the Tasty Kitchen Blog. The frosting is delicious! The first time my daughter tried it, she was hooked. It's a nice alternative to the traditional buttercream.
Perhaps the best thing about these cupcakes is that kids can easily help make the eyeballs (using edible food marker and M&Ms or skittle candies) and frost/dip the cupcakes into the colored sugar (after frosting, I just dunked the top of the cupcake right into the sanding sugar; similar to how Dairy Queen puts sprinkles on your soft serve).
Plus, these cupcakes don't require oodles of frosting, so at least some calories are spared!
More complete instructions for making these in chocolate on chocolate flavor can be over at Annie's site.
"Best Ever Frosting" for vanilla frosting recipe can be found at Tasty Kitchen.