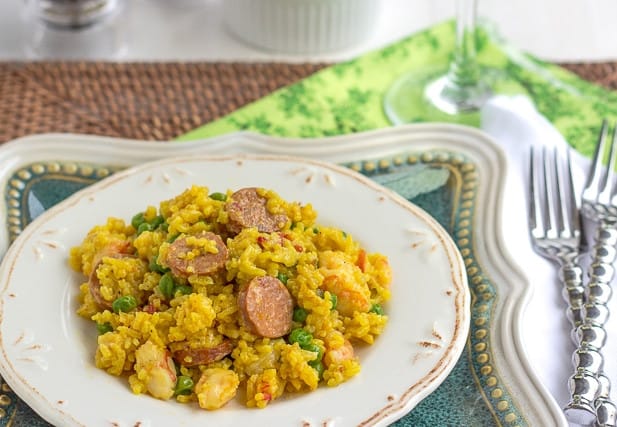 Paella has been on my must-try list for a while. I'm so glad that I finally got around to trying it!
My husband raves about the paella he had in Spain. He's definitely a big-time fan of the stuff.
Soooo, I searched the web and chose to make Ina's easy paella. Originally, her recipe called for lobster and keilbasa (odd combo, no?), and although I love lobster, I opted for shrimp. I also substituted the keilbasa with chorizo for a more authentic flavor.
Her recipe calls for Pernod, a licorice-flavored liquor and although I hate licorice, I did include it and am so glad that I did. It gave the dish an delicious flavor and it did not taste like it smelled in the bottle. A word of warning though: Pernod is expensive. I was looking for a small bottle, but could not find one so I bought the standard size bottle. Pernod is also used in the Bone Fish Grill's mussels Josephine, so I justified the added expense because those mussels are definitely on my must try list too.
Now, although this recipe has been rated as a 5-star dish by about 85 reviewers on the Food Network site at the time of this writing, I have to disclose that it's not a very authentic dish. From what I've read, and what my husband has said, the rice is a really important component and Bomba rice is what should be used in the real deal. Ina's recipe called for basmati rice (probably because it's more readily available?), but I substituted with jasmine rice. Next time, I'll try to find the Bomba rice. I've also read that arborio rice can be substituted, but paella or Bomba rice is best. See the recipe note about adding stock when using Bomba rice.
All in all, I enjoyed the dish and hope you give it a try!
Source: Food Network, Ina Garten.
📖 Recipe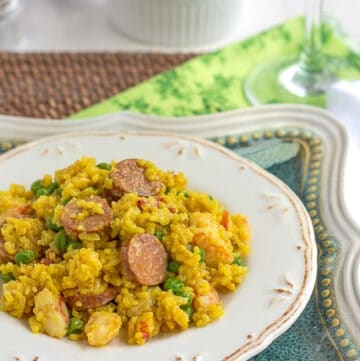 shrimp and chorizo paella
Based on Ina Garten's recipe for Easy Paella
Ingredients
¼

cup

olive oil

1.5

cups

chopped yellow onion

2

red bell peppers

, cored and sliced into ½-inch strips

2

tablespoons

garlic

minced

2

cups

white basmati rice

(see note)

5

cups

chicken stock

½

teaspoon

saffron threads

, crushed

¼

teaspoon

crushed red pepper flakes

1

tablespoon

kosher salt

1

teaspoon

freshly ground black pepper

⅓

cup

licorice-flavored liquor

(recommended: Pernod)

1.5

pounds

shrimp

1

pound

chorizo

, sliced ¼- to ½-inch thick

10

ounces

frozen peas

1

tablespoon

minced flat leaf parsley

2

lemons

, cut into wedges for serving
Instructions
Preheat oven to 425 degrees F.

Heat oil in large Dutch oven and add onions.

Cook over medium heat for 5 minutes, then lower the heat and add garlic and cook for 1 minute longer

Stir in the rice, stock, saffron, red pepper flakes, salt and pepper and bring to a boil

Cover the pot and place it in the oven.

After 15 minutes, remove lid from pot, stir, and place it back in the oven, uncovered, for another 15 minutes.

Transfer the paella back to the stove top and add the liquor, cooking for 1 minute or until the liquid is absorbed.

Turn off the heat, add the meat and seafood, and peas and ocver.

Allow the mixture to steam for 10 minutes and then top with parsley.

Garnish with lemon wedges and serve hot.
Notes
I used jasmine rice because I didn't have basmati, but for a more authentic paella, try using Bomba rice if you can find it. If using Bomba, add one more cup of chicken stock (3 cups of stock per 1 cup of Bomba rice).
Nutrition
Calories:
618
kcal
Carbohydrates:
55
g
Protein:
37
g
Fat:
24
g
Saturated Fat:
7
g
Cholesterol:
254
mg
Sodium:
2435
mg
Potassium:
517
mg
Fiber:
4
g
Sugar:
8
g
Vitamin A:
1465
IU
Vitamin C:
73.8
mg
Calcium:
169
mg
Iron:
4.6
mg
Interested in More Recipes?
SUBSCRIBE to get recipes delivered to your email 🙂