I guess you could say that I'm a brussel sprout convert. Although I grew up eating all kinds of vegetables, brussel sprouts weren't one of those vegetables. We had plenty of eggplant, zucchini, beans, artichokes, swiss chard, escarole – but never brussel sprouts.
I wish I could say that I was immediately in love with brussel sprouts when I first tried them a few years ago – but, I wasn't.  Since then, I've had many versions which were very good.  I've learned that preparation is key here.
My cousin is here for a visit this month, from the Campagnia region of Italy, and I don't think he ever saw brussel sprouts. Or maybe he didn't recognize them since they were shredded? Speaking of my Italian cousin, it's been a bit intimating to cook for him because the food there in Italy is. so. amazingly. good. And, his mother is an excellent cook. Thankfully, he seems to have genuinely enjoyed everything he has tried so far.
I bought these pre-shredded sprouts at Trader Joe's this week. They were cooking ribs and I tried their version of shaved sprouts sauteed with onion and crushed pistachio, which they were cooking and serving as samples. It smelled and tasted so incredible. I think the intense cabbage flavor is mellowed out a bit when they are shaved or cut and seasoned well.
This is a very simple recipe, which is great when you need a healthy side dish. I'm always looking to expand my vegetable repertoire.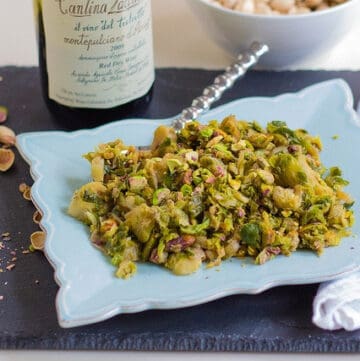 shaved brussel sprouts
Ingredients
2

packages

(10 oz each) of shaved brussel sprouts (4 to 5 cups total)

1

medium sweet onion

, chopped

3

tablespoons

canola oil

½

cup

chicken broth

, plus more if needed

2

tablespoons

balsamic vinegar

1

cup

chopped pistachios

1

teaspoon

salt

¼

teaspoon

black pepper
Instructions
In a large saute pan, heat oil over medium heat and then add onions

Cook for about 2 to 3 minutes until translucent

Add sprouts to the pan, followed by chicken broth and cover pan.

Continue cooking over medium-high heat for approximately 5 to 6 minutes and then uncover, add vinegar and, if needed, additional broth to prevent scorching

Cook covered for another 6 to 8 minutes and then top with pistachios and season with salt and pepper.
Interested in More Recipes?
SUBSCRIBE to get recipes delivered to your email 🙂