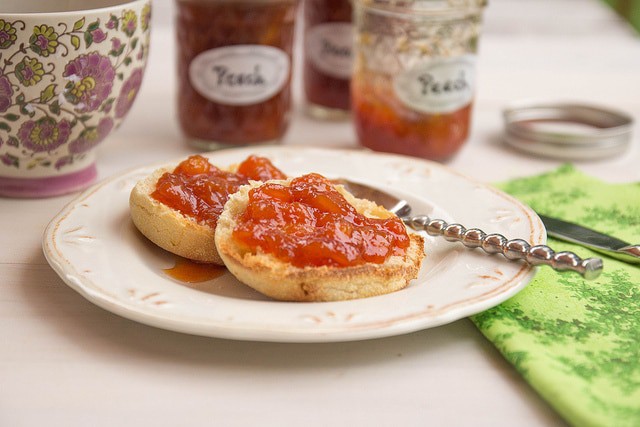 In another life, I dream of living with my family in a small Norman Rockwell-like town, canning jam and picking vegetables while the kids rock on the front porch swing and catch frogs in the stream. Dad would be working down at the corner store and he'd come home for lunch daily and of course, every night for a sit down meal together as a family. Our extended family would all be living close by (errr…I'm mixed on this part of the dream..lol) and we could walk most places like school, church, post office, etc.
Then I wake up and really strikes. Because, although I absolutely love where we live, real life is just a tiny bit more fast paced than it is in my dream. Of course, I'm being facetious because life is absolutely crazy at times, especially once back-to-school hits.
Maybe I'm romanticizing what the typical life is/was like in a small town. Does that scenario even exist anymore?
Even if you do live in a small walkable town with lots of family nearby, families with school-aged kids are usually hit with a constant stream of summer/after school activities, tons of homework, "playdates" (what happened to just playing together outside??), late work schedules, and business travel requirements. And, many extended families are separated by one or more states and maybe even continents apart, as in my case, so modern life can be rather daunting at times especially without the support systems of days past.
What's a girl to do? I'll tell you what to do: make jam. Lots of jam. This jam made me so happy – like happier-than-usual happy. Make some and I bet it'll make you happier too. Because really it's the little things like this jam that make you happy and then watching your kids eat it and light up and love you even more for making such amazing jam.
Recipe modified from Martha Stewart.com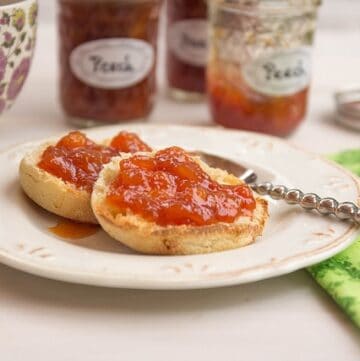 peach vanilla jam
Makes 3 cups of the most delicious peach jam with subtle notes of vanilla. OMG good.
Ingredients
3.5

pounds

peaches

(about 8 to 10 medium sized)

1.25

pounds

sugar

(scant 3 cups)

¼

cup

lemon juice

½

teaspoon

salt

2

teaspoons

vanilla extract
Instructions
In a large stock pot, bring water to a boil

Add peaches and cook for 1 to 2 minutes

Remove peaches, drain, and place in a bowl of ice water. Peel when cool enough to handle (ripe peaches will now peel easily)

Remove pit, and slice each peach into quarters, removing any bruised parts.

Mix in lemon juice to prevent oxidation, then add mixture along with sugar, salt, and vanilla extract to a large stock pot and heat over high flame until boiling.

Stir frequently and reduce heat if necessary to avoid burning; continue cooking for up to 12 minutes.

You can test the thickness by dropping a small amount of jam onto a cool dish (since jam will thicken after cooling)

Refrigerate for up to 2 months or can using information from

pickyourown
Interested in More Recipes?
SUBSCRIBE to get recipes delivered to your email 🙂