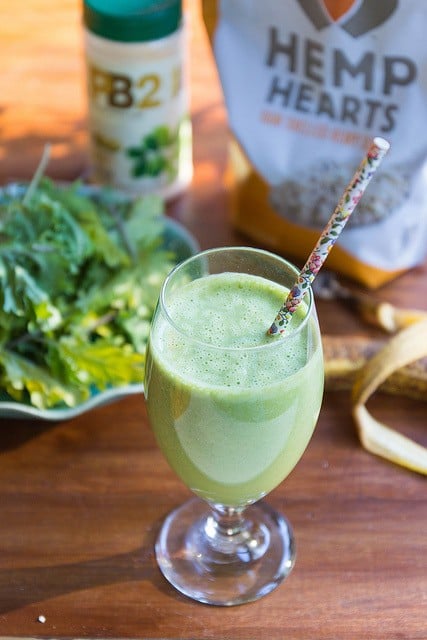 I've been drinking greens smoothies for a while now. My "usual" has always been spinach, apples, celery, cucumber and lemon. This time, I wanted to change things up a little for two reasons: I wanted a different flavor, and I wanted to add protein without using a protein powder.
After a few days of enjoying "PBO" smoothies (peanut butter, banana, oatmeal smoothies), I thought I'd combine the peanut butter thing with the green smoothie thing. And you know, the peanut butter and banana totally masks the taste of the greens. Trust me on this one, okay? If you want to be safe, just double the amount of PB2 and you'll be in peanut butter heaven.
Have you heard of PB2? It's powdered peanut butter, which contains only 45 calories in 2 tablespoons compared to just under 200 calories for regular peanut butter. What a big difference! The other product that works well in this smoothie is hemp hearts.
I got my hemp hearts (shelled hemp seeds) at Costco. This is my first time eating them, and I'm loving them. In addition to providing tons of plant-based protein (which contains all the essential amino acids!), they also provide a good balance of omega 3 to omega 6 fats. So forget the fish oil pills (bleck!). And, they taste a lot like sesame seeds to me.
Don't forget to check out the nutrition facts below – almost 13 grams of protein in this little drink with tons of vitamin A and C. Also packed with fiber (over 6 grams), and only 200 calories.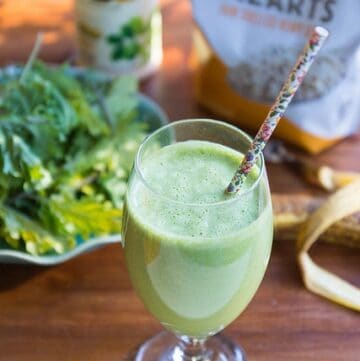 Ingredients
1

cup

chopped kale

1

cup

water

1.5

tablespoons

hemp hearts

2

tbsp

, PB2

(see note)

1/2

medium sized frozen banana
Instructions
Blend all ingredients in blender

Enjoy!
Notes
PB2 = powdered peanut butter, which has 1/3 the fat as regular peanut butter. It's available online at amazon.com and some stores such as Trader Joe's, GNC, Walmart
Double the PB2 if you don't want to taste any greens (it will add 45 calories and 5 more grams of protein!)