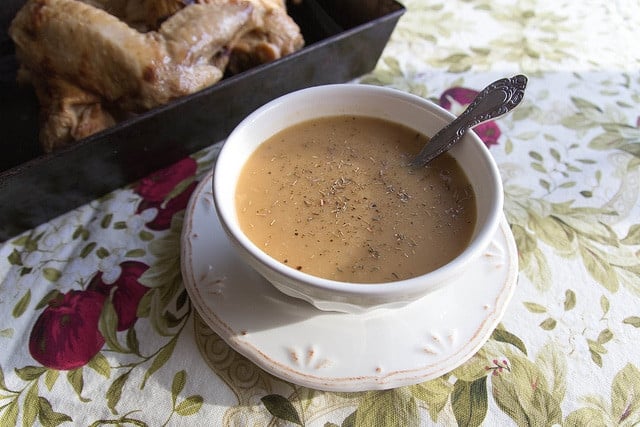 It's almost Thanksgiving, and I've been thinking about the menu. Of course, all the traditional foods are on my list and we like sticking to our traditional spread, which makes Thanksgiving, well, Thanksgiving.
To keep things less stressful and more fun, I like to make as many things as possible beforehand. While listening to an interview with a professional chef on the radio the other day, the DJ asked the chef what tips he had to make Thanksgiving run more smoothly and he confirmed my beliefs: make everything possible ahead of time. Think about it: the stuffing? Easy to make ahead -sure. The mashed potatoes? Yup, can do that ahead too. Green beans? Check. Pies? Absolutely. In fact, I'd argue most of the menu can be done beforehand.
Now, we come to the turkey itself. I'm not so sure about making that beforehand. I wonder if it would dry upon reheating, and I love the smell of the turkey cooking during the holiday. That said, I don't feel like whipping up gravy just after the turkey has been roasted and so this recipe has me so very excited!!
This recipe can be made ahead and refrigerated for up to 3 days or frozen for up to 3 weeks in advance and so that makes one more thing you can make ahead.
Recipe adapted from Allrecipes.com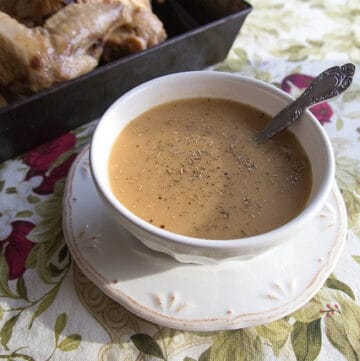 make ahead turkey gravy
Ingredients
4

turkey wings

(4 pounds total weight)

2

medium onions

, sliced

1

cup

water

8

cups

chicken or turkey stock

1

cup

carrots

, chopped

3

tablespoons

butter

, unsalted

¾

cup

flour

½

teaspoon

thyme

salt and pepper to taste
Instructions
Preheat oven to 400 degrees

In the meantime, place turkey wings in large baking tray, season with salt and pepper, and scatter onions on top.

When oven has come to temperature, place turkey wings into oven and bake for 1 hour and 15 minutes or until golden brown

After the wings are done, remove from oven and place wings and onions into a large stockpot

Pour 1 cup water into the baking tray and then scrape the bottom of the tray to loosen browned bits; pour water and loosened bits into the stockpot

Add carrots and all of the stock, then bring mixture to a boil over high heat

Lower heat, cover the pot, and then simmer for 3 hours

Remove stock from heat and skim off fat (if time allows, refrigerate the broth at this point and the fat will congeal on top, making it very easy to remove)

Carefully transfer stock to a large bowl

Melt butter over medium high heat in thick-bottom large pot and add flour

Stir (mixture will be dry and crumbly) and continue to cook for about 1 minute over medium high heat but do not allow it to brown

Slowly pour stock back into stock pot and whisk to combine with butter/flour paste (ie, roux)

After all stock has been combined, bring to boil and then simmer for 10 minutes until stock has thickened while stirring intermittently

If desired, pass the gravy through a mesh strainer to remove any lumps.

Season with thyme and salt/pepper to taste (I added 1 teaspoon of salt - add yours in ½ teaspoon increments because everyone has different preference for salt).

Salt and pepper are very important ingredients to enhance the flavor of the gravy, so don't skip this step!
Interested in More Recipes?
SUBSCRIBE to get recipes delivered to your email 🙂