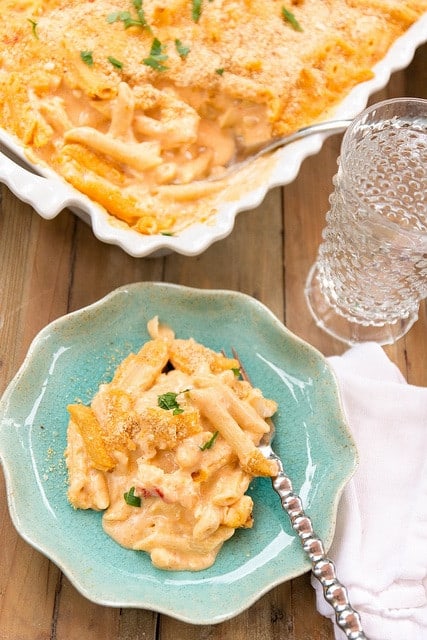 You know what I did for the first time EVER? Snorkel. Wow, it was so amazing. We were in the Florida Keys, at John Pennekamp, which is a national underwater park. I felt like I was looking at a man-made underwater aquarium because everything looked so perfect. Nature at its finest. I wish I had an underwater camera with me.
On the next day, my husband had the opportunity to fish and caught these absolutely beautiful fish called yellowtail snapper. Our Floridian hosts filleted the fish and cooked them up with a mango-based salsa (mango, hot peppers, red onion, honey, tequila, and sweet/sour sauce to taste) and also fried some up in a simple nugget form. Boy, was it good! Nothing like fresh fish. No smell at all. Just amazing.
Here's their catch: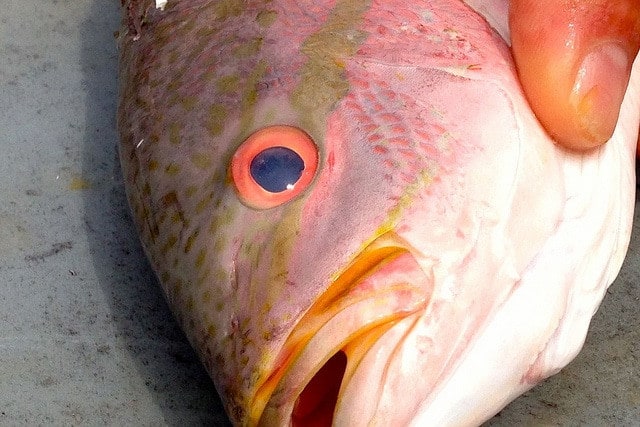 Notice the eyeball. Want to know if a fish is fresh? It's all in the eyes….the eyeball must NOT  be sunken in!!
Below, the fish are shown before they filleting. From what I'm told they were much more vibrant in color fresh out of the sea. I didn't have much time for photos and the Florida sun was hot hot hot.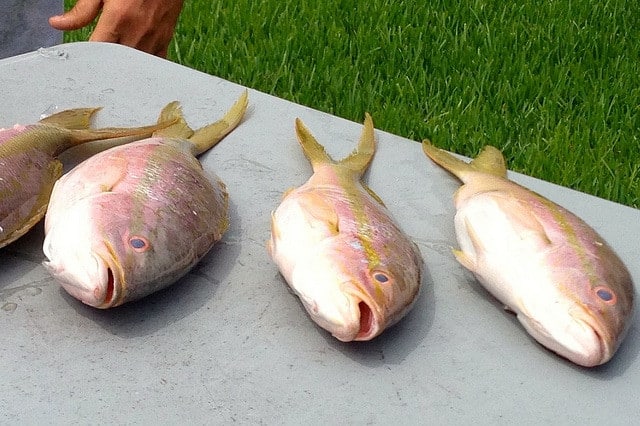 During our visit, we also went to dinner with another Floridian couple who catch lobsters each year. Florida has a mini-lobster season, which is a 2-day window that kicks off just before regular season and allows recreational fishermen to catch lobsters before the commercial fisherman begin casting their traps.
I love all things lobster.
For years, I've been trying to make a good lobster mac-n-cheese. This version was very good, but curiously enough, I found it was much better the day after it was made. It seemed that the flavors just married together more and the taste of the lobster became more prominent. My husband wasn't crazy about the tomato flavor in this recipe and so I listed it as an optional ingredient for those purists out there.
I used Gruyere cheese, which is quite decadent, but I might try Fontina cheese next time or maybe a combination of both along with the cheddar cheese. I think a small splash of sherry would be wonderful as well (not listed as an ingredient).
Recipe slightly adapted from The Neely's, Food Network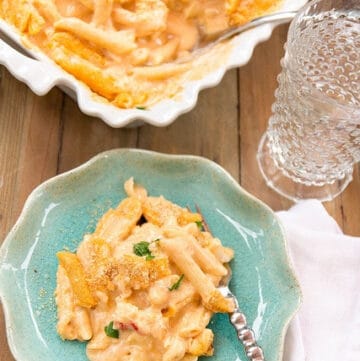 Ingredients
1

pound

elbow pasta

2

to 3 lobster tails

(8 oz each), cooked and chopped (1.5 pounds total)

2

small garlic cloves

, minced

1

small shallot

, minced

8

tablespoons

butter

½

cup

all purpose flour

½

teaspoon

sweet paprika

¼

teaspoon

cayenne pepper

1

bay leaf

1

teaspoon

salt

½

teaspoon

pepper

4

cups

milk

8

ounces

(2 cups) sharp white cheddar cheese

8

ounces

(2 cups) Gruyere or fontina cheese

2

tablespoons

tomato paste

(optional)

¼

breadcrumbs

parsley

(garnish, optional)
Instructions
Prepare pasta according to package directions and set aside (add a pat of butter or a tablespoon of olive oil to prevent sticking after pasta has been cooked)

In the meantime, heat butter over medium-high heat until melted and then add garlic and shallots.

Cook until fragrant, about 1 to 2 minutes, then add flour (and tomato paste if using) and whisk until a paste forms. Do not allow this to brown!

Add paprika, cayenne, salt, pepper, and bay leaf.

Slowly add milk and whisk to incorporate. Reduce heat to medium and continue cooking until mixture thickens, about 4 to 5 minutes.

Remove mixture from heat and then stir in shredded cheeses.

Taste sauce and add more salt/pepper if needed.

Add lobster meat to sauce and then combine with pasta.

Pour pasta into a greased 9 by 11 baking dish and top with breadcrumbs

Bake for about 30 to 35 minutes until top is lightly browned.

Casserole can be made ahead and reheated at 350 degrees until heated through (cover with foil when reheating to prevent the pasta from drying out)