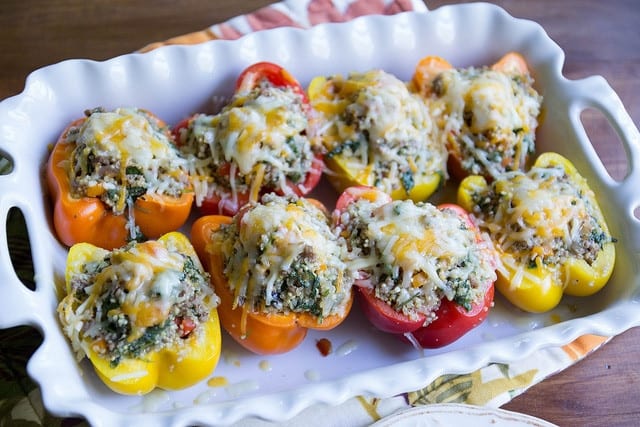 Ahhhh…casseroles. You know that fall has arrived when the casseroles start appearing.
I've been on a bit of a "superfood" kick recently. It can't hurt, right? Maybe it's my age (ahem..), but I can't eat too much junk food anymore. Wipes. Me. Out.
This kind of food? This gives me more energy, it doesn't deplete me. And the kale? It's good! I've grown up eating all kinds of greens, but kale wasn't one of those greens. When I learned that kale was one of the most nutrient-dense foods out there, I just had to incorporate more of it into my diet.
The other change is the use of quinoa in the place of rice since quinoa has more protein and is a better grain in general.
Normally we have always made these peppers with ground beef and rice. I've tried to sneak spinach in them in the past. It's easy to sneak spinach in places, I think. Aside from the look of it, I don't think it has an overwhelmingly obvious taste.
I enjoyed this healthier version of stuffed peppers. Hope you give them a try!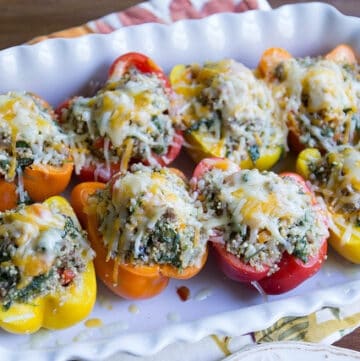 kale and quinoa stuffed peppers
Healthier stuffed bell peppers made with quinoa and kale
Ingredients
6

medium-sized bell peppers

1

cup

quinoa

3

cups

chicken broth

, divided (2 cups and 1 cup)

6

cups

kale

, washed

2

medium onions

, diced

2

small cloves garlic

, minced

1

pound

lean ground beef

1

tbsp

olive oil

4

oz

reduced fat chedder cheese

1

teaspoon

salt

½

teaspoon

pepper
Instructions
Slice 4 bell peppers in half lengthwise and set aside

Dice the remaining 2 bell peppers and set aside

In a medium-sized saucepan, combine the quinoa and 2 cups of the chicken broth and cook according to the package directions; set aside when finished

In a large saute pan, heat the olive oil over medium high heat and saute the onion and garlic for 1 minute; add the kale and diced bell peppers and cook for 3 to 4 minutes until vegetables have softened; remove and set aside.

Add ground meat to the saute pan, and cook for 4 to 5 minutes until no longer pink

Season with salt and pepper

Fold the quinoa and vegetables into the ground meat and mix well

Arrange halved peppers in a baking casserole dish and fill with quinoa-vegetable-meat mixture

Pour 1 cup of chicken broth into bottom of casserole dish and then cover casserole with aluminum foil and bake for 45 minutes

Remove foil, top with cheese and bake for an additional 10 to 15 minutes until cheese has melted.
Interested in More Recipes?
SUBSCRIBE to get recipes delivered to your email 🙂