These traditional Italian cookies are served at many holidays and weddings in the old Italian neighborhood! They are very simple lightly sweetened cookies that are traditionally flavored with anise, almond, or lemon and then dipped in a sweet sugar glaze. Everyone will love them!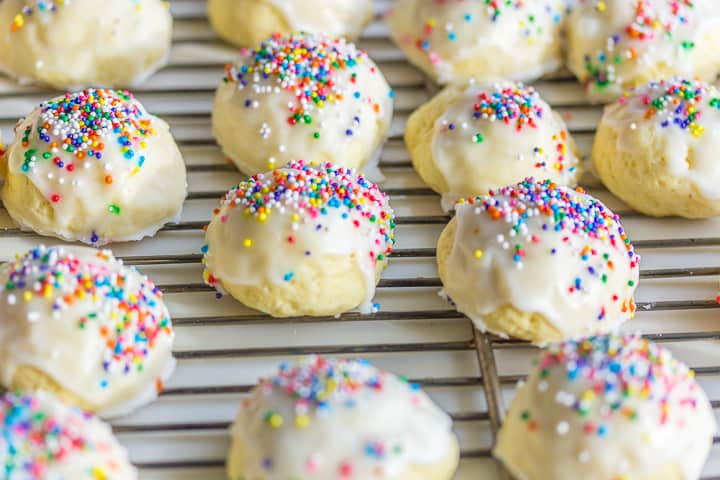 One of My Favorite Italian Cookies: Anginetti
Here's a favorite, basic, Italian cookie - Anginetti (also referred to Ancinetti)! They go by a number of different names and in Italy they are made for weddings and holidays like Easter or Christmas. In the USA many people refer to them as Italian wedding cookies, Italian Christmas cookies, or Anise or anisette cookies (...but mine are almond flavored.) When they are formed into knots and flavored with lemon zest/extract, they are called lemon knot cookies.
These cookies are soooo good. They are soft, almost like a cross between a cake cookie and a traditional crispy cookie.
Growing up, it seemed that everyone's mom or grandmother in the old neighborhood made a version of these cookies. Sometimes, when the baker would add too much flour, these cookies would taste quiet dry - but those were good for dunking in coffee!
Flavoring the Italian Cookies (Anginetti)
Traditionally, these cookies were flavored with lemon. But they are very commonly made with anise, almond, or even vanilla.
As a kid, I did not like anise-flavoring. My mom would make pizzelles the traditional way with anise as the flavoring and I'd always beg her to make them vanilla or lemon flavored instead. She eventually came around:)
But this is a very versatile recipe as far as flavorings go - feel free to substitute the almond or anise with vanilla, lemon, orange, or whatever flavoring appeals to you.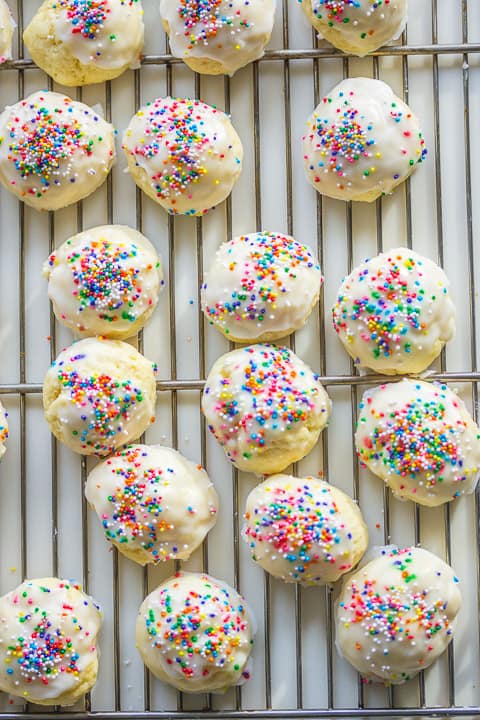 Decorating the Cookies
The traditional way to decorate these is to top them with a simple drizzle of sugar glaze and then add the rainbow non-pareils (or sprinkles), which are usually widely available at the grocery store.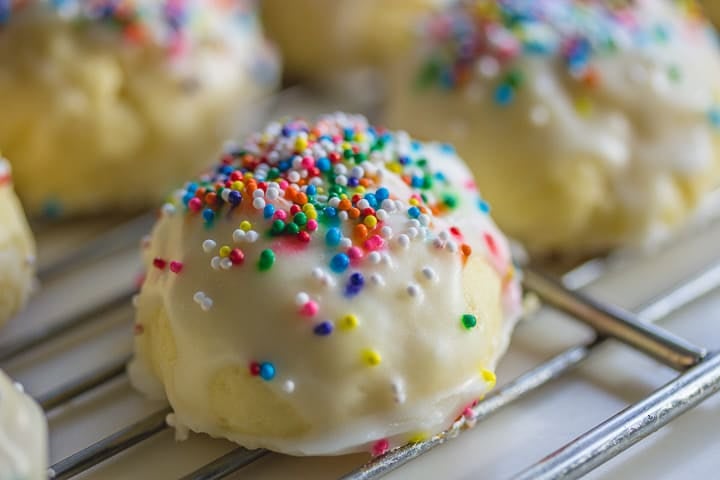 Keeping Ball-Shape Cookies During Bake
When making this cookie, it's important to refrigerate them for at least an hour in order for the cookie to bake in its characteristic tall shape. If you don't refrigerate, they will come out flatter, more like a traditional drop cookie. Still good, but I love how they bake up if you refrigerate the dough.
I find it easiest to make the dough the day before and they bake it up the next day or so.
Notes on Dough Consistency
Please note that this dough is a little sticky. I know everyone's definition of "a little" can vary but here is a photo of the mixed dough; hope this helps to visualize the finished dough.
Here you can see that I didn't soften the butter too much for this particular batch: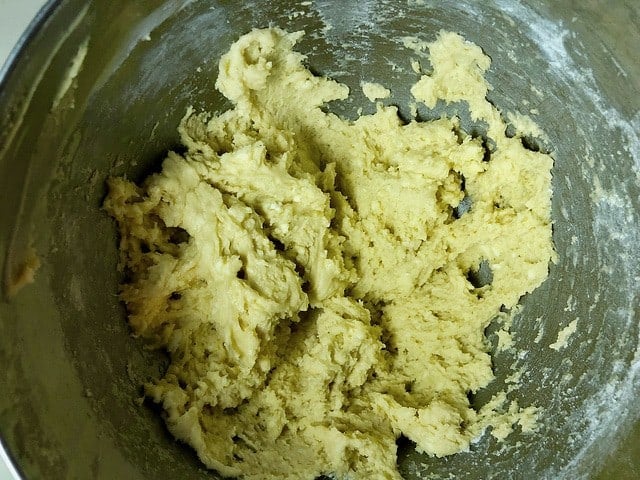 Tips to Prevent the Sprinkles from Bleeding into the Icing:
To prevent bleeding of colors from sprinkles into the icing see the following suggestions:
Omit the sprinkles
Ensure cookies are cool before icing and sprinkling (since heat will cause icing and sprinkles to run)
Don't ice the cookies until the day you need them
Make sure icing consistency is thick and not runny or thin
Roll in confectionary (powdered) sugar instead of icing and sprinkles
Make sure you use milk, not water to make the icing
Use pastel colors, they don't run/bleed as much
Let the icing set a tiny bit before adding the sprinkles
Avoid serving or frosting them on a humid day
Try Some Other Popular Cookies
📖 Recipe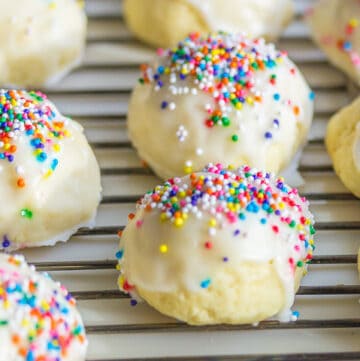 Italian Wedding Cookies (anginetti)
Makes 30 cookies
Ingredients
For the cookie dough:
2 ¼

cups

(

281.25

g

)

flour

(all purpose)

2

teaspoons

(

8

g

)

baking powder

¼

teaspoon

(

1.5

g

)

salt

3

(

150

g

)

large eggs

½

cup

(

100

g

)

sugar

½

cup

(

113.5

g

)

unsalted butter

, softened (DO NOT MELT THE BUTTER (8 tablespoons))

1.5

teaspoons

(

6

g

)

almond extract

(or anise [licorice flavor])
To make the frosting:
2

cups

(

240

g

)

powdered sugar

2 to 3

tablespoons

(

30

g

)

milk

1

teaspoon

(

4

g

)

almond extract

(or anise extract)
To decorate
4

tablespoon

(

40

g

)

non-pareils or sprinkles
Instructions
To make the cookie dough
Mix the baking powder, salt, and flour in a small bowl and set aside

Using a electric mixer, combine sugar and butter on medium speed for about 2 minutes until light and fluffy

Add the eggs, one at a time, until combined and then add the extract and mix until combined.

Add the flour/baking powder and combine slowly just until mixed.

Using a tablespoon, roll the dough into balls and place onto a parchment lined baking sheet, about 1 inch apart.

Chill in the refrigerator for at least an hour

When ready to bake, preheat oven to 350F, and then bake for 10 to 12 minutes.
To Frost
Mix the ingredients for the frosting, adding the milk one tablespoon at a time

I prefer to use a teaspoon and pour a bit of frosting over the cooled cookies but some like to dunk their cookies in the frosting to frost

Make sure that the cookies are completely cooled before frosting otherwise, the frosting will just drip off

Add sprinkles/non-pareils while the frosting is still wet or they won't stick. I usually frost a few at a time and then decorate so the frosting doesn't dry before I have a chance to decorate
Notes
The dough can be a little sticky. You can wet your hands a bit to help with rolling or if you have cooking spray, spray your hands lightly to help facilitate rolling the cookies. I use a cookie scoop, which helps a lot. 
Nutrition
Serving:
1
cookie
Calories:
236
kcal
Carbohydrates:
39
g
Protein:
3
g
Fat:
7
g
Saturated Fat:
4
g
Cholesterol:
49
mg
Sodium:
53
mg
Sugar:
24
g
Interested in More Recipes?
SUBSCRIBE to get recipes delivered to your email 🙂