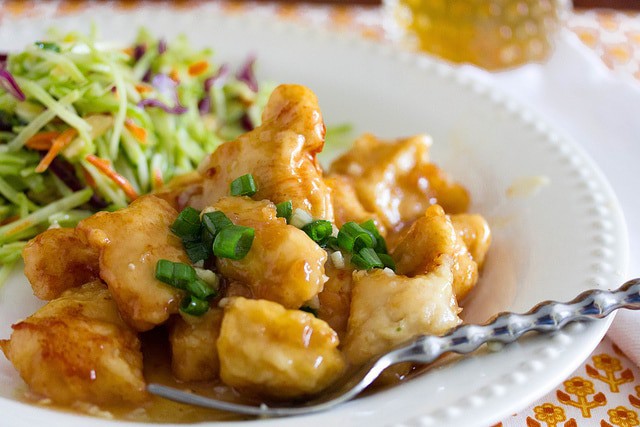 I've tried making Chinese food several times with limited success. Mostly it has been orange chicken, and the results have been "just okay".  I've yet to find a recipe for orange chicken that knocks my socks off. I used to have an amazing recipe for Chinese lemon chicken. I mean years ago, and I lost it. It was really good and pretty easy to make. All that I recall is that it had white vinegar in it and also sugar. It might have been equal parts chicken stock too. It's all fuzzy now, but I remember that a key part of the recipe was the delicate balance between the sweet and tart.
It's sort of the same story with honey chicken. You probably don't think much about the tart part when you're eating it, but let's face it; it doesn't taste like candied chicken. That would be kind of disgusting, wouldn't it?
I've been searching for a Chinese honey chicken recipe for some time now. After tweaking this recipe just a bit, I've found a winner. The batter was spot on  as is – very good. The only caution I would throw out to you is that the frying part is a bit time consuming if you don't own a deep fryer. Otherwise, it's super easy to make.
You'll notice that I suggest using either chicken breast or chicken thighs to make this dish; I was recently reading that true Chinese cuisine uses the more flavorful dark meat. Truthfully, I've never noticed but will try to take note next time we order out. I used breast meat for this dish and it turned out very well.
Recipe adapted from Blog Chef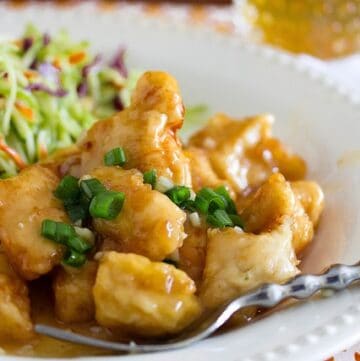 Ingredients
2

pounds

of boneless chicken breasts or boneless thighs

, cut into 1 inch pieces

Oil for deep frying
For the batter:
4

tablespoons

of cornstarch

1/4

cup

all purpose flour

1/2

cup

water

1/2

teaspoon

salt

1

egg plus 1 egg white
For the sauce:
1.5

tablespoons

oil

1

teaspoon

minced ginger

3

tablespoons

minced garlic

2

tablespoons

green onion

(white part only)

1

teaspoon

salt

1/4

cup

honey

1/4

cup

sugar

1/4

cup

white vinegar

1/4

cup

chicken broth

Green onions

(green parts) (optional for garnish)

Sesame seeds

(optional for garnish)
For the cornstarch slurry
1

tablespoon

of cornstarch

1

tablespoon

of cold water
Instructions
Combine all the batter ingredients, cover and set aside for 30 minutes

Begin heating oil to about 350 degrees.

Coat chicken pieces in the batter and then fry in small batches until golden brown

After frying, drain chicken on plate lined with paper towel

To make sauce, heat oil in wok and add ginger, garlic, and green onion.

Cook over medium high heat until fragrant, about 1 minute

Add remaining ingredients and stir to combine

Bring sauce to a gentile simmer and prepare the cornstarch slurry by combining the ingredients into a thin paste

Gently pour the slurry into the simmering sauce and continue cooking for a minute to 2 until thickened; do not overcook as the cornstarch will begin to break down after a few minutes. The slurry must be made with cold water.

Garnish with green onions (green part) and sesame seeds if desired.