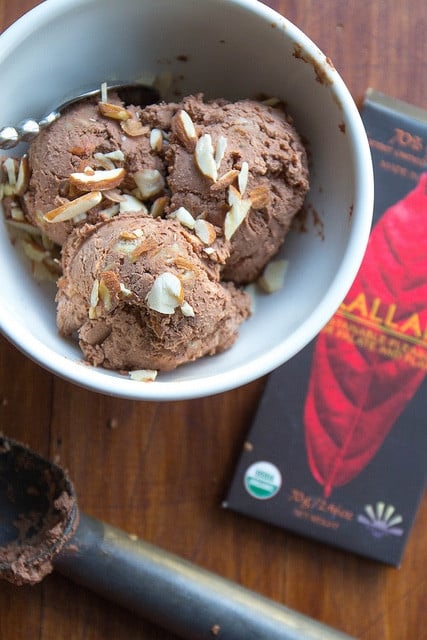 *Disclosure: Kallari kindly sent me a free sample of their product, but I was not compensated to write this post; all opinions are my own.
Wanna make a creamy, dreamy decadent chocolate ice cream but don't have an ice cream maker? No problem! Try this awesome chocolate ice cream. I didn't think it was possible until I tried it myself.
The key to this ice cream is high quality chocolate, sweetened condensed milk (just a bit), and of course, heavy whipping cream (it's a treat!). The good news is that it's relatively low in sugar, and has a decent amount of fiber if you add the optional nuts.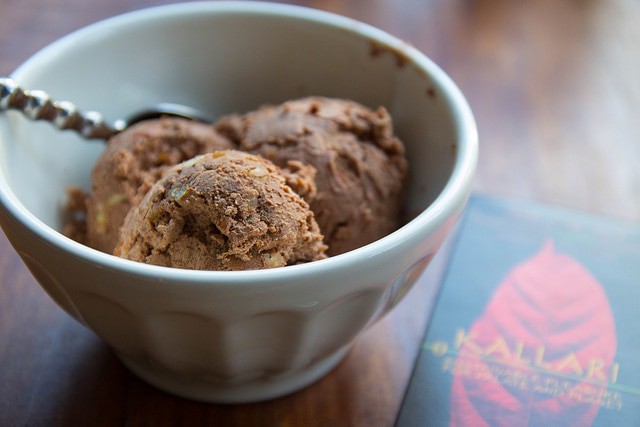 I used Kallari chocolate, which is a very fine chocolate! This ice-cream was over-the-top good, and the chocolate was a key component!
According to the Kallari website, their unique cocoa varietals permit Kallari to make a world-class chocolate with less than half the sugar, a shorter roasting time, and minimal refining compared to standard chocolate.
Kallari chocolate features include:
Fresh and Ethical Sourcing – Kallari gourmet chocolate is made by cacao growers. They own their chocolate and pay themselves an income higher than the minimum wage in Ecuador for their work in biodiverse cacao groves.
Rich Flavor with no Bitterness – The fresh taste of the cacao beans remains in the chocolate, unlike chocolate processed thousands of miles from the source. Kallari uses organic heirloom cacao, gourmet recipes (no emulsifiers, artificial flavors and half the sugar), and minimal processing to provide a chocolate experience unique from other chocolate chips for baking.
Rainforest Conservation and Cultural Preservation – They retain most of their farms in primary and secondary rainforest, with an average of 1.5 acres of cacao planted per family, less than 2% of our total territory. This allows them to earn a living and provide their families without sacrificing natural resources or forgetting our cultural traditions.
*Disclosure: Kallari kindly sent me a free sample of their product, but I was not compensated to write this post; all opinions are my own.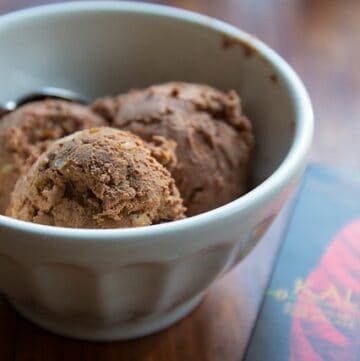 creamy homemade chocolate ice cream - no ice cream maker needed!
Makes 1 quart of the most decadent creamy chocolate ice cream - made without an ice cream machine in only 10 minutes plus 2 hours freezing time
Print
Pin
Rate
Ingredients
4

oz

dark

(bittersweet) chocolate (I used 70% Kalari chocolate), finely chopped

1/2

cup

sweetened condensed milk

1/2

teaspoon

vanilla

a pinch of salt

1 1/2

cup

heavy cream

1

cup

sliced almonds

(optional)
Instructions
Combine chocolate and condensed milk in microwave safe bowl and heat in 10-second increments. Stir intermittently.

After chocolate has been melted, stir in vanilla and salt. Set aside to cool.

In a large bowl, add 1.5 cups of heavy cream and whip on high speed until stiff peaks form.

When cream has stiffened, whip in 1/3 of the chocolate mixture and then carefully fold in the remaining chocolate.

If desired, add sliced nuts.

Pour mixture into a quart-sized plastic container with an air--tight lid, and freeze for 2 to 3 hours. This is best eaten the same day that it's made.
Notes
This ice cream will get a bit harder than typical ice cream after a few hours of freezing time; let the ice cream sit out on the counter for a bit or microwave it for 15 seconds to soften before scooping