This is what my bones of the dead (ossi di morti) cookies came out like: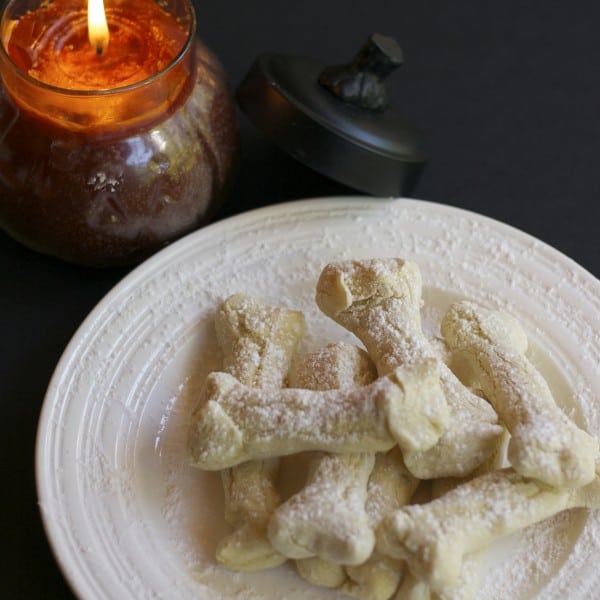 But THIS is what I wanted my cookies to look like! This is a cookie from Termini Bakery in Philadelphia. I think it's safe to say that the recipe I used is not what Termini's uses. Their cookies are much whiter and it does not look like they use much of a leavener....
Whenever the new school begins, I start to think about all things fall, including Halloween. This past summer has been very hot, and so I'm welcoming fall with open arms this year. .I love the thought of wearing a light sweater or curling up with a mug of hot chocolate on the couch to ward off the chill in the air. These cookies are perfect for pairing with that warm drink.
When I saw these cookies in the King Arthur catalog, I immediately wanted to make them. The only drawback was the requirement for almond flour, which I do not typically keep on hand. Fortunately, I was able to quickly locate some at my local supermarket.
The almond flavor is very subtle - not overpowering especially since I substituted vanilla extract in the place of the almond extract that the original recipe called for. I also omitted the baking powder entirely based on the results from the first batch that I baked.
For my first batch, I followed the recipe exactly as stated in the catalog, even to the point of weighing the ingredients instead of simply measuring them and the results were quite disappointing, visually speaking, although the cookies tasted very good.
After omitting the baking powder, the cookies retained their bone-like shape and acquired a biscuit-like texture that is perfect for dipping. If you prefer a light chewy cookie, add 2 teaspoons of baking powder, leave the formed cookies in the refrigerator overnight, and let them sit at room temperature for 1 hour prior to baking.
Recipe adapted from King Arthur Baking
📖 Recipe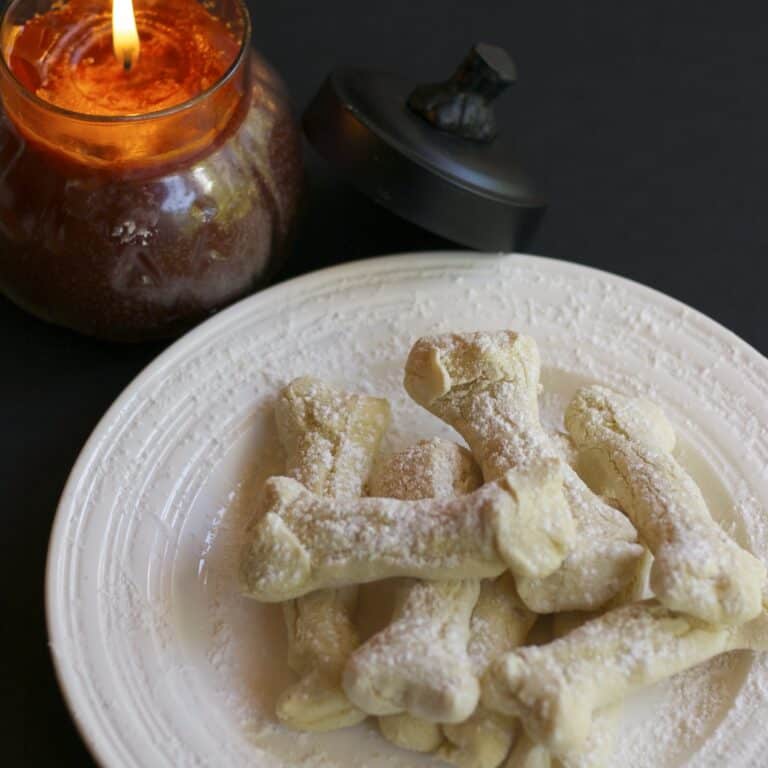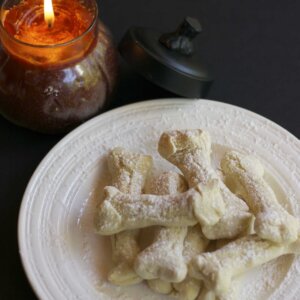 Bones of the dead cookies
A biscuit like cookie perfect for dipping in cold milk or a warm mug of coffee
Ingredients
2

cups

All purpose flour

2.5

cups

Powdered sugar

(plus more for decorating)

½

cup

Almond flour

½

teaspoon

Salt

2

large

Eggs

1 ½

tablespoons

Milk

up to 2 tablespoons

1

teaspoon

Vanilla or Almond extract
Instructions
Preheat oven to 300 degrees

Line a baking sheet with parchment paper

Mix dry ingredients

Add wet ingredients to dry ingredients to form a soft dough

Divide dough into 8 pieces on a well-floured counter and roll each piece into a thin rope about ½-3/4 inches in diameter and 16 inches long

Cut each rope into pieces about 4 inches long and shape each piece into a bone

Bake for 15 minutes*

When cool, sprinkle with powdered sugar to serve

Recipe yields approximately 36 cookies

*Note that the original recipe calls for an overnight rest period prior to baking, but I omitted this step since I didn't use baking soda and I don't have much patience.
Nutrition
Calories:
72
kcal
Carbohydrates:
14
g
Protein:
1
g
Fat:
1
g
Saturated Fat:
1
g
Cholesterol:
12
mg
Sodium:
37
mg
Potassium:
12
mg
Fiber:
1
g
Sugar:
8
g
Vitamin A:
15
IU
Calcium:
7
mg
Iron:
0.4
mg
Interested in More Recipes?
SUBSCRIBE to get recipes delivered to your email 🙂