This cake makes for a fun project to celebrate July 4th/Independence Day in the USA or for any USA-themed celebration!
Using a homemade cake recipe, three 9-inch white cakes are transformed into a flag pattern by cutting the cake layers into a specific pattern which is then topped with white buttercream frosting.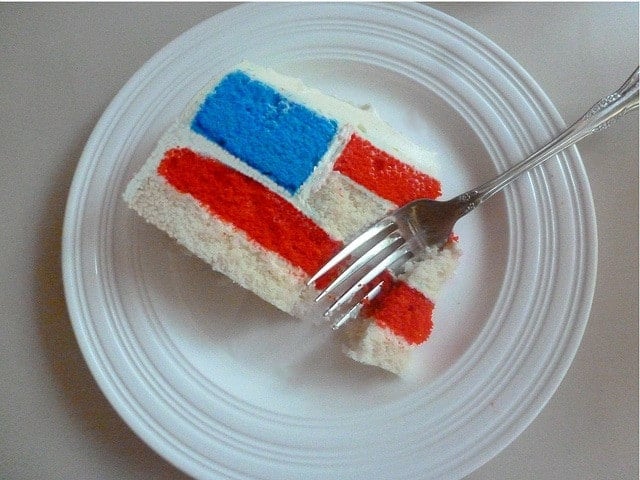 I was really surprised at how well it turned out since I haven't baked many layer cakes in the past. Most of my prior cakes have been fairly straightforward, and I was less concerned about the appearance and more interested in the taste itself. These days, I'm trying to improve on how they look in addition to how they taste.
The original creator, Elissa, used to blog at a site called 17 and Baking. Although Elissa created the cake design, I opted to use a recipe from a site called Secret Life of a Chef's Wife (which I don't think is active any longer). Since then, many many people have recreated this cake in a number of iterations.
My family and I really loved the flavor of this cake - I'm craving a slice right now!! Definitely a keeper!!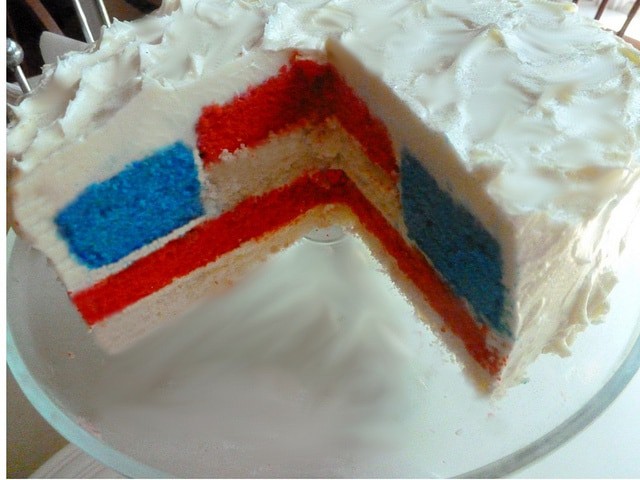 How to Assemble the Cake
You will need to prepare three 8- or 9-inch layer cakes and you will need plenty of frosting (I used about 6 cups, recipe is below).
Mix the cake batter and divide your batter into three equal portions. I used a kitchen scale to get them perfectly equal. You can eyeball it if you don't have one.
Tint one part of the cake batter blue, another part red, and the final part will NOT be tinted (ie, the white layer). Then transfer the batter to greased cake pans (lined with parchment ideally).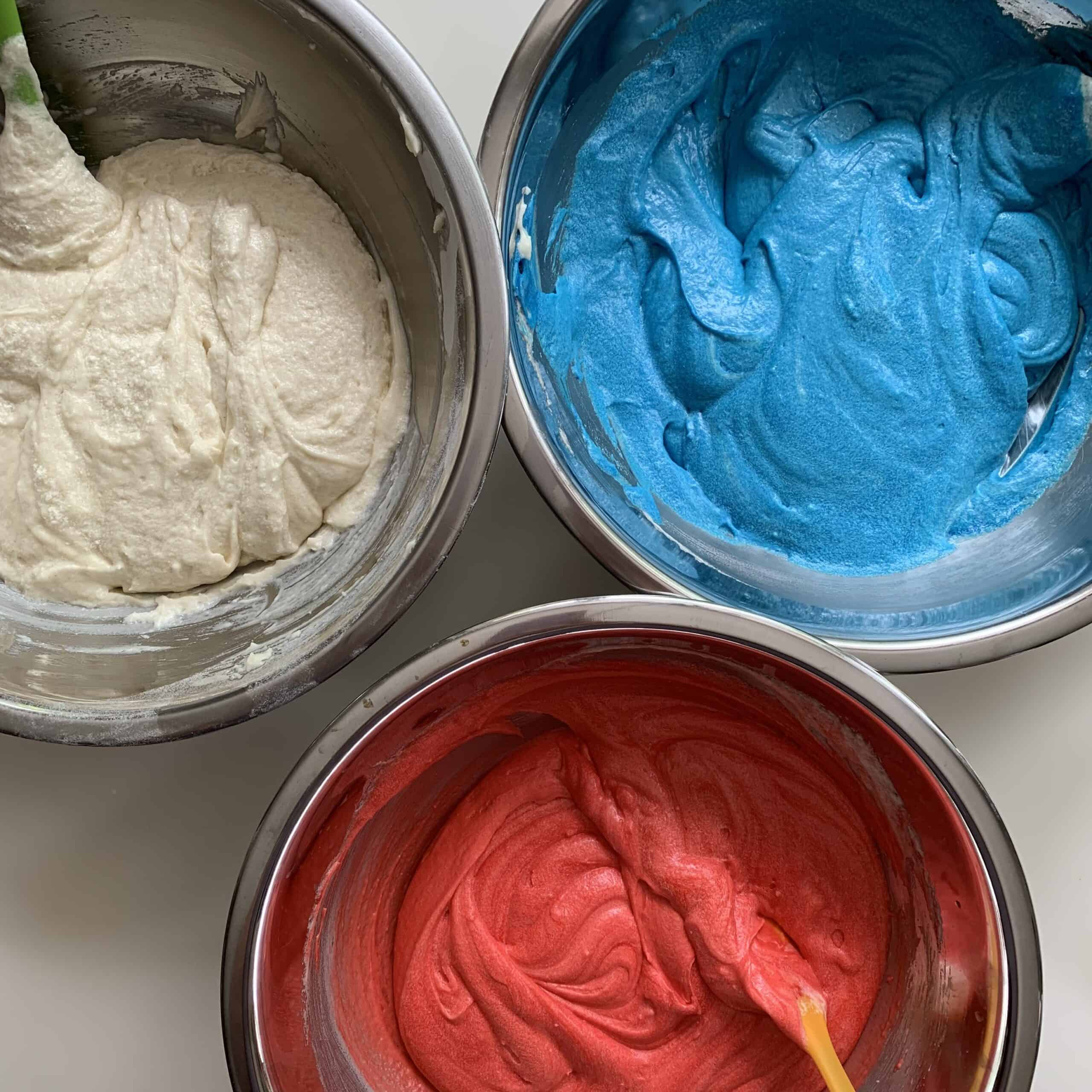 Bake and then completely cool the cakes. It is best to place the cakes in the freezer for about 15 to 30 minutes after cooling so that they can be easily sliced to construct the flag design.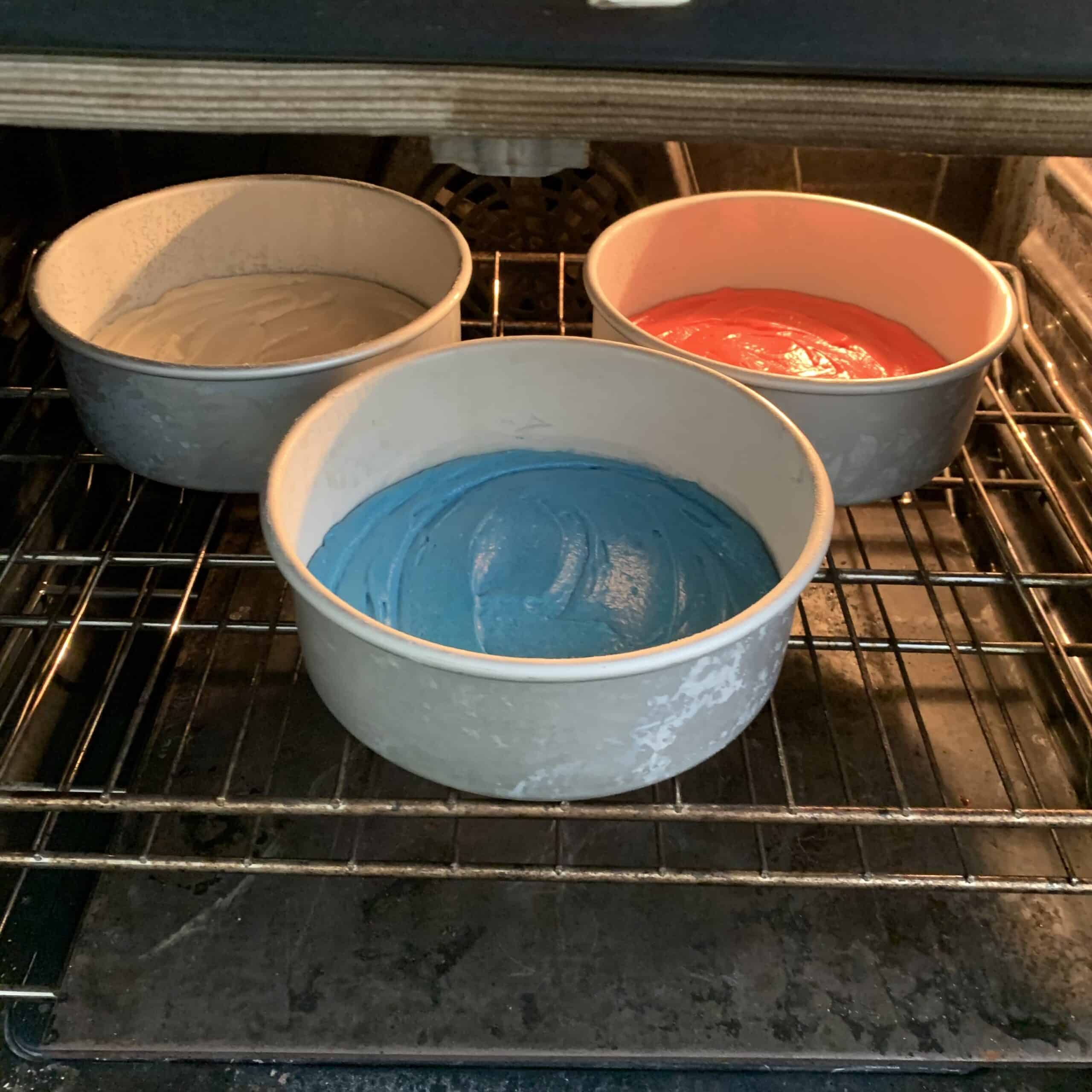 After the cakes have been baked and cooled, you begin the assembly by slicing the red cake and the white cakes horizontally with a long serrated knife - leave the blue cake in tact for now.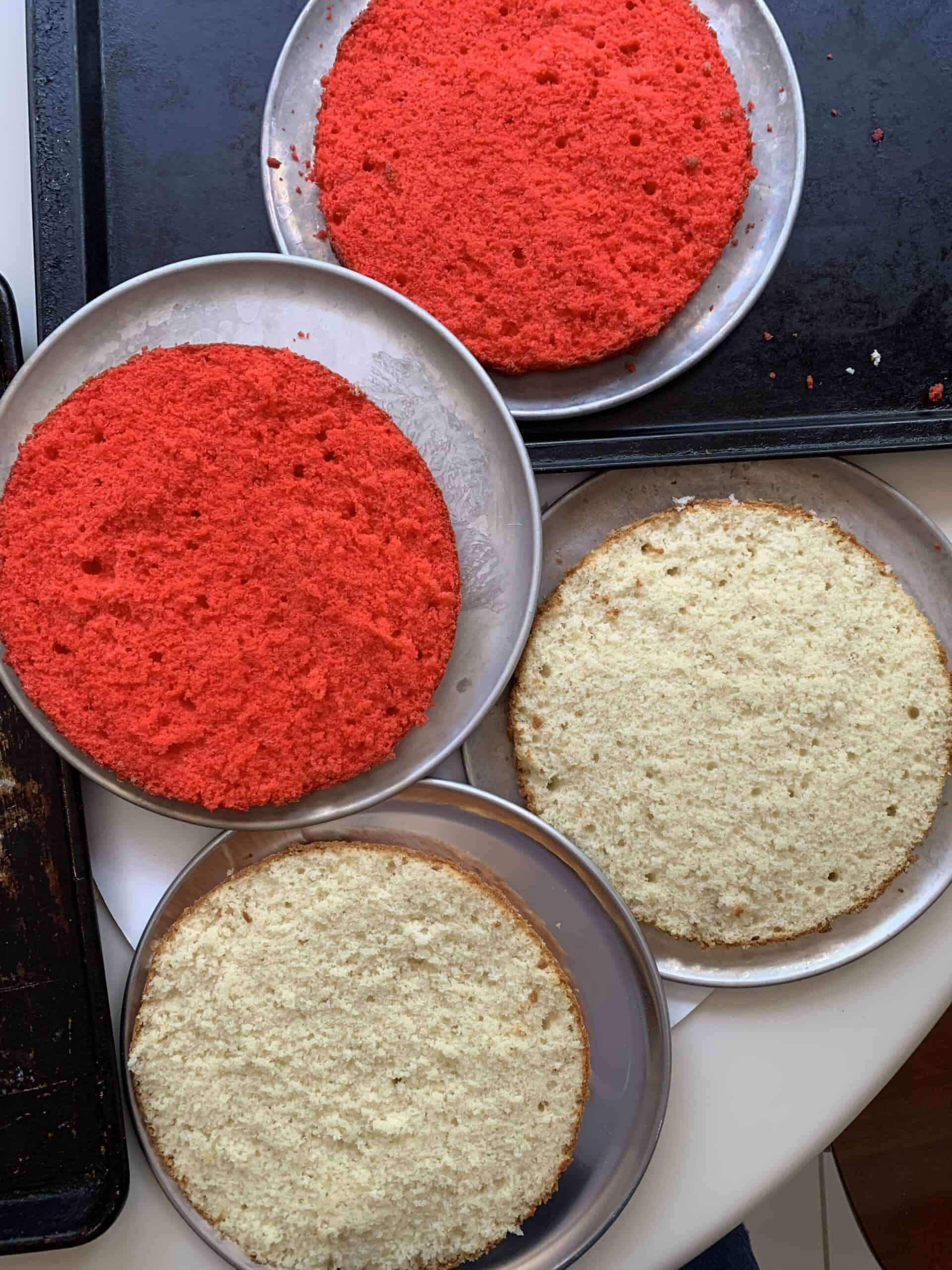 After the white and red cakes are cut, you should have 2 layers of red, 2 layers of white, and a single thick layer of blue (ie, blue is uncut cake) (for a total of 5 layers).
To Make the Top Half of Cake (Blue with Red and White)
The top half of the cake refers to the layers with blue, red and white.
To create the top of the cake, stack one of the white layers followed by one of the red layers, and top it off with the entire blue cake, ensuring that they are all aligned as best as possible.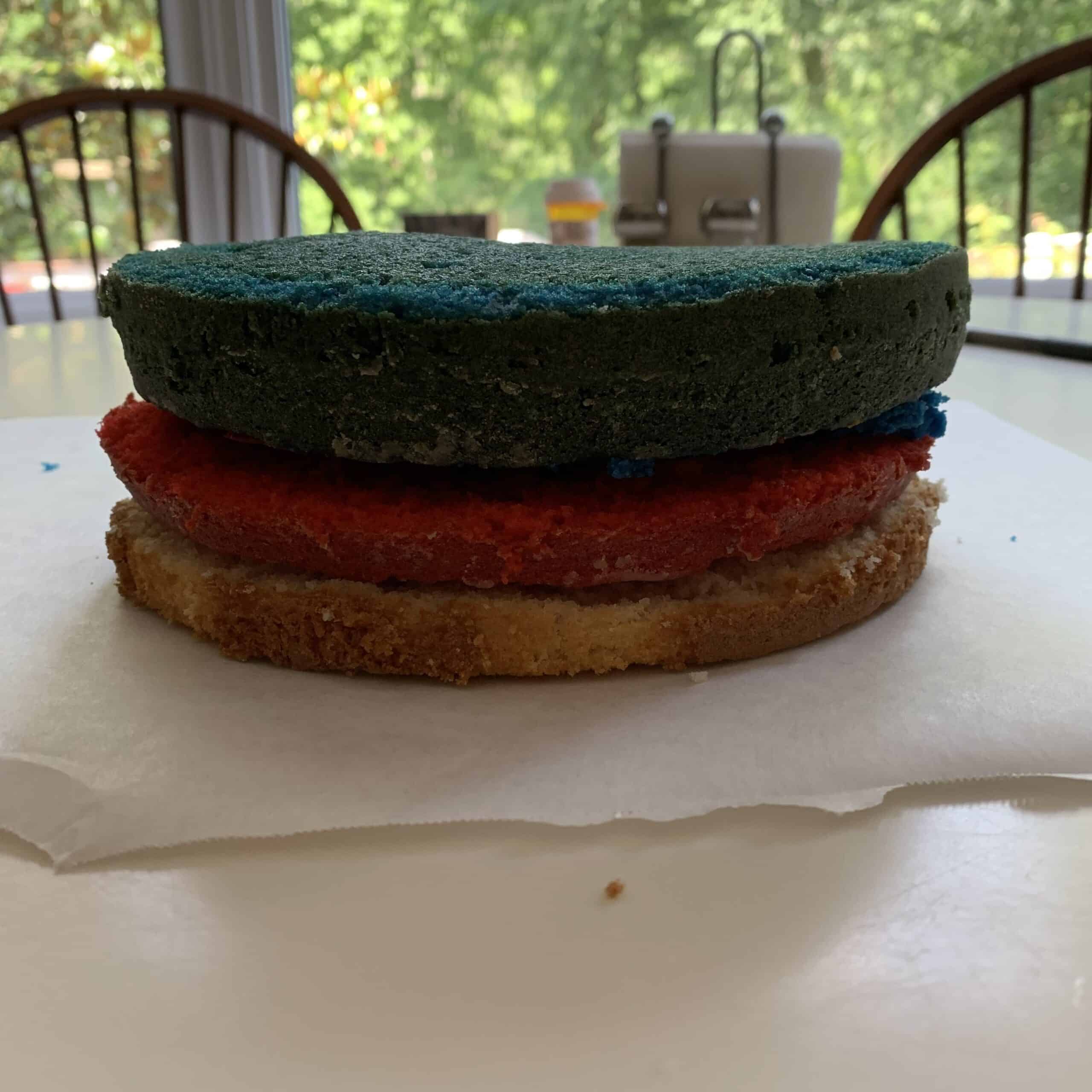 Then, using a 5-inch circular template (a plastic lid, dish, or other circular object) (I think I used the top of a shortening can), cut around the circle, through all three colors.
You will end up using the outside of the blue layer (large "doughnut" circle of blue), and the inside of the red and white layers only (ie, small circles of white and red).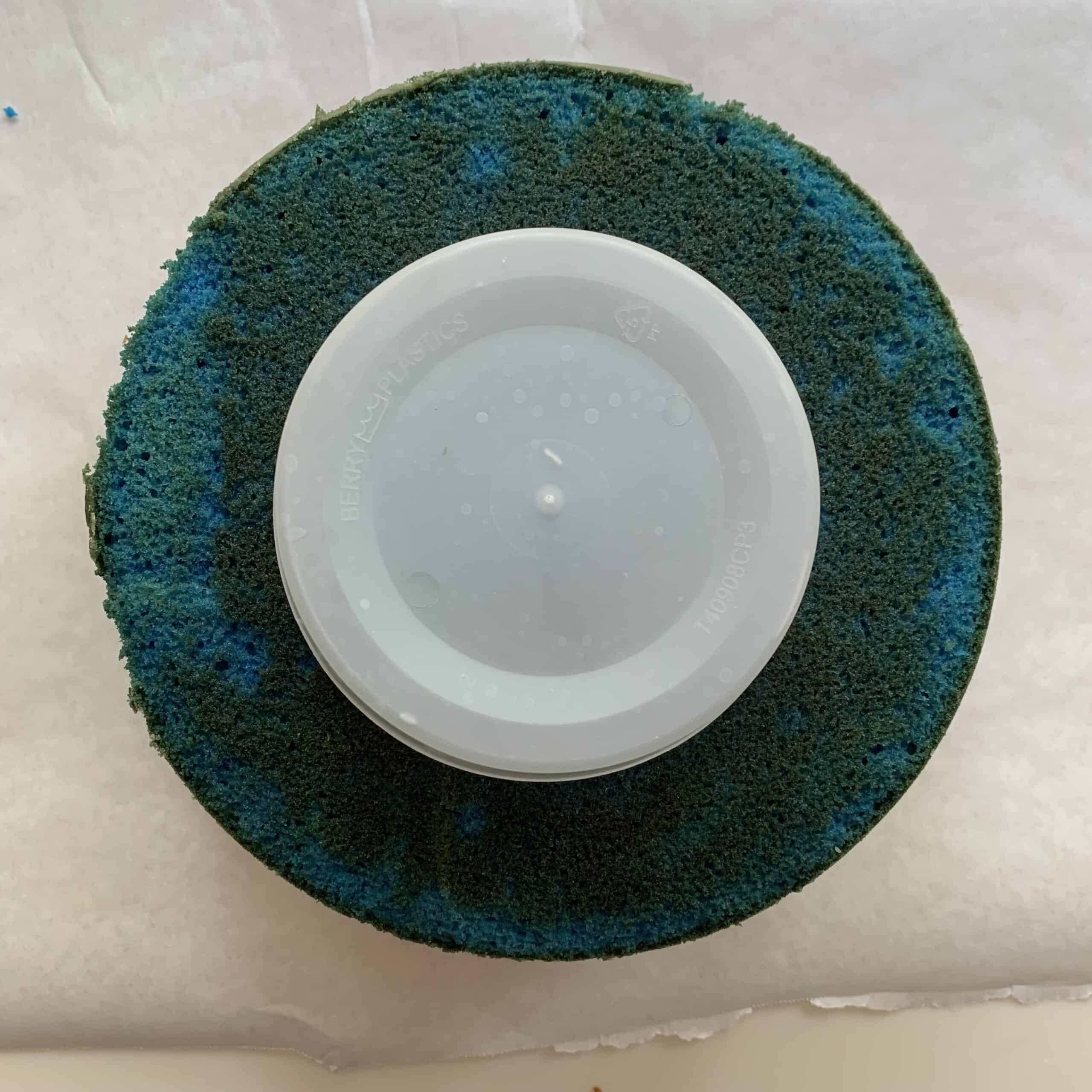 You will not use the small inner blue circle and the outer red and white circles from these cake layers - make cake pops with the leftover!
To Create the Final Cake
Now, you will add frosting to get everything to stick together.
Stack the remaining white layer on your cake board/dish and top with a generous amount of frosting. Then add the red layer on the white layer and top with icing.
Top the white and red layers with the blue "donut" layer, spread a very thin layer of frosting along the inner edge of the blue cake ring.
Carefully insert the small red/white cake layer/circle and don't forget to frost between the red and white layers of the small circle cake.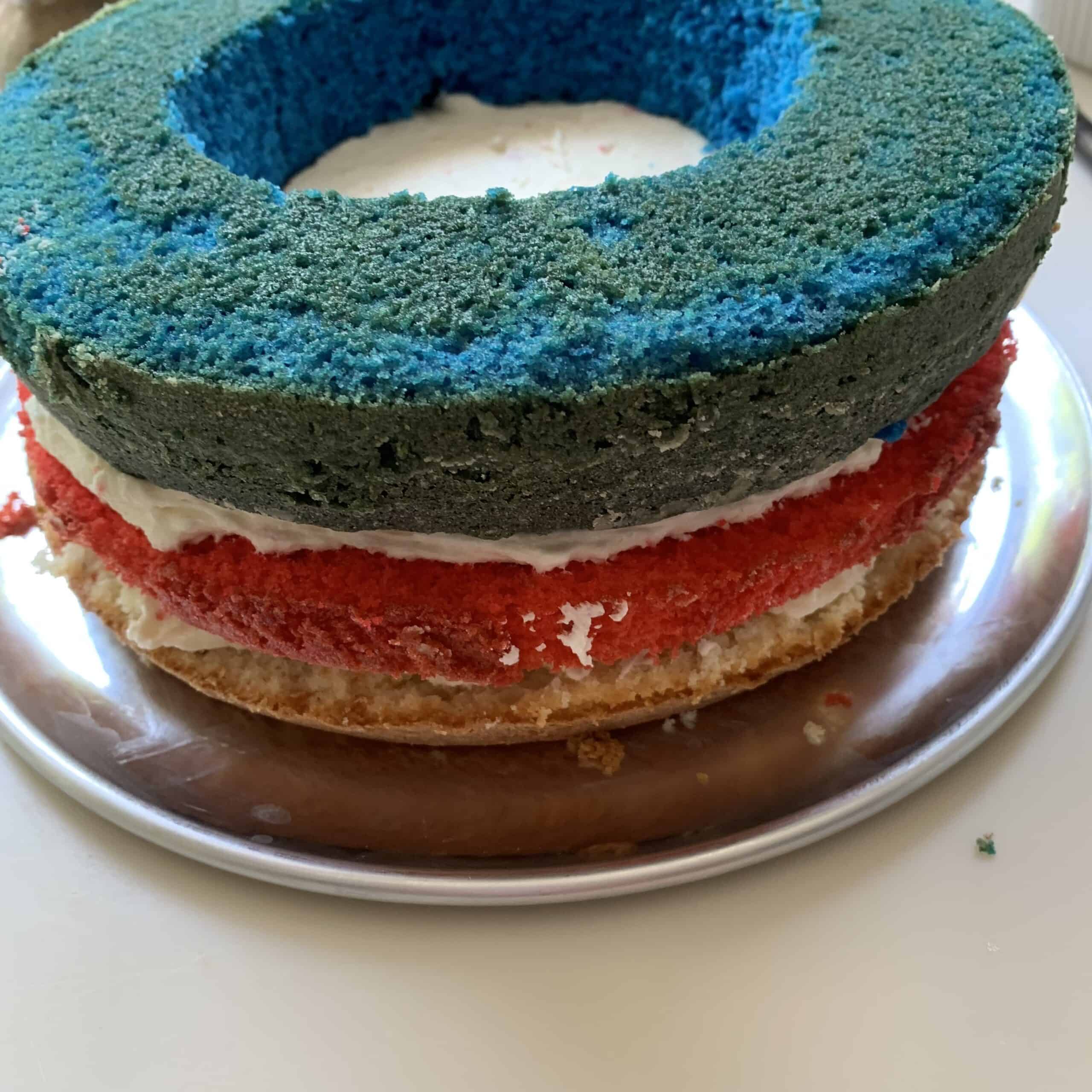 Finish by frosting the entire cake.
Tips for Success
After baking and cooling, wrap your cakes tightly in plastic wrap, then freeze or refrigerate them before cutting.
Try to cut the layers very evenly because the white and red layers stack should match the blue layer (see picture of flag slice and you can see what I mean here).
Use a flat cookie sheet to move and lift cake layers. This along with slicing evenly will be the biggest challenge of this cake. If the cake is somewhat/slightly frozen it helps with this.
Dip your knife in hot water and wipe dry before cutting each layer.
Do not over beat the batter, as it may deflate and cause the cake to become less airy.
Consider using cake strips to ensure that the layers baked evenly (I didn't have to level my layers at all.) No worries if you don't have these, just be sure to level your cakes after baking if needed.
Gel food dye is needed to make cake color bright; liquid food dye will not have the same effect. Gel food dye is widely available in most craft stores (baking section) and via online ordering.
Smitten kitchen gives many more great tips for storing and slicing layer cakes.
📖 Recipe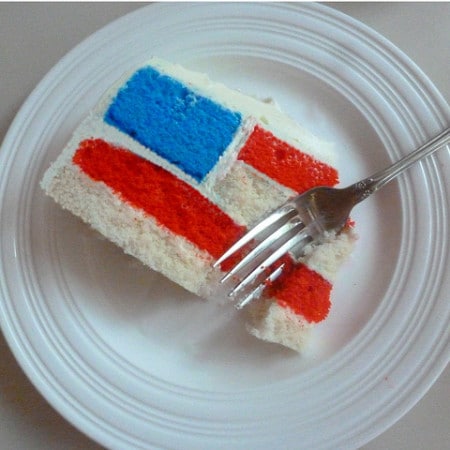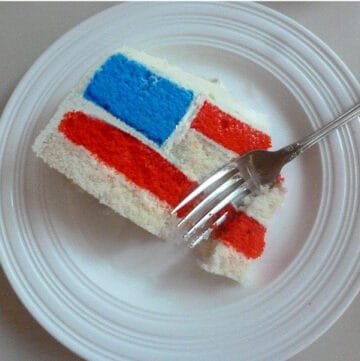 Fourth of July Cake (aka Team USA Cake)
A whimsical 3-layer white cake that is carved to reveal a USA flag when cut. Perfect for summer holidays or for any USA-themed celebration!
Equipment
3 cake pans

8-inch, or 9-inch

hand or standing mixer

cake board or large plate

an inch larger than cake is recommended
Ingredients
For the Cake
¾

cup

(

170.25

g

)

unsalted butter

, softened

¾

cup

(

153.75

g

)

vegetable shortening

1.5

tablespoon

(

18

g

)

baking powder

2 ⅔

cup

(

533.33

g

)

granulated sugar

1

teaspoon

(

1

teaspoon

)

salt

1

tablespoon

(

1

tablespoon

)

vanilla extract

1.5

teaspoon

almond extract

7

(

231

g

)

large egg whites

4

cups

(

500

g

)

all purpose flour

sifted

1.5

cups

(

366

g

)

milk

(room temperature)

*gel food dyes

red, blue
For the Ermine Frosting
10

tablespoons

(

340.2

g

)

all purpose flour

2

cups

milk

2

cups

(

170.25

g

)

unsalted butter

½ cup is 1 stick

2

cups

(

720

g

)

fine sugar

1.5

teaspoons

vanilla extract

½

teaspoon

salt
Alternate Frosting: Cream Cheese Frosting (shown in final cake picture)
1

pound

powdered sugar

16

ounces

cream cream

(16 ounces = 2 pack cream cheese)

1

cup

unsalted butter

(1 cup = 2 sticks)
Instructions
To Bake The Cake
Preheat oven to 350 degrees F

Grease and flour the 3 cake pans and set aside. I like to also line with parchment paper.

Cream together butter and shortening until light in color and well incorporated.

Add the baking powder, sugar, vanilla and almond flavorings, and salt and continue to beat for another minute.

Add the egg whites one at a time over a 5-minute time span

End by adding ¼ of the flour following by ⅓ of the milk continuing until all the flour and milk has been added. Begin and end with the flour

Ensure that the batter is no over beaten so the batter does not become deflated.

Bake until the layers spring back lightly to the touch and the layers just begin to pull away from the sides, about 27 to 32 minutes for 9-inch pans or 40 to 43 minutes for 8-inch pans.

After cooling on a wire rack for 10 minutes, refrigerate and follow cake assembly instructions.
To Make the Frosting
Add flour, sugar, and milk to a medium sized saucepan and heat while gently for about 2 minutes while stirring continuously. Be sure not to burn!

When the mixture has reach the thickness of brownie batter, remove from heat and cool completely. Cover with plastic wrap to prevent a skin from forming.

If the mixture seems lumpy, consider passing it through a heat proof colander.

After flour mixture has completely cooled, add softened butter to a mixer bowl and whip until lightened and airy

Add the flour/sugar/milk mixture after it has completely cooled to the butter, once large spoonful at a time, and beat well.

Add salt and vanilla and combine well.
To Assemble the Cake
Cake layers must be completely cool to the touch; for best results, freeze the cake layers for about 15 to 30 minutes.

Slice the red cake and the white (uncolored cake) horizontally into 2 layers. You should end up with 2 layers of red and 2 layers of white.

Using a cake board or a flat dish, stack one of the white layers on the bottom and spread a thin layer of frosting on top.

Add a red layer of cake on top of the white layer and spread a thin layer of frosting on top.

To assemble the top half of the cake, place a white layer of cake on a piece of parchment paper or aluminum foil and top it with a red layer and the blue cake. You should have a stack of white, red, and blue (bottom to top).

Using a 4 or 5 inch circle as a guide (I used the lid to a quart sized plastic contained), cut a circle in the center of the 3 cake layers. Use a butter knife and be sure to cut all the way through the layers.

Gently lift the circle out and separate it from the surrounding circle.

Take the outer layer of the blue cake and the inner layer of the red and white layers (you will NOT need the inner blue circle or the outer red and white layers - use for cake pops or snacking).

Place the blue outer circle on top of the frosted red layer and spread a thin layer of frosting on the inside of the blue circle.

Fit the red and white smaller circle layers inside the blue layer.

Using the remaining frosting, apply a thin layer of frosting to crumb coat the cake and let set in the refrigerator for an hour or so.

Frost the rest of the cake and decorate as desired. I have make plain or also with red and blue sprinkles.

For best results, let the cake set overnight after decorating
Notes
Frosting: Overly sweet frosting can be caused by using too much powered sugar. Weighing the sugar is optimal. Also consider adding the last quarter or so a little at a time, tasting as you go. If you plan to pipe the frosting, considering sifting the powdered sugar to avoid lumps. 
*Gel food dye is necessary to obtain a vibrant color. Liquid dyes will result in a more pastel colored cake. Gel food coloring is widely available at craft stores and via mail order. 
Nutrition estimate shown for cake with Ermine frosting not cream cheese frosting. 
Nutrition
Calories:
510
kcal
Carbohydrates:
59
g
Protein:
5
g
Fat:
29
g
Saturated Fat:
16
g
Polyunsaturated Fat:
3
g
Monounsaturated Fat:
8
g
Trans Fat:
2
g
Cholesterol:
60
mg
Sodium:
178
mg
Potassium:
178
mg
Fiber:
1
g
Sugar:
41
g
Vitamin A:
708
IU
Calcium:
87
mg
Iron:
1
mg
Interested in More Recipes?
SUBSCRIBE to get recipes delivered to your email 🙂