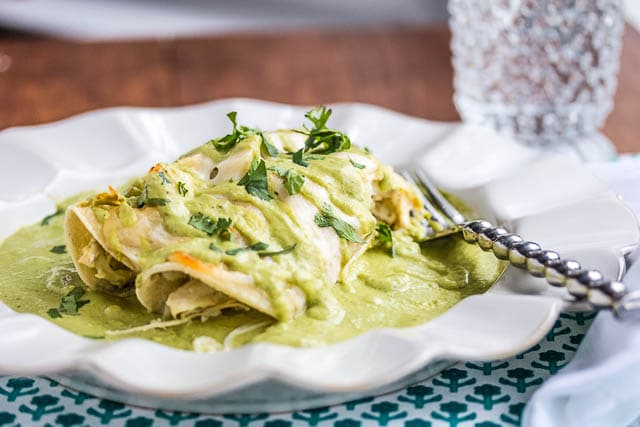 Back in the summer, my family and I traveled to Walt Disney World. We hadn't been there in several years with all the moving we had been doing (we were in NJ, MI, and back to PA within 3 years).
We had a fun time in Disney, much to my relief. I wondered how the kids would enjoy it since they are well out of the princess stage. I can vividly remember that stage, when we arrived in Florida toting along 2 pink Disney princess dresses. They were so thrilled with all the attention they received that year. What a special memory that is!
What does this have to do with Disney anyway? Well, on my way home, I purchased a copy of Saveur magazine. It was a Mexican issue with so many delicious sounding recipes that reminded me of the food from Mexico in Epcot. But, in my typical fashion, I dog-eared and circled all the recipes that I wanted to try and then the magazine sat in a pile until yesterday!
I'd never tried enchiladas Suizas. According to what I've read, they were developed as a touristy kind of dish (the name of the recipe translates to Swiss Enchiladas). Who knew?
The sauce is very creamy and delicately flavored unless you leave in all of the serrano seeds, which would give you a lot of heat.
This was a nice change from the usual enchilada. You gotta mix it up sometimes, right?
Source: Saveur magazine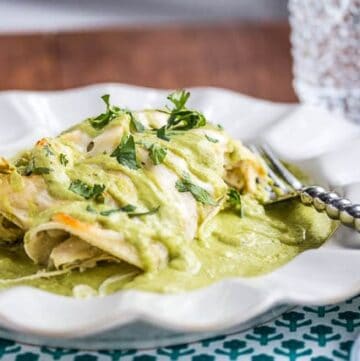 Enchiladas Suiz
Shredded chicken is wrapped into a corn tortilla, topped with Mexican cheese and adorned with a delicate, splcy and creamy salsa verde
Print
Pin
Rate
Ingredients
For the enchilada sauce:
2

Poblano peppers

,

2

Serrrano peppers

, stemmed and seeded to taste

1.5

pounds

of tomatillos

, husks removed and rinsed well

1

cup

of fresh cilantro

, rough chopped

5

cloves

of garlic

1

teaspoon

cumin

1.5

cups

of sour cream
To assemble:
8

corn tortillas

3

cups

of shredded chicken

2

cups

shredded Mexican cheese

(queso Oaxaca or mozzarella)
Instructions
For the enchilada sauce:
Preheat broiler to high

Line a baking sheet with aluminum foil and arrange the poblanos, serrano, and tomatillos on the baking sheet

Place the sheet within 6 inches of the broiler and broil until browned, flipping halfway between (tomatillos will require less time, about 7 minutes and peppers about 15 minutes

When everything is charred and blistered, transfer to a gallon-sized plastic bag, and seal until cooled allowing everything to steam (this makes it easier to skin the peppers)

When cool enough to handle, peel skins from tomatillos and chilis and seed poblanos. Seed serranos to taste (they are very hot, so seed accordingly)

Place roasted chilis, tomatillos, garlic, cumin, sour cream, and cilantro into blender and blend until smooth
To assemble and bake:
Heat tortillas briefly in the microwave to soften (about 15 seconds).

Mix 1/2 cup of enchilada sauce with the chicken and combine well.

Spoon the chicken mixture over each tortilla and then roll each one up.

Cover the bottom of a 9 x 13 baking dish with a thin layer of enchilada sauce and then top with shredded cheese.

Reserve the remaining enchilada sauce for serving.

Bake the enchiladas for 25 minutes, until cheese melts.