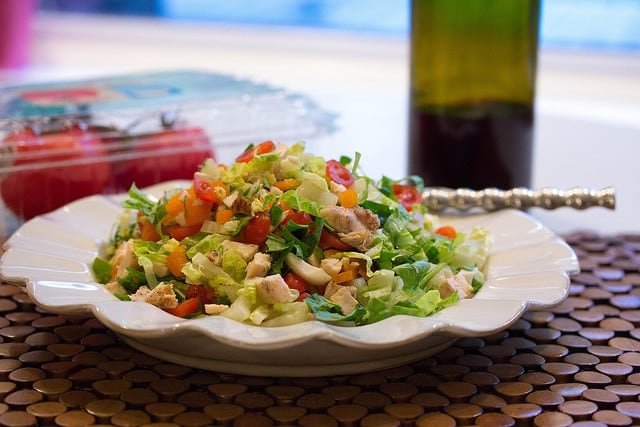 Boy, losing that last few pounds is killing me! The weight loss definitely gets harder as we age, but eating things like this best ever carrot cake is not helping my cause. It's okay though because I only had one piece…eh, maybe two.
And then came this salad.
I've always loved chopped salads. You can pretty much tailor them to your likes and create many different versions. For this one, I used what I had one hand.
There's no recipe for this one – I  used:
Chopped romaine lettuce, about 2 cups per serving
Chopped spinach, about 1 cup per serving
Chopped tomatoes, 1/2 cup per serving
Chopped hard boiled eggs (1 per serving)
Chopped bell pepper, 1/4 cu per serving
Chopped grilled chicken, 1/2 cup per serving
Top with your favorite bottled dressing or olive oil and vinegar
Lots of chopping, but it's worth it. I plan to try a few different versions of this salad over the summer (Greek, Mexican, Vegetarian, etc).  I think the sky is the limit…