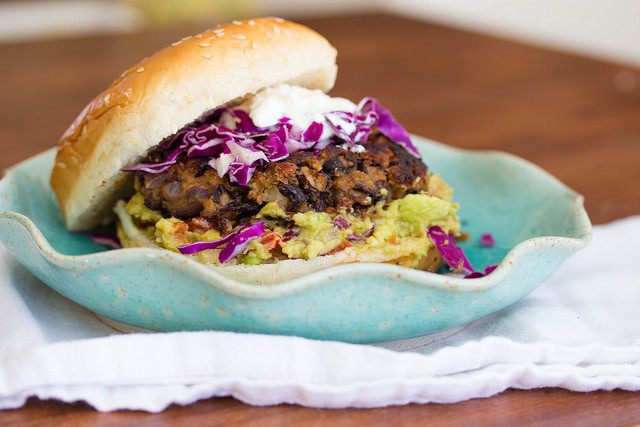 The pressure cooker.  I don't think there is another kitchen appliance out there that evokes such fear. And maybe some confusion too.
When I was a little girl, my parents would routinely use a pressure cooker to prepare meals in a very timely manner. Of course, I can't recall everything that was made, but there were stews, roasts, and the occasional potatoes. You know, things that would otherwise take muuuch longer to cook.
When I got married several years ago (I won't date myself here), despite my exposure to the long-term safe use of pressure cookers, I hesitated to use one. There were so many horror stories of people left scarred from exploding pressure cookers and I thought that with my luck, I'd end up in a sorry situation.
But, over time, I began warming up to the idea of trying the pressure cooker, mostly based on my desire to cook food quickly. And so, I tried cooking a roast, which was amazing and speedy. Most recently, I tried cooking beans. Now my mom, who never tried cooking beans in the pressure cooker, had her serious doubts. This sort of puzzled me since I always thought of her as Mrs Pressure Cooker.
After all was said and done, my pressure cooker beans came out perfect! I did a quick 3 minute soak to prepare the beans (in boiling water); this is necessary to remove "field dust" (you don't want to know…yuck) and it also helps break down indigestible sugars that cause gastrointestinal discomfort.
I then used my cooked black beans to make these delicious and healthy chipotle burgers. If you don't have a pressure cooker, don't worry: you can cook the beans using a more traditional method or even use canned beans in you're in a hurry.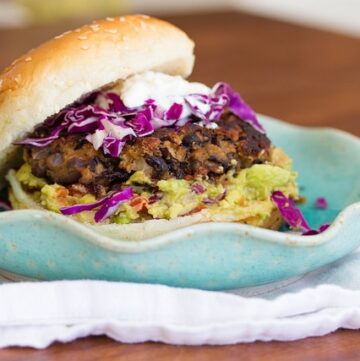 chipotle black bean burgers
A deliciously spicy black bean burger perfect for a healthy lunch or light dinner Prep time varies from 20 minutes (canned beans) to ~2 hours for dry beans (or less if using a pressure cooker)
Print
Pin
Rate
Ingredients
Black beans

, 1 cup dried (2.5 cups cooked) (see note)

1

tablespoon

oil

Red onion

, medium, diced

Garlic

, 2 cloves, minced

Egg white

, 1

Quick cooking oats

, 1/2 cup

Cumin

, 1/2 teaspoon

Chipolte chili powder

(1 teaspoon for mild, 2 teaspoons for medium-hot)

Fine sea salt

, 1 teaspoon (see note)

Fresh lemon zest

, 2 teaspoons

Oil for cooking

, about 2 tablespoons
For serving
Guacamole

Red cabbage

Sour cream

Salsa

Burger buns
Instructions
If using fresh beans, do a quick soak by placing beans in a large pot with 5 cups of water, and boil for 2 to 3 minutes. Drain beans, discard soak water and rinse with fresh, cool water.

After soaking, cook the beans by adding enough water to cover the beans by about 2 inches, then cook over low heat for about 1.5 hours (I used a pressure cooker and the beans cooked in 20 minutes on the 2nd setting (15 ppi).

Rinse and drain the cooked (or canned if using) beans, place in medium size mixing bowl and crush (not thoroughly) with a large fork

In a medium sized skillet, add 1 tablespoon of oil and saute the diced onion until fragrant and translucent, about 2 to 3 minutes over medium high heat, stirring constantly, add garlic and cook on medium heat for 2 or 3 more minutes

Cool onion/garlic mixture slightly and add to the mixing bowl with beans and the remaining ingredients and stir to combine.

Form patties and set on a large dish.

If time allows, cover with plastic wrap and allow the burgers to set in the refrigerator for a few hours.

When ready to cook, heat the remaining oil in a large frying pan, heat pan on high for about a minute, then reduce to medium heat and cook burgers for 3 minutes per side or until a slight crust forms. Use care to flip the burgers as they are fragile

Serve with buns, guacamole, salsa, sour cream, and/or cabbage
Notes
Prep time is for use of canned beans (~16 ounces) which can be used in place of dry and cooked beans
Use less salt if using canned beans, which contain a high amount of sodium
Nutrition