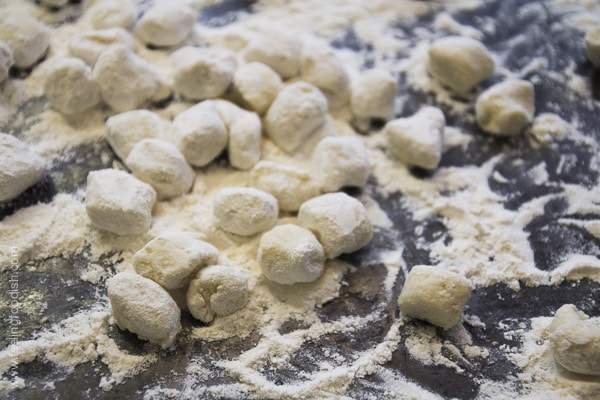 This recipe for authentic ricotta gnocchi comes from the very popular Italian cooking site called Giallo Zafferano.
Making gnocchi is pretty easy once you get the hang of it. Most of my life, I've eaten potato gnocchi but I've come to realize that I like the ricotta gnocchi almost as much if not more. Some people say that ricotta gnocchi are called cavatelli but that is not how my mother defined them. If you are able to translate this page, read more about cavatelli here, which are basically a semolina-based pasta that is popular in southern Italy and made primarily with flour and water.
Now, I have been on a quest to make ricotta gnocchi for a loooong time. My friend Roe and I went to Florence several years ago and we had the BEST gnocchi of our lives. As Roe said, those gnocchi changed. our. world.
I'm sorry to say that I still haven't been able to replicate those gnocchi but my next step is going to be to try the Zuni gnocchi recipe, as the creator of that recipe says they are based on the Florentine style of making gnocchi and they don't contain any flour. It's basically this recipe sans flour. I've read that even professional chefs have had a difficult time trying to make those gnocchi. That recipe is here if you are up for a real challenge! And the ricotta has to be very dried and crumbly. I've also read that a food mill is essential.
And so, for today, we have something much less complicated!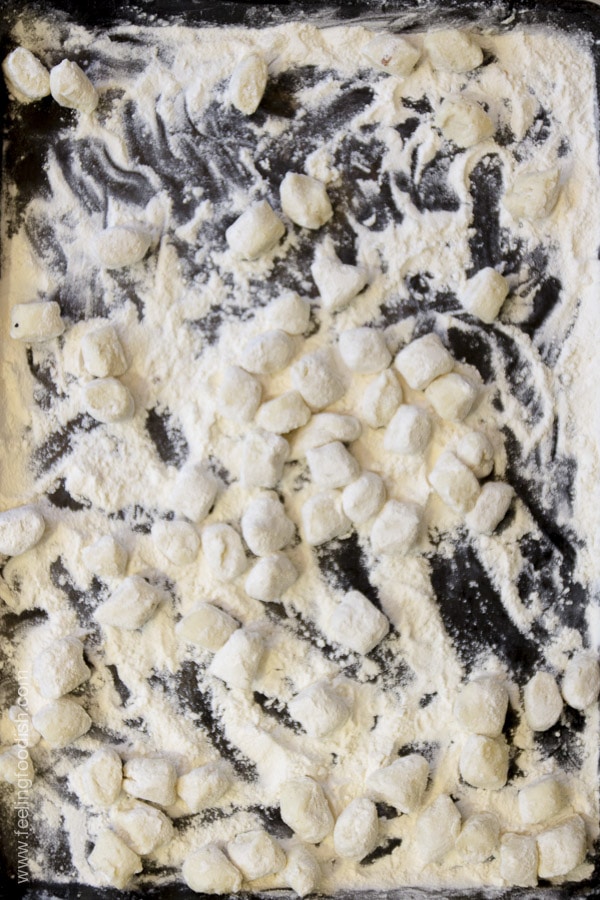 For today, we have the gnocchi pictured here, which contain flour. Getting the ratio down is the key to making these. It's basically 3 parts drained ricotta cheese: 2 parts all purpose flour: 1 part parmesan and 1 egg for each cup of ricotta cheese.
Have plenty of extra flour on hand to prevent sticking and make life easier.
I served these with a simple tomato sauce, but they are also great as a casserole tossed with mozzarella and tomato sauce and then baked until melty. I also love ricotta gnocchi with a gorgonzola sauce (which is the way I had them in Italy….sooooooo good).
If you've never made gnocchi before, don't be intimidated. The biggest mistakes are typically making the dough too soft (they will fall apart when boiling) or making the dough too hard (the gnocchi will be like little lead balls). To prevent this from happening, keep your dough soft and a bit sticky, and test a few by boiling them before you form the rest of the gnocchi (so you can add more flour if necessary).
Another tip is to gently boil them, and not cook them using a rolling boil.
These are fairly rich, so they are best served as a side dish or as a small portion with a large salad.
Happy pasta making!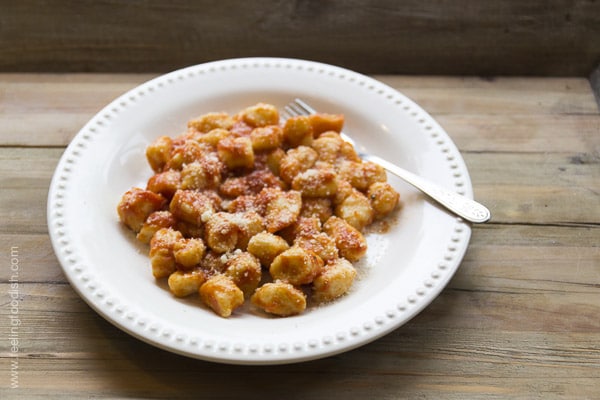 Recipe from: Giallo Zafferano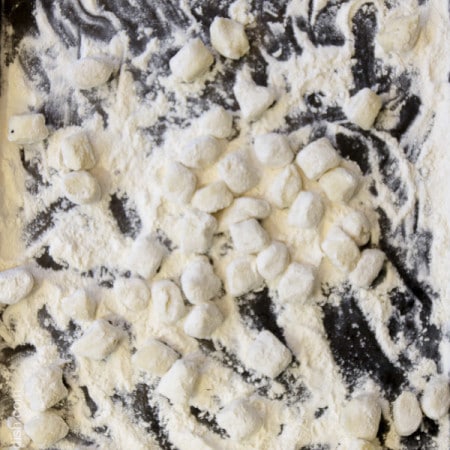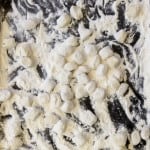 ricotta gnocchi
Ingredients
500

grams

(about 2 cups) ricotta, low fat (drained)

250

grams

(about 2 cups) all purpose flour plus more for counter and tray

120

grams

(about 1 cup) grated parmesan cheese

2

medium sized eggs

, slightly beaten

1/4

teaspoon

black pepper

(white pepper preferable)
Instructions
Drain the ricotta by either squeezing it out in a clean cheesecloth or towel, or by placing it in a mesh colander that has been weighted down with a heavy bottle/object and set over a bowl for a few hours (I did this overnight)

Place a large stockpot with slightly salted water over high heat to boil.

Make the gnocchi by combining all ingredients (ricotta, parmesan, eggs, flour, salt and pepper) in a large bowl and mix until combined

Turn dough out onto a floured work surface and knead only until smooth (about 2 minutes)

Divide dough into 8 pieces and form each piece into a long rope by rolling (they should be about as thick as your finger).

Cut each rope into 1/2-inch pieces to form gnocchi using a butter knife while flicking your wrist to push off gnocchi after cutting

As your are cutting, place gnocchi into floured tray and roll gently in flour to prevent sticking.

Before cutting all the gnocchi, test the dough by cooking a few in gently boiling water.

After they float to the surface, boil for an additional 2 minutes and then remove with a slotted spoon and place into a casserole dish that is lightly oiled or that contains some tomato sauce

Serve with tomato sauce, o
Nutrition Facts
ricotta gnocchi
Amount Per Serving
Calories 304
* Percent Daily Values are based on a 2000 calorie diet.
🙂