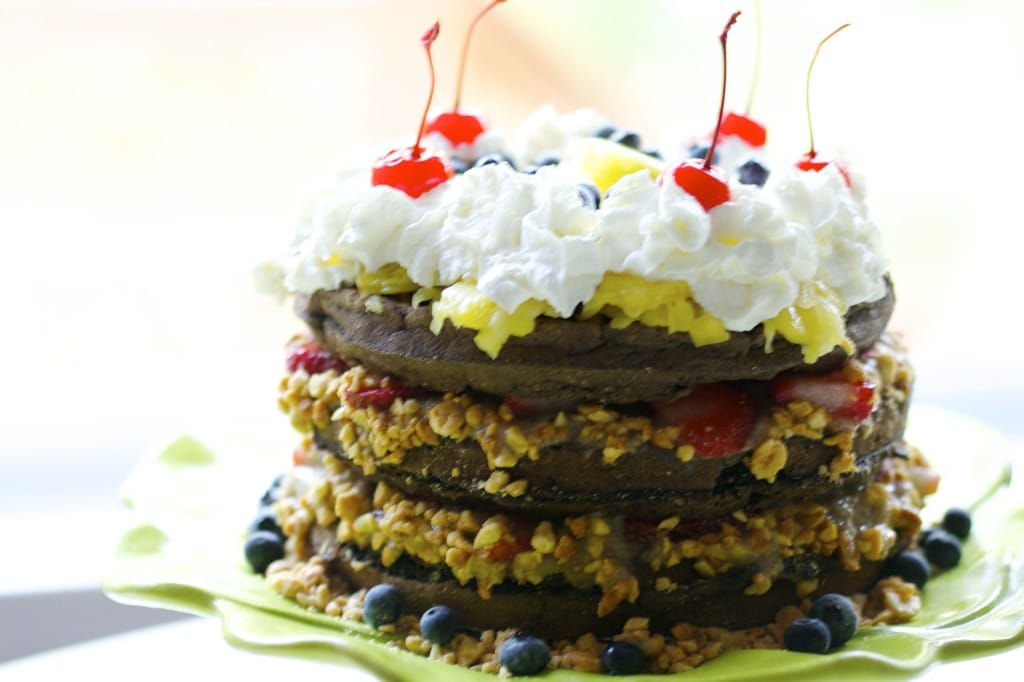 Tomorrow is National Banana Split Day! To celebrate, I made this waffle cake. This is not a traditional banana split cake in that it is not made with ice cream. Instead, I used a Yonana maker to make a banana yogurt (although you could very easily substitute banana ice cream for the Yonana). Have you ever heard of Yonana? A friend of mine who works for Dole told me about this gadget a few months ago. Of course, I had to go and buy one. You simply freeze bananas, and then feed them into the Yonana maker. The result is a creamy, smooth, frozen yogurt-like consistency. The "yogurt" contains banana only - no added sugar, dairy, or anything else.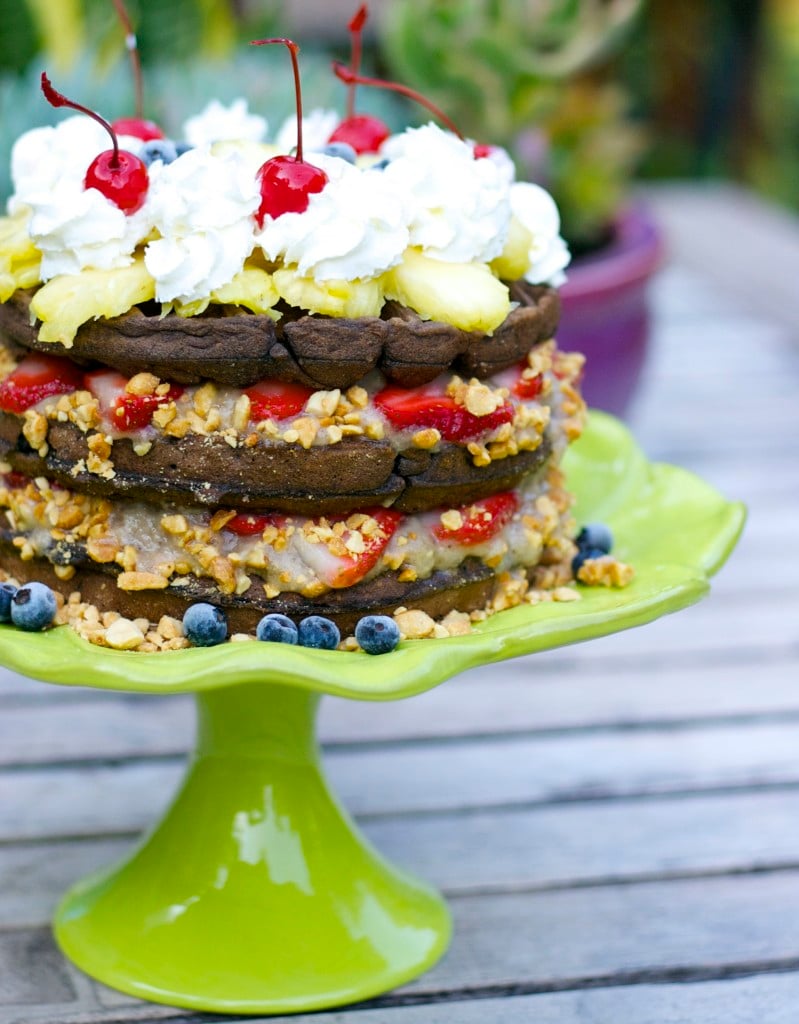 Waffles and ice cream is one of my all-time favorite combinations, but for this cake, I opted to substitute the ice cream with the frozen banana using the Yonana. The cake also contains sliced strawberries, sliced pineapple, chopped peanuts, and is topped with whipped cream a few blueberries, and cherries. Divine!
Note: I just read on Tastespotting that you can make one-ingredient banana ice cream with a food processor too!
If you love bananas, be sure to make my easy chocolate covered bananas!
Source: Waffle recipe adapted from Better Homes and Garden New Cookbook
📖 Recipe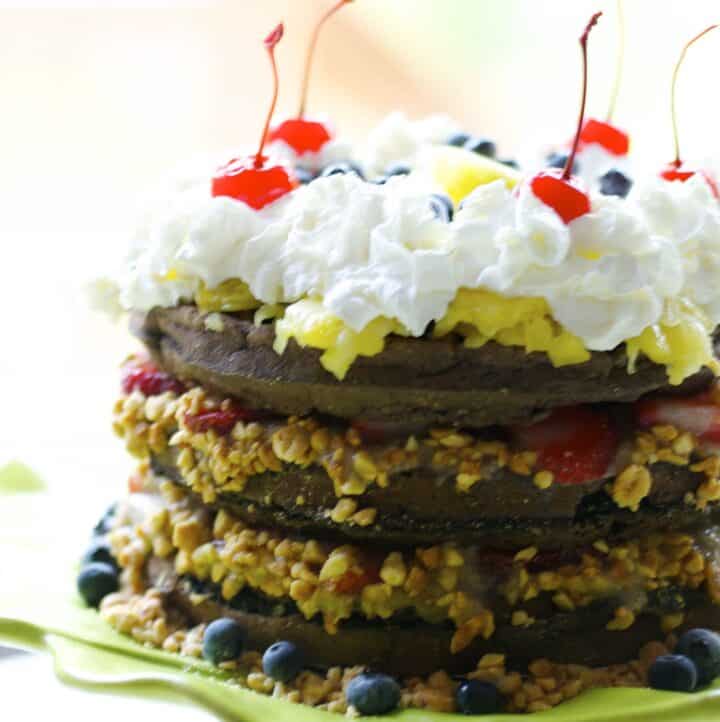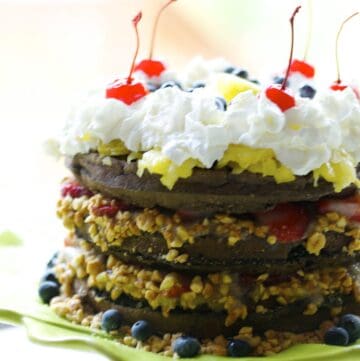 Banana split waffle cake
A frozen waffle cake made with fresh fruit.
Ingredients
Belgian waffles
1 ¾

cup

Flour

4

tablespoon

Sugar

1

tablespoon

Baking Powder

¼

cup

Cocoa Powder

2

Eggs

1 ¾

cups

Milk

½

cup

Oil

1

teaspoon

Vanilla
For the Filling
6

Frozen bananas

(up to 8)

1

pint

Fresh strawberries

sliced thinly

1

cup

Fresh pineapple

sliced thinly
For the Topping
¼

cup

Blueberries

½

cup

Chopped nuts

Marachino cherries

Whipped cream
Instructions
To Make the Waffles
Begin by heating your waffle iron

Mix the dry ingredients together (flour, sugar, cocoa powder and baking powder), make a well in the center, and set aside

In a separate bowl, lightly beat the eggs, and then stir in the milk, oil, and vanilla

Add the wet ingredients to the dry ingredients all at once and stir only until incorporated (batter should be lumpy - do not overmix)

Pour about 1 cup of batter into your preheated waffle iron and bake according to manufacturer's instructions.

Please note that this recipe will make more waffles than are needed for the cake (about 6 total)
To make the Filling
Using Yonana maker, make banana yogurt and set aside
Assembing the cake
Place one waffle on a small cake round or plate, top with approximately 1 cup of banana yogurt followed by a layer of sliced strawberries

Repeat this process by adding another waffle, topped with strawberries

Finish the cake by topping with the last waffle, and adding sliced pineapple

Add crushed nuts to the sides of the cake

Cover the cake with plastic wrap and freeze until the banana yogurt sets, about 3 to 4 hours

To serve, top with whipped cream, marrachino cherries, and blueberries
Nutrition
Calories:
462
kcal
Carbohydrates:
61
g
Protein:
9
g
Fat:
23
g
Saturated Fat:
3
g
Cholesterol:
46
mg
Sodium:
43
mg
Potassium:
769
mg
Fiber:
6
g
Sugar:
25
g
Vitamin A:
220
IU
Vitamin C:
52.8
mg
Calcium:
163
mg
Iron:
2.7
mg
Interested in More Recipes?
SUBSCRIBE to get recipes delivered to your email 🙂