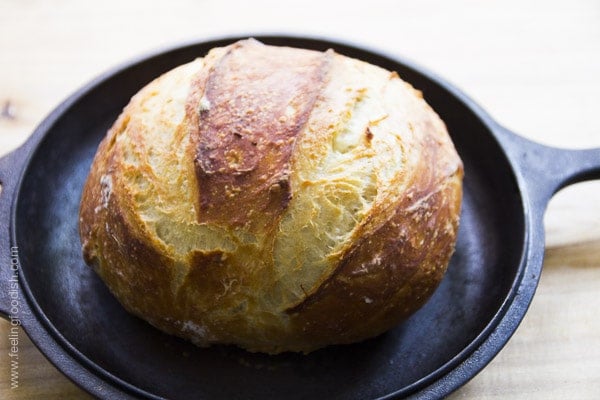 This is a great bread for a beginner to make. Sooo easy!
Basically, you just measure out the ingredients, stir to combine and let time work its magic.
Here are the ingredients after just being mixed in a very large tub: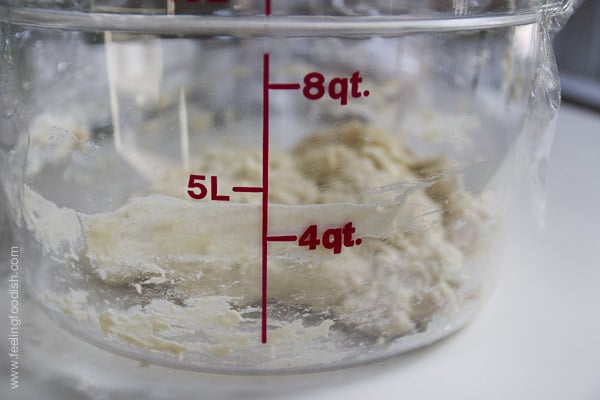 That container was so big that I moved the dough to this smaller one and here's what it looked like after a 2 hour rise: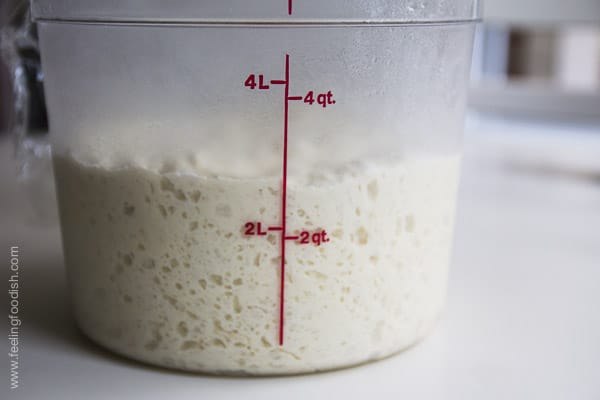 At this point, I refrigerated the dough for a few days and then pulled off about half of it and formed it like so (make sure to use plenty of flour to prevent sticking):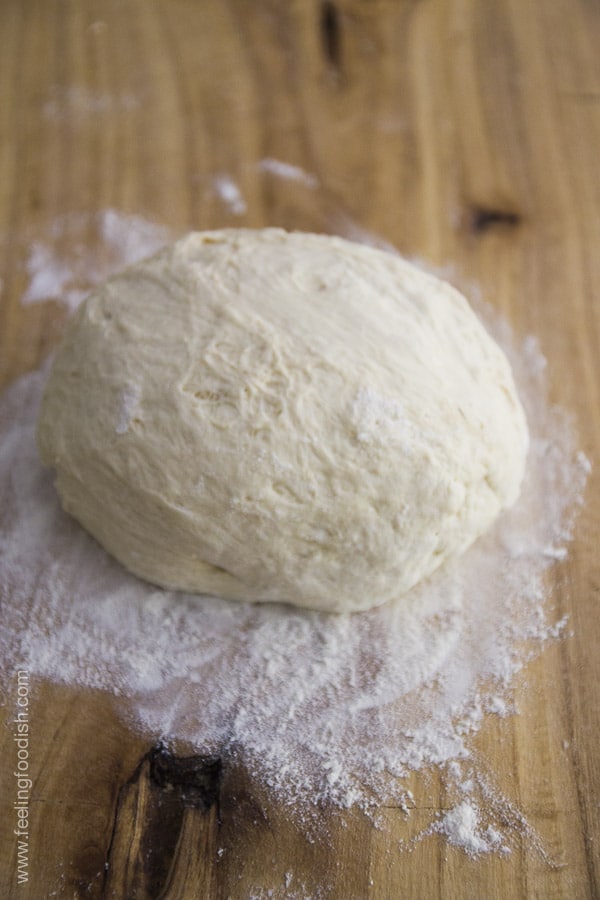 I then scored the dough with a sharp knife and carefully transferred it to my Lodge Combo Cooker (you can also use a dutch oven). The blog this recipe comes from also explains how to steam your bread with water in a pan in case you don't have a Combo Cooker or dutch oven.
The finished loaf: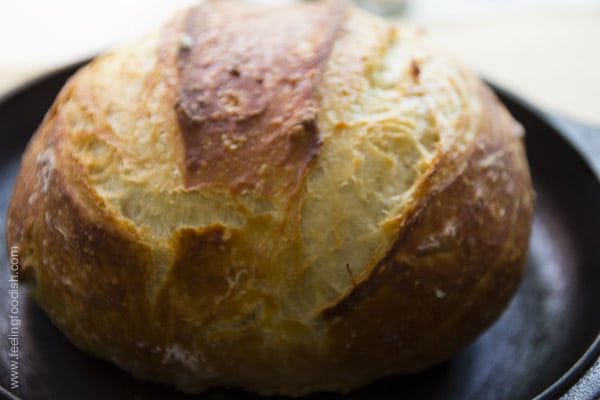 The crumb shot: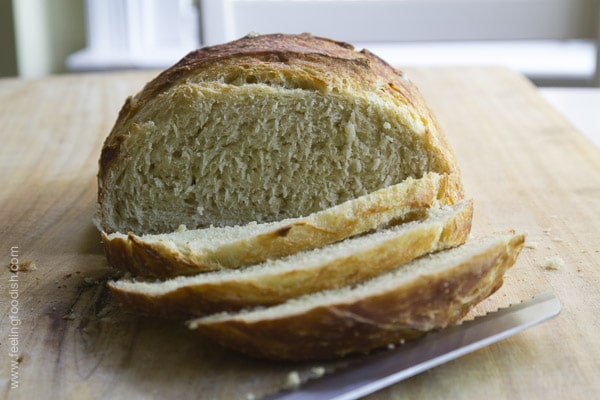 I had hoped for a bit more of an open crumb especially at 75% hydration from what I calculated. I will try again soon and post again if there is a major difference. I plan to save a bit of old dough to incorporate into my future loaves to improve the flavor.
I've become quite spoiled by this bread, which takes a lot longer to make and is much more complex. I'm hoping to reach a happy medium…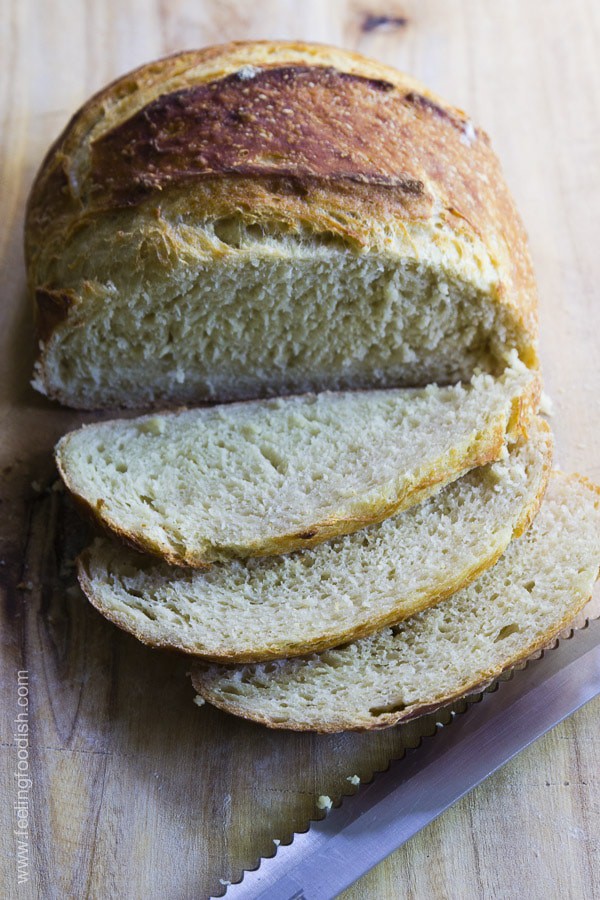 Recipe from King Arthur bread blog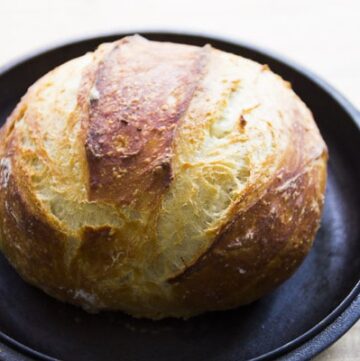 5 minute bread
The easiest homemade bread you will ever make; Makes 2 to 4 loaves
Ingredients
3

cups

lukewarm water

6.5

to 7.5 cups of all purpose flour

(32 ounces), King Arthur brand

1

tablespoon

table salt

1.5

tablespoons

instant yeast
Instructions
Add water to a large bowl or plastic food-grade bucket

dissolve yeast in water

Add flour and mix to incorporate

Add salt and mix in with hands

Cover and let rest at room temp for 2 hours

Cover the dough with plastic wrap and place bowl/bucket in refrigerator for at least 8 hours and up to 7 days

When ready to bake, preheat oven to 450 F and place dutch oven on top of baking stone/steel

In the meantime, tear off a piece of dough (½ to ⅓ of the dough) and form it into a round; place on floured surface or on top of parchment paper

Score bread by making ½ inch cuts with scissors or knife and transfer loaf into the bottom of dutch oven and immediately cover for 15 to 20 minutes

Uncover and let bake for an additional 15 to 20 minutes until the loaf is browned or the internal temperature is 210 degrees

Let the loaf cool on a rack or prop it up on its side
Notes
Makes 2 to 4 loaves depending on desired size
Interested in More Recipes?
SUBSCRIBE to get recipes delivered to your email 🙂